2024 Nissan Z Nismo First Drive: Track-Day Darling, For Better Or Worse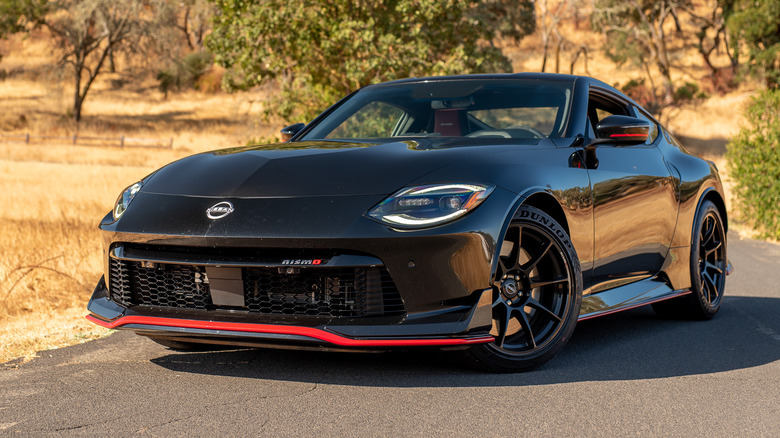 Victoria Scott/SlashGear
The Nismo name has come back to Nissan's latest Z-car, and it has a tall order to fill. Nissan wants the 2024 Nismo Z to take aim at the upper echelon of track-day regulars. This is no longer a boy-racer 350Z with a sky-shredding wing meant to do burnouts with the bros, or an appearance-package set of red stripes on a Sentra; the Nismo Z's natural habitat is a racetrack. There, it should stalk every other weekend-warrior sports-car on pit lane until it can pounce on the back straight.
But the sports car market is more crowded than ever, and with a sticker that reads $66,085 (after $1,095 destination), the Nismo Z is going to be competing toe-to-toe with some of the heaviest hitters of the hotlapping set. To find out if the Nismo Z truly lives up to its price and its potential, Nissan turned me loose in northern California, first on the unsuspecting streets of the Napa Valley, and then the twelve corners of Sonoma Raceway.
What $66,085 gets you nowadays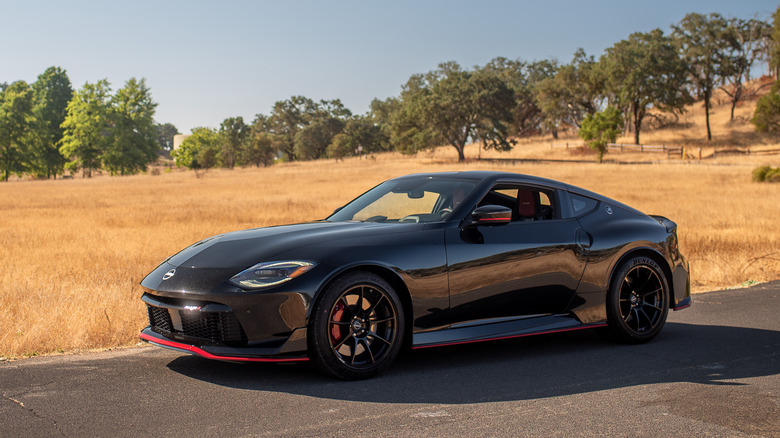 Victoria Scott/SlashGear
Nismo has worked over the Z with an all-encompassing approach to performance, although the power increase is on the minimalistic side. The Nismo Z gets 420 horsepower and 384 pound-feet of torque, bumps of 20 horsepower and 34 pound-feet over the base model. Nismo achieved this primarily through slightly higher boost pressure, better ventilation, and optimized ignition timing, rather than any significant hardware changes to the twin-turbo 3.0-liter V6 itself. This power is routed solely through a nine-speed automatic; the six-speed manual the regular Z offers is unavailable on the Nismo edition.
Nissan has spent a significant amount of time making the nine-speed a track-suitable gearbox, throwing more clutch plates into the automatic and shaving 50% of the time off downshifts. The suspension has gotten a full rework, the brakes use one-inch larger rotors up front (taking them to 15-inch diameter on the Nismo), and the chassis has gotten attention as well, with new bracing adding a slight bit more rigidity (2.5% torsionally, for those of you counting at home). Wheels are 19-inch Rays that are a half-inch wider at every corner and now come wrapped in high-performance Dunlop GT600 rubber.
Fairlady with the red-haired highlights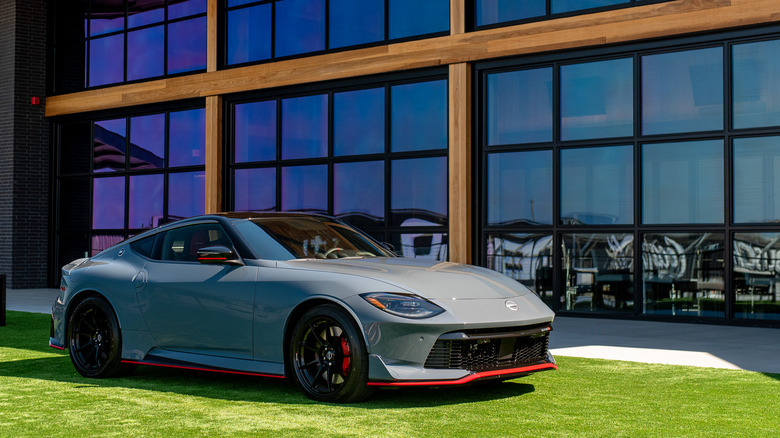 Victoria Scott/SlashGear
Those changes are all under the skin; the most obvious of Nismo's tweaks to the Z is, of course, what's on the outside. The Nismo Z gets new bumpers and side skirts that make it much brawnier-looking. Nissan says that every tweak made to the bumpers and skirts of the Nismo Z is functional and increases downforce and cooling capacity; while it may be a little hard to tell if that's true in day-to-day use, I can assure you that the tweaks help immensely with turning heads, especially in a color that lets the bright-red trim on the aero bits pop. The Nismo-exclusive stealth-gray paint is the color to get here.
Inside the cabin, the changes are much more minimal. A red-faced digital gauge cluster, some alcantara trim on the steering wheel, and a pair of Recaro Alcantara-and-leather bucket seats are the only changes from the base car, which luckily has an extremely attractive cabin to begin with. It's definitely not a luxury car, but it's not cheap-feeling either.
The Nismo Z is playing a game of incremental changes, but they start to add up quickly.
Sonoma, California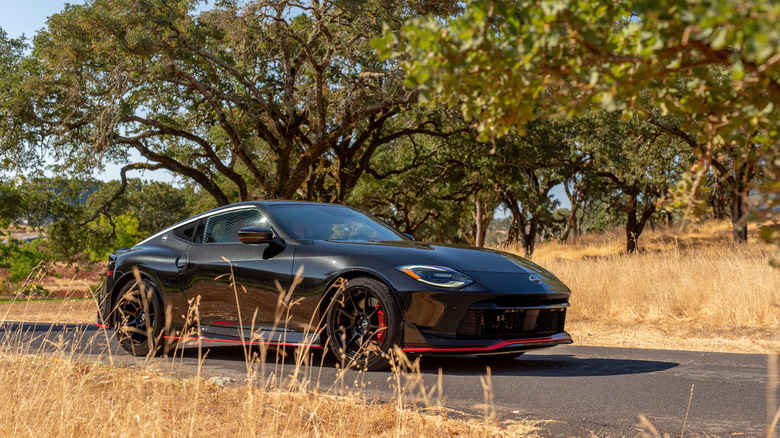 Victoria Scott/SlashGear
Before I was allowed to hotlap Sonoma's finest racecourse, I had to handle Sonoma's finest traffic. The Nismo Z's track focus rapidly became apparent; that new suspension is not electronically-dampened, so toggling between "Standard" and "Sport" mode did nothing to alleviate discomfort on poor roads. Those Recaros are not uncomfortable, but after an hour getting jostled around by the rough suspension over pavement gaps and tar snakes, it became clear that the seats and the ride are unforgiving. Weekend warriors with a long itinerary of twisties ought to bring Advil.
It's not difficult to drive, at least. The 15-inch front brakes bite hard initially but with a bit of adaptation they can be modulated well, even in traffic. Throttle response in Standard mode is perfectly fine for around-town driving; if anything, my biggest complaint is that when I went for a quick stab of the pedal to pass traffic, the nine-speed was conservative with its gear changes and didn't give me the high revs I wanted. Bumping the mode to Sport or Sport+ quickly alleviated that; I left it in Sport most of the time.
Hello, limiter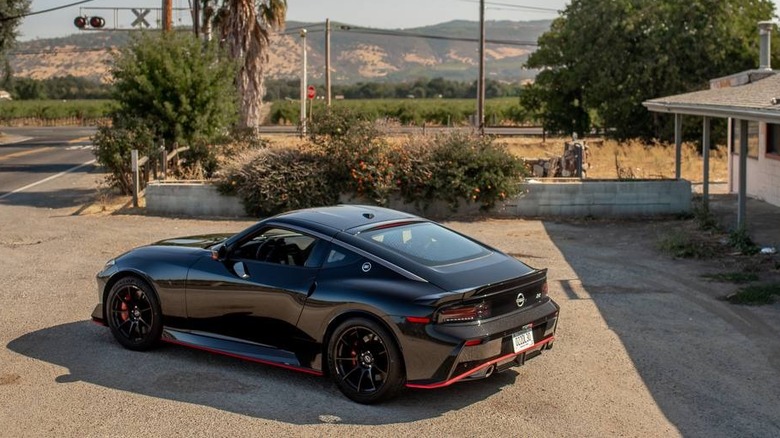 Victoria Scott/SlashGear
When I'd finally worked my way to NorCal's finest twisties and kept the Nismo Z in its more aggressive driving modes, the firm suspension shone—even on terrible surfaces, it never felt nervously unsettled, even if it remained viciously rough—and the powertrain was brutal, with enough torque to spin tires on command in third gear. Shifts were DCT-quick and paddle-shifting was responsive enough to actually add engagement to the experience. The Z would actually hold gears and bang limiter if I told it to, as well, which can be a rarity in automatic-equipped sports cars. I am a manual-transmission enthusiast as many Nismo devotees also are, but rest assured—this is a damn good automatic.
Steering feel gave me much more... mixed feelings. The Nismo Z's wheel is consistently very heavy no matter which driving mode it's in, and while quick adjustments are easy enough to make, anything beyond five degrees of input immediately requires exponentially more effort. At sane speeds on surface streets, I never found a rhythm. It made me feel as though I were encountering understeer initially, which then rapidly switched to oversteer with the application of throttle, thanks to the extremely aggressive Dunlops that go from maximum adhesion to full slip with little warning. It's definitely not a car that really encourages hard street driving, and it made even normal low-speed maneuvers a forearm workout.
It was clear that the Nismo Z, while still a fun experience on the street, wasn't really focused on it. Daily-driving this would be hard enough work to make me think twice about it.
Sonoma, Raceway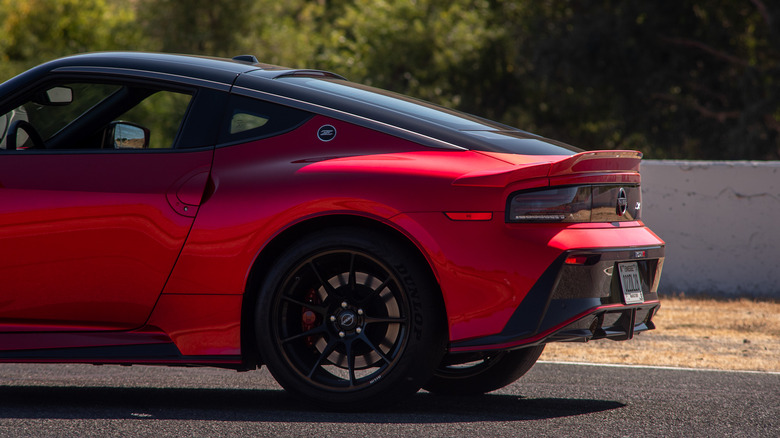 Victoria Scott/SlashGear
But after I'd let the Recaros bruise me a little on the streets of Sonoma, it was time for the raceway. First, I would drive the non-Nismo Z—specifically the upper-trim Performance model—and then I would drive the Nismo Z. And here the Nismo's purpose shone clearly.
While I would have much rather been driving the regular Z earlier in the day, the Nismo was indisputably better on the track. That heavy steering that I didn't enjoy on the street was fantastic on the track. The weight helped dampen handling in corners, making small adjustments mid-turn a cinch, and its smooth response helped me dial in rear-end rotation with throttle at true full-tilt driving. The powerful brakes were a godsend when blasting down the back straight at 110 into the hairpin-tight turn 7. The Dunlops, which had been so fickle about grip earlier, were fantastic at the limit when they were heated past street-possible temperatures. The Z's phenomenally drawn-back windshield gave me a superbly wide field of view, making spotting apexes a cinch. 
I even gave up on the paddle-shifters entirely and let the transmission work for me; it was smart enough to even get downshifts properly timed for engine braking in hard deceleration. The Recaros and their aggressive bolstering held me firmly in place the entire time. The Nismo engineers did well, and the incremental changes added to major confidence as I chucked the Z into the carousel of turn 6 at speeds that were absolutely unachievable in the tamer base model car.
Weighing the benefits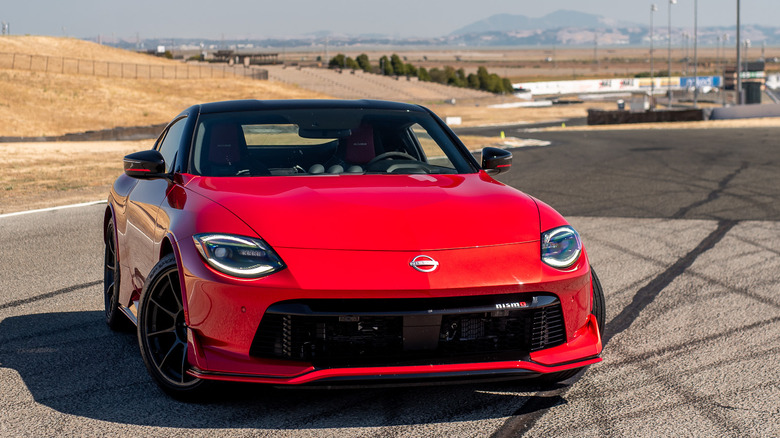 Victoria Scott/SlashGear
So the Nismo Z is a hell of a contender on track, to be sure, and it can keep performing all day long. Nissan ensured that the Nismo's drivetrain, brakes, and suspension would hold up to prolonged abuse without overheating, and indeed, even after running dozens of laps all day—and being pushed to the limit around Sonoma Raceway by a 28-year-old with a little bit of death lust—there was no hint of brake fade, and oil and transmission temperatures were still dead in the middle of their intended range.
I did have some complaints for an ostensibly track-focused trim, however. I don't care how unique or cool it is that the Z can measure its turbo RPM, I'd much rather have an actual oil pressure gauge in its place in the trio of dash-mounted pods. The fact the Nismo weighs 218 pounds more than the base trim Z is extremely disappointing. I wish the exhaust had a bit more of a raucous note; it's still the exact same as it is on the base car, which sounds good, but I wish the Nismo would get a little more rowdy. These aren't dealbreakers, because the Nismo still delivers great results on track, but they feel like oversights at this price.
Dollars per tenth of a second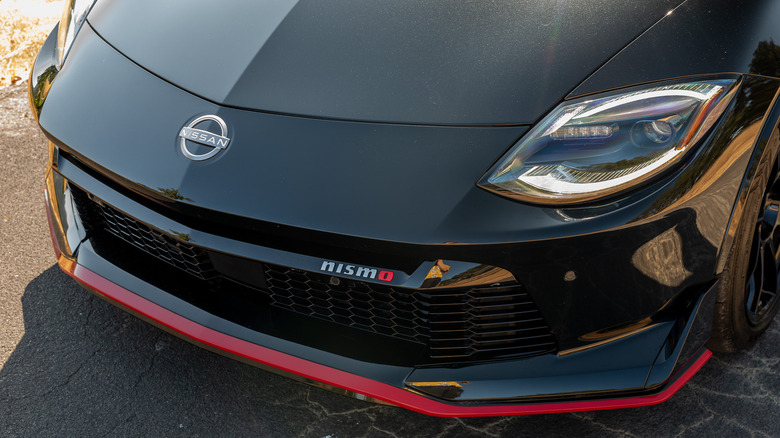 Victoria Scott/SlashGear
And so the only real question now is: who's going to buy one? The Nismo's competitive set for track weekends encompasses the new BMW M2 ($64,195) and the Audi RS3 ($62,795). For the most serious of canyon-carving duties, the Porsche 718 Cayman ($69,950) and Chevrolet Corvette ($67,895) are both within a few thousand dollars. Buyers seeking a track-ready (automatic) Z have had their prayers answered, but the Nismo Z has a tough case to make for those cross-shopping.
And of course the strongest competitor to the Nismo Z might just be the Nissan Z itself, which starts for roughly $22,000 less ($42,085). Even the top-trim Z Performance is $12,000 cheaper, and that comes with enough goodies (and three pedals) that even though it wasn't as razor-sharp around Sonoma Raceway, it's still mighty tempting. The Nismo Z definitely convinced me that it will absolutely help you shave every last tenth off your lap time. The only real question is how much that's worth to you.