Surface Laptop Studio 2 And Laptop Go 3 Show What's Ahead For Microsofts Post-Panos Era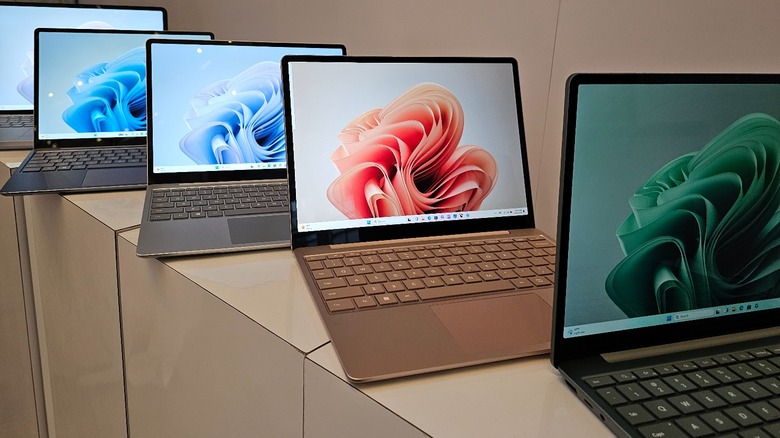 Melissa Perenson/SlashGear
Today, at Microsoft's Surface invite-only launch event, the company debuted the new Surface Laptop Studio 2 and the Laptop Go 3. Starting with the Surface Go 3, the laptop is improved over prior iterations, with some new hardware under the hood. It starts at $799 and will go officially on sale October 3rd. It will rock an Intel i5 processor. Maximum storage size, depending on what boxes you check, will top out at 256GB, putting this more within the light work or student use category. RAM maxes out at 16GB, with the base model getting 8GB. Reportedly, it will achieve 15 hours of battery life.
According to Microsoft, the physical dimensions are essentially the same as the prior model. As for ports, you get a USB-C, a headphone jack, and a USB-A port. The screen is a 1536 x 1024 resolution panel, which is the same resolution as the prior model year. It's available in Ice Blue, Sage, Sandstone, and Platinum, per Microsoft's site.
Microsoft's heavy hitter laptop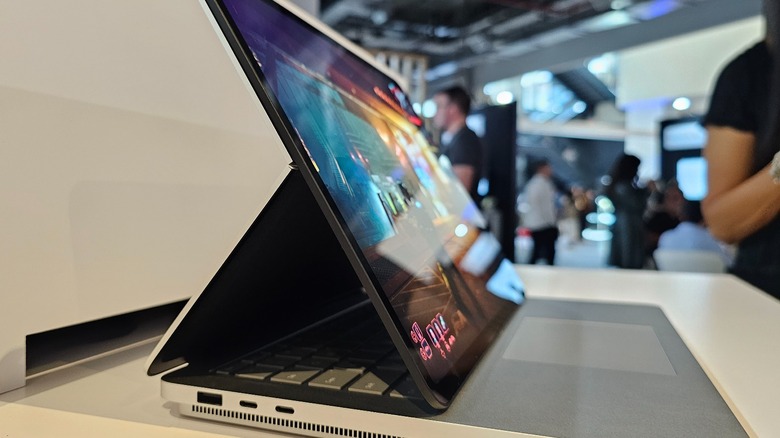 Melissa Perenson/SlashGear
The big hitter of the event, the Surface Laptop Studio 2 has significantly higher horsepower, running an Intel i7 and clocking in at $1,999 to start, also releasing October 3rd. For graphics, you have the choice of either integrated Intel Iris Xe graphics, an Nvidia RTX 4050, or for a little more oomph, an RTX 4060. For storage, you can spec out the laptop to a full 2TB SSD and up to 64GB of RAM. The display boasts a 2400x1600 resolution and a refresh rate of 120 Hertz. A Gorilla-Glass display rounds things out.
For connectivity, it has two USB-C ports a USB-A 3.1 port, a MicroSD card reader, the Surface Connect port, and the obligatory headphone jack. Unlike the Go 3, you can have the Studio 2 in any color you want as long as it's anodized aluminum. Battery life, according to Microsoft, varies on the model. The Intel Iris spec can last up to 19 hours while the highest-end Nvidia model lasts up to 16 hours on a charge. 
It is unknown how Microsoft's Surface division will fare in the future after the departure of Panos Panay, who left the company just days ago.