11 Classic Japanese Kei Cars That Are Actually Affordable Today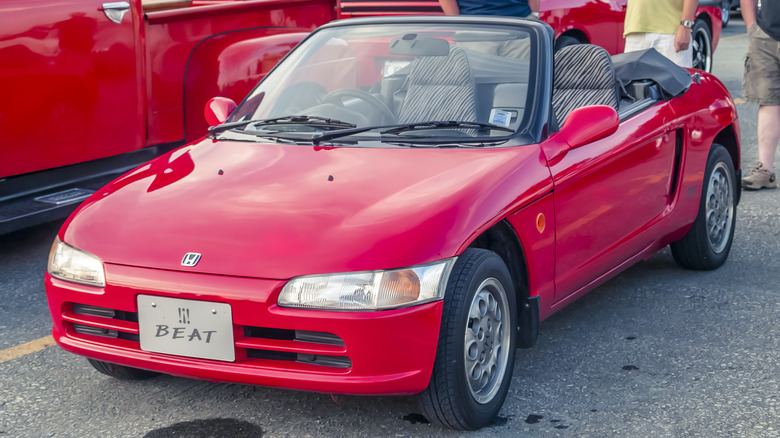 Kenmo/Getty Images
The kei car class was created by the Japanese government after WWII as a way of incentivizing people to buy cars, and they're strictly governed by size and displacement limits. The earliest kei cars were limited to engines with no more than 150cc, but the classification gradually expanded over time, and today's cars can pack powerplants up to 660cc. Over the years, these pint-sized cars have earned themselves a cult following in many places outside of Japan, and recently, they've become increasingly popular in the U.S. That means there's a surprisingly large range of classic kei cars on the used market if you know where to look.
There are miniature kei versions of everything from pickup trucks to sports cars, and as long as they're over 25 years old, Americans are able to import them under the 25-year rule. Every car here can be found for $25,000 or less, with the cheapest of the bunch available for less than $10,000 if you're willing to wait for the right listing.
Autozam AZ-1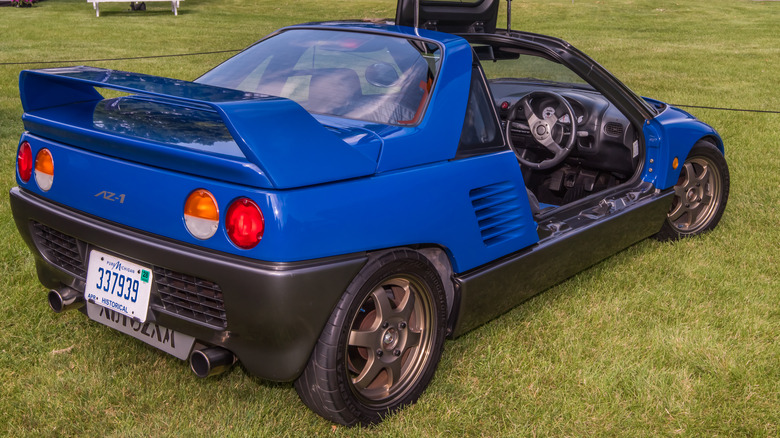 Steve Lagreca/Shutterstock
Built by Suzuki but sold by Mazda under its Autozam sub-brand, the AZ-1 is a miniature supercar both in its looks and its layout. Its 660cc turbocharged engine is mid-mounted right behind the driver's head, and although it only makes 63 horsepower in stock form, its 1,500 lb weight means it accelerates and handles like a go-kart. Its styling takes influence from the biggest supercars of the era like the Ferrari F40 and Lamborghini Diablo, with its gullwing doors and low-slung proportions looking unlike any other kei car.
The radical design and sporty componentry in the AZ-1 didn't come cheap, and as a result, less than 4,500 units were sold before it was axed in 1994, just two years after it went on sale. Their status as a cult classic has meant that plenty of examples have made their way over to America since then, with one model for sale at Duncan Imports at the time of writing. That car is listed for just over $25,000, but several examples have sold for less than $20,000 on Bring a Trailer, including one that sold for just $12,750 in September 2020. Their rarity means that they don't come up for sale very often, so it's worth keeping an eye on both auction sites and specialist dealers if you're in the market for one.
Honda Beat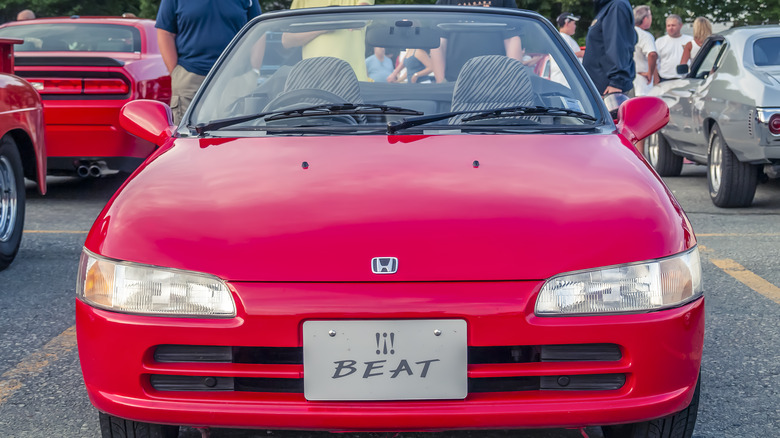 Kenmo/Getty Images
The Honda Beat was launched in 1991 as an exclusively Japanese-market (JDM) car, with styling designed by Pininfarina. It proved to be the most successful kei sports car of its era, with 33,635 examples built between its launch and the end of production in 1996. Around two-thirds of those units were sold within the first 18 months of production, making later-model cars much rarer to find. The car's peak output of 63 horsepower didn't arrive until 8,100rpm, meaning that to get the best out of the Honda, you had to keep it as close to its redline as possible.
Kei regulations at the time demanded that top speed was limited to 83 mph, but with the limiter removed, it was reportedly possible to reach speeds of up to 100 mph. Four exterior colors were originally offered for the Beat: silver, red, yellow, and white. Several special editions of the car were also created in response to falling sales, one of those being the Version C with Captiva Blue Pearl paint. Only 500 examples of this edition were ever sold, with models occasionally popping up on Duncan Imports for around $20,000, the cheapest of which is around $14,000.
Suzuki Cappuccino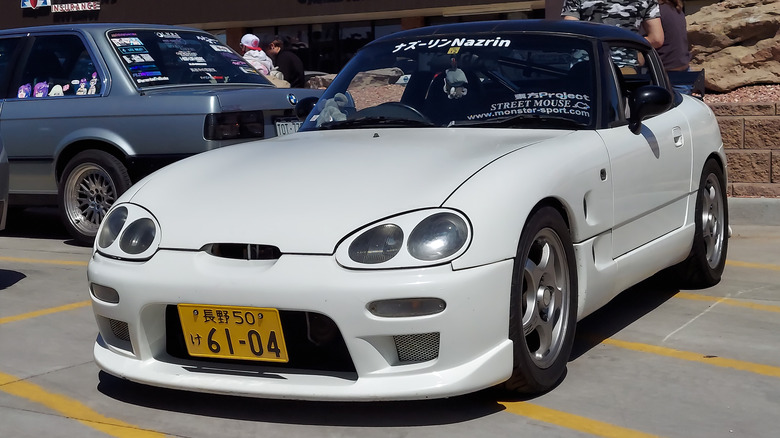 photo-denver/Shutterstock
The third car in the "ABC" kei trio (AZ-1, Beat, Cappuccino) was launched by Suzuki in 1991, and it was quite commercially successful, with 28,000 examples sold over its lifespan. Like its rivals, it sported a 660cc engine with a 63 horsepower output, which was plenty for such a lightweight car. The Cappuccino was generally a well-built car too, which is partly why so many examples still survive today. That, and the fact that they have a worldwide fanbase dedicated to keeping them on the road, of course.
The Cappuccino is one of the easier affordable JDM cars to find for sale, with several examples currently available at Duncan Imports. The cheapest of those is a convertible with 31,000 miles listed for just under $19,000, while at the other end of the spectrum, an ultra-low mileage example with just 4,921 miles on the clock is listed for just under $28,000.
Subaru 360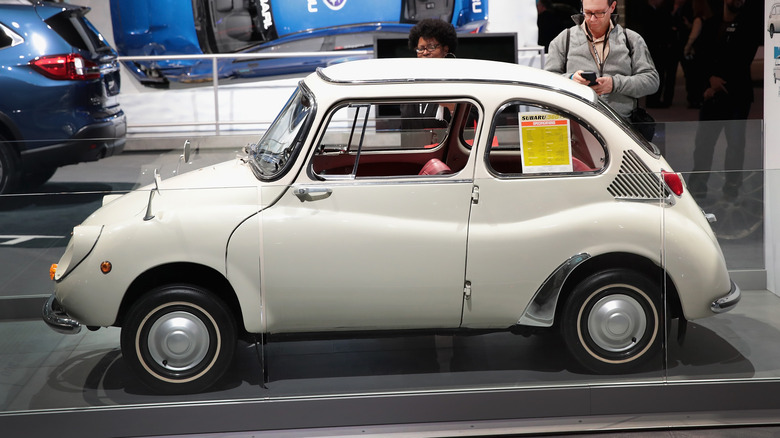 Scott Olson/Getty Images
The Subaru 360 was the first mass-produced kei car, and its success helped propel the Japanese automaker from a plucky startup to a big player in its home market. However, when Malcolm Bricklin began importing them into the U.S. in 1968, they were an unmitigated disaster for the newly-formed Subaru of America. The trouble was the 360's 360cc engine made just 25 horsepower in U.S.-spec, making it significantly slower than almost everything else on the road. It was cheap, sure, but only marginally so when compared to the VW Beetle, which bested it in nearly every key aspect.
However, five decades after the car was first introduced in America, it began to experience a revival as a cult classic, and today, well-sorted examples command several times more than they did just a decade or so ago. Data from Classic shows the average sale price of the 360 sits around $22,500, with the priciest example selling for a whopping $50,000 in 2020. However, 360s in good condition don't have to cost that much, as Duncan Imports currently has two examples of the car for sale for just under $20,000 at the time of writing.
Mitsubishi Pajero Mini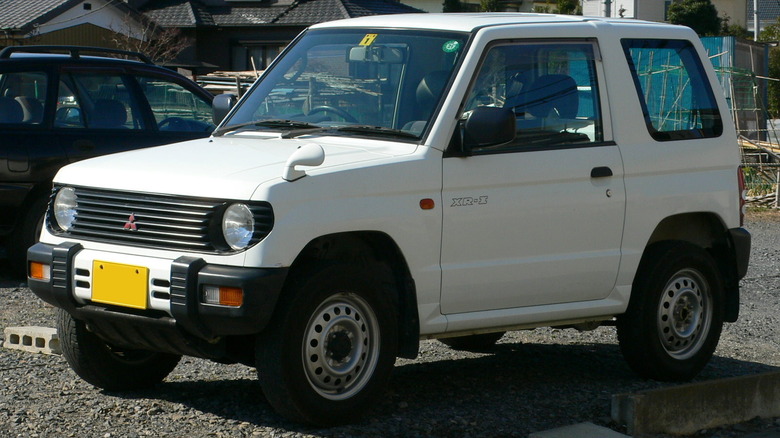 Mytho88/Wikimedia Commons
As its name suggests, the Mitsubishi Pajero Mini is a scaled-down version of the Pajero SUV, which was sold as the Montero in the U.S. Despite its size, the Pajero Mini features all-wheel drive and a two-speed transfer case, making it probably the most capable off-road kei car ever made. Although, that's not saying much. It packs a 659cc turbocharged inline-4 engine, making 63 horsepower and 72 lb-ft of torque.
Very few examples of the tiny SUV have made their way over to the U.S., although two examples sold for $8,500 and $8,000 respectively on Bring a Trailer in 2022. Waiting for an example that's already been brought Stateside is probably the most cost-effective option, but alternatively, it's possible to import one straight from Japan. Several examples are available on JDMExport for less than $10,000 including shipping, but if you're unfamiliar with the import process, it's best to go through a reputable importer, which can bump the cost up significantly.
[Featured image by Mytho88 via Wikimedia Commons | Cropped and scaled | CC BY-SA 3.0]
Honda Acty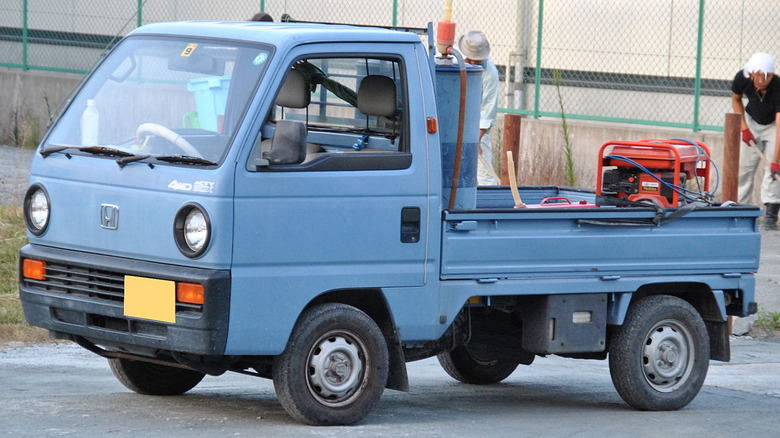 Kuha455405/Wikimedia Commons
The Honda Acty has been around in various forms since 1977, with the first and second generations both able to be imported under the 25-year rule. It's most famous as a compact truck, but an Acty Van was also offered shortly after launch, with a focus on carrying passengers rather than cargo. After the Van proved popular with buyers, a "Street" version was also launched, with a number of upgrades including better carpeting and more luxurious seats. Some examples of the Street were even fitted with extras like dual-zone heating and a drinks cooler. The Acty came with a mid-mounted 545cc engine making 28 horsepower, and it weighed just 1,300 lb.
The funky truck remains an unusual sight in the U.S., although multiple examples have been listed on Bring a Trailer throughout 2022 and 2023. The cheapest of those sold for $7,750, while the priciest was a rare fire truck variant of the Acty, which fetched $26,000. Van and Street variants are even rarer, so unless you're lucky and happen to find one already for sale in the U.S., you'll probably have to resort to importing one yourself. However, the van's enduring popularity means there are still lots of used examples in Japan to choose from.
[Featured image by Kuha455405 via Wikimedia Commons | Cropped and scaled | CC BY-SA 3.0]
Suzuki Jimny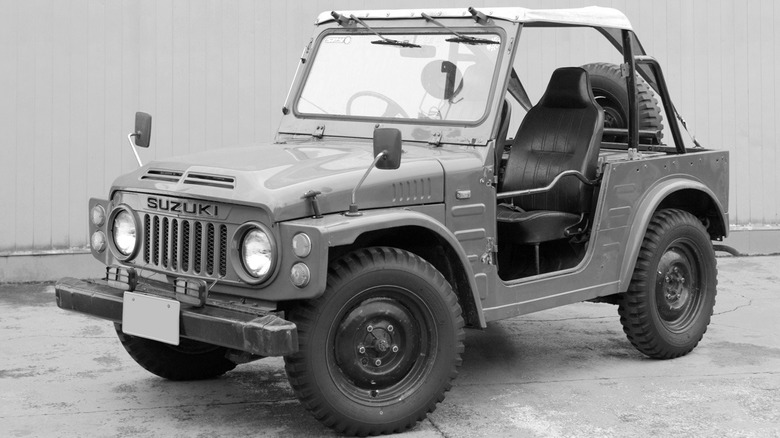 Tennen-Gas/Wikimedia Commons
The current-generation Suzuki Jimny remains banned in America because it doesn't meet emissions and crash regulations, but classic examples of the tiny truck are fair game to import. The first-generation truck was launched in 1970 and was the first four-wheel drive vehicle that fitted kei regulations. The original design wasn't created by Suzuki at all, but rather by a small Japanese automaker called Hope Motor Company. Suzuki simply bought the design and tweaked it, then swapped in one of its own engines, which made 25 horsepower in its original guise.
Later versions of the Jimny added more power and a variety of body styles to cater to the export market, so not all classic Jimnys fit the "kei car" definition. Nonetheless, a kei variant of the Jimny remained on sale even as larger export models boomed in popularity, and today, they've earned cult status among off-road enthusiasts. Several examples of the kei car have recently been sold on Cars and Bids, with an average sale price of roughly $8,000. Older, rarer examples are also available to import through Japanese dealers, with several examples on sale on JDMExport for around $10-15,000 at the time of writing.
[Featured image by Tennen-Gas via Wikimedia Commons | Cropped and scaled | CC BY-SA 3.0]
Subaru Vivio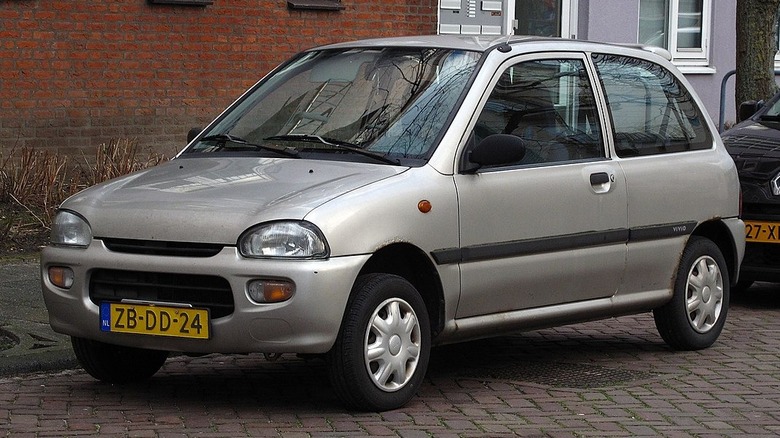 Rutger van der Maar/Wikimedia Commons
Introduced in 1992, the Subaru Vivio sported a more flowing, curved design than its boxy predecessors, reflecting Subaru's new-for-the-era design language. It was available in both 3-door and 5-door variants and even a 2-door T-top for a short period. The car's 658cc engine produced 63 horsepower in supercharged form, although naturally-aspirated Vivios had to make do with 44 horsepower. Most of the examples that have been imported to the States are higher-spec GX-R or RX-R models, which feature sportier bodywork and a supercharger for maximum power output.
Clean, imported examples of the Vivio are not easy to find, although at the time of writing, a Vivio GX-R is for sale at Duncan Imports for just under $10,000. Recently listed examples of the RX-R on Bring a Trailer and Cars and Bids have sold for $7,300 and $7,500, respectively. Like many of the kei cars here, plenty of examples are available to import directly from Japan, although it's best to use a reputable importer to go through the difficult process of getting a car like this registered for U.S. road use.
[Featured image by Rutger van der Maar via Wikimedia Commons | Cropped and scaled | CC BY-SA 2.0]
Honda Life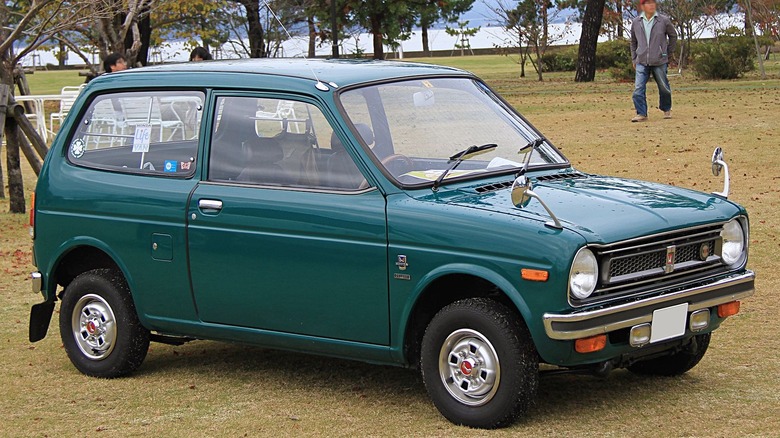 TTTNIS/Wikimedia Commons
The first-generation Honda Life was produced as a three-door or five-door hatchback, with commercial van variants also available. It was only on sale for a few years in the early '70s before being axed, but despite being very rare today, it's affordable to buy used (if you can find one). The car's 365cc engine put out around 30 horsepower, with its modest power being sent to the front wheels only. It might look familiar to fans of classic Japanese cars, and that's because it essentially copied the design of its larger lineup sibling, the Civic.
The Civic would prove to be much more popular than the Life, with Honda axing the latter nameplate in 1974 before resurrecting it for a new generation of kei car in the '90s. Buying a first-generation Life is no easy task, and will almost certainly require importing the car directly from Japan. Two examples are currently listed for sale on Car From Japan, with prices around the $11,000 mark including shipping, although that doesn't include taxes and registration costs.
[Featured image by TTTNIS via Wikimedia Commons | Cropped and scaled | CC0 1.0]
Suzuki Alto Works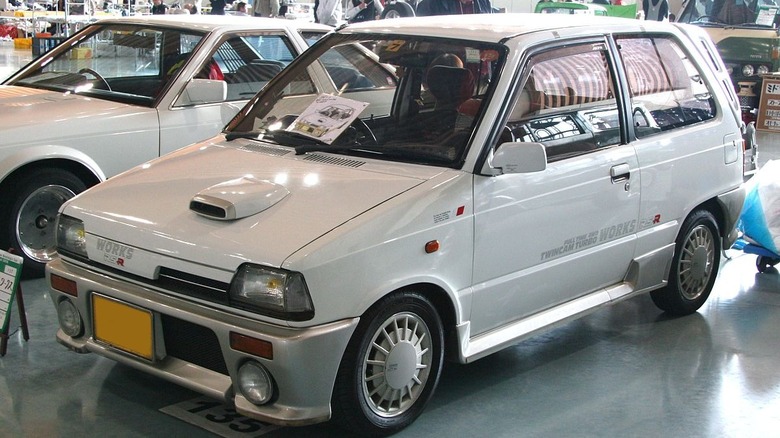 TTTNIS/Wikimedia Commons
Suzuki had a hit on its hands with the standard version of the Alto kei car, but it was very sensible. Too sensible, Suzuki decided. To liven things up a bit, it would make a hot hatch version with upgraded internals, an over-the-top body kit, and a turbocharged for some extra ponies. Thus, the Alto Works was born. It survived for three generations, and when it was first released, was considered to be the fastest kei car ever built.
Although, thanks to government regulations, it officially made 63 horsepower in stock form, the engine was capable of producing a lot more with only minimal modifications. Owners quickly caught on, and before long it wasn't unusual for upgraded Alto Works to produce up to 120 horsepower. They gained a cult following at home in Japan, and as soon as they became legal to import in other markets, word soon got out about these pint-sized hot hatches. The best part is that imported examples have remained very cheap to buy, with Classic reporting the average 5-year selling price to be just $4,314. The most recently sold example was listed on Cars and Bids with a Virginia title and fetched $4,869.
[Featured image by TTTNIS via Wikimedia Commons | Cropped and scaled | CC0 1.0]
Honda N360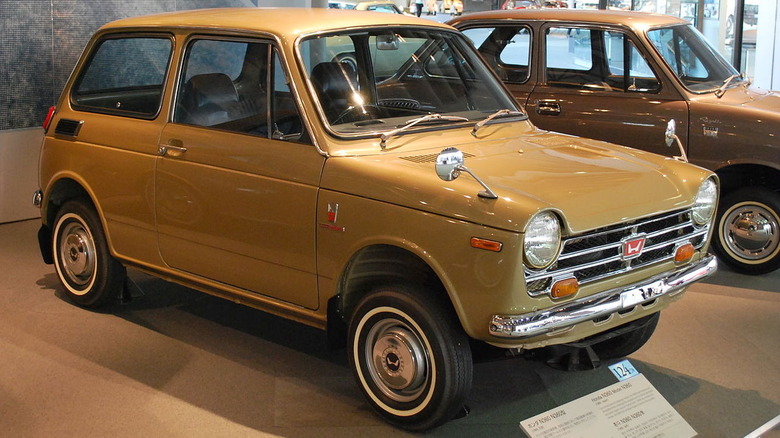 Mytho88/Wikimedia Commons
The N360 was Honda's first mass-produced kei car, unveiled in October 1966 and released to buyers a few months later. Before its release, the kei car market had seen a decline in Japan, but the N360 was such a hit that it almost doubled demand in the segment. Honda was quick to capitalize on this success, fitting the N360 with a larger engine and exporting it to the U.S. as the N600. It proved popular with Americans too, since it was more technologically advanced than its biggest rival, the VW Beetle.
However, the N600's 600cc engine means that it didn't fit the kei regulations of the era, so only N360s with their original engines can be classed as kei cars, despite the car's overall footprint being the same. Finding an original N360 will most likely mean importing it from Japan, with a handful of examples available through JDMExport for around $11-14,000 at the time of writing. However, USDM N600s are easier to find, with several recently selling on Bring a Trailer for under $10,000.
[Featured image by Mytho88 via Wikimedia Commons | Cropped and scaled | CC BY-SA 3.0]