2023 Lotus Emira Review: Junior Supercar Marks The End Of An Era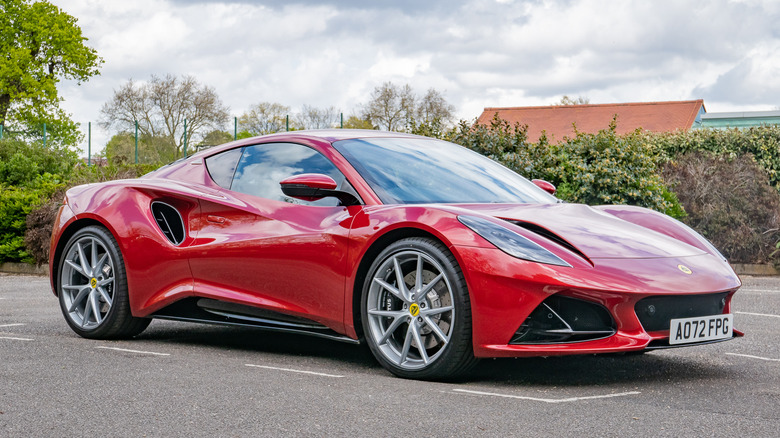 Alistair Charlton/SlashGear
The Emira is the final Lotus to be powered by internal combustion, and is therefore a pretty big deal. Its reveal in 2021 came shortly after the British firm killed off its entire range, ending production of the Elise, Exige and Evora in one fell swoop.
And now the Emira is here, we get to enjoy what will be one of the very last gas-powered sports cars. If this car had its own soundtrack, it would be the quietly brooding An Ending (Ascent) by Brian Eno.
In many ways the Emira is a goodbye. The final page of the first chapter of the motorcar, where hydrocarbons give way to electrons. It also comes at the apex of a moment when analog sports cars with their heavy steering, recalcitrant clutches, unapologetically firm ride and blaring, industrial soundtracks are being consigned to the history books. Cars like those by Lotus come from a time when nobody knew what Mobility As A Service was, and nor did they yearn for autonomous driving and the ability to watch Netflix while plugged into a charger.
The Emira is undoubtedly an ending, but Lotus promises it will not be a flash in the pan. It will remain in production for almost as long as legislation allows, until 2028 when it will give way to an exclusively electric Lotus lineup. As many as 60,000 could be built between now and then, so there's time to celebrate the Emira before we mourn the lack of its successor.
Supercar styling on a sports car budget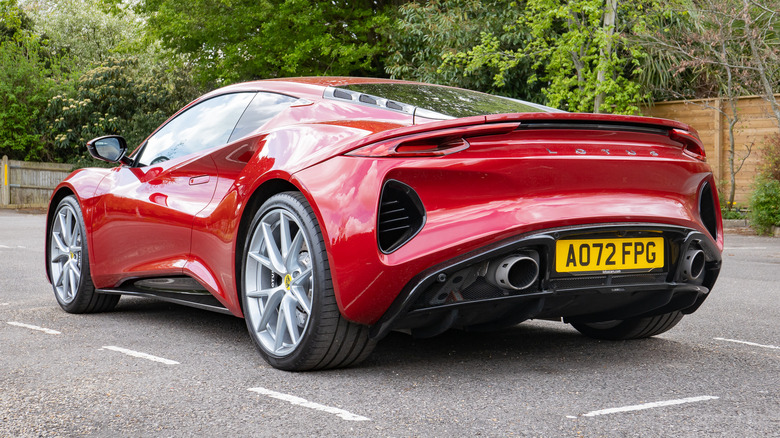 Alistair Charlton/SlashGear
Of all the cars I have reviewed over the years, the Emira has been the most popular with passers-by. Even Ferraris draw less attention from pedestrians and other drivers than the Lotus.
Parked outside my London apartment, the Emira was inspected and photographed almost constantly, drivers stopping in the road to gawp at what to many will be an unfamiliar car with a little-known badge on its nose.
It could be the archetypal junior supercar, blending design cues from McLaren and Ferrari with the footprint of something more compact. It is a thoroughly beautiful thing, made even more so by the Magma Red paintwork of this First Edition test car contrasting perfectly with silver wheels. Whoever thinks black wheels look best on a car like this is simply wrong, and that is a hill I will happily die on.
The Emira is 5 inches shorter and 7.3 inches narrower than a McLaren Artura, which on the narrow British roads this review was conducted on makes a huge difference. It looks a million dollars, but fits into a regular parking space, doesn't intimidate its driver on a narrow country lane, and even cruises over speed humps without fear of grounding out.
A grown-up Lotus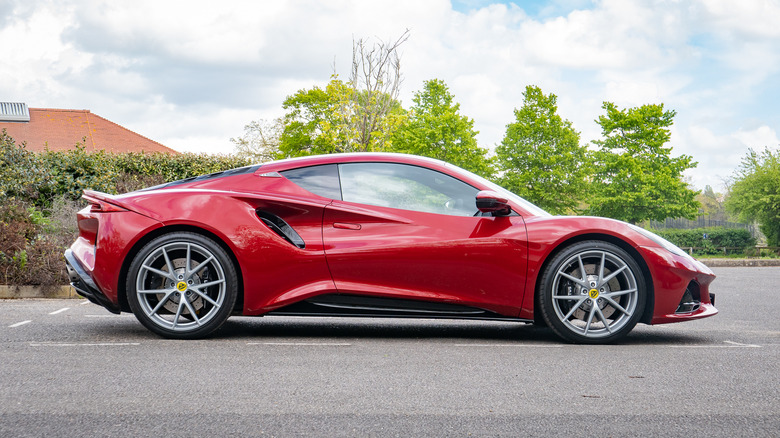 Alistair Charlton/SlashGear
Now part of China's Geely automotive group, which also owns Volvo and Polestar, Lotus has the resources to add more refinement than previous budgets would allow. The interior is a world away from the stripped-out, carpetless cabin of an early Elise, with comfortable seats, plenty of leather and suede, and a surprising amount of storage and practicality. There's a lot more space here than in a Mazda MX-5 Miata, with door bins for water bottles and a large cargo space behind the seats easily capable of swallowing a couple of soft bags for a weekend away, plus a trunk behind the engine for larger bags (careful with the groceries though, frozen food doesn't stay so for long).
There are cup holders too, although once they're occupied by anything larger than an espresso the drinks obscure the driver's arm when changing gear.
It's a loud cabin, but not unsociably so. Conversations can be had at highway speed, although road noise and the constant thrashing of the engine behind means voices need to be raised. Similarly, the 10-channel Kef sound system is pretty good. It struggles a little for clarity at lower volumes, but holds its own when turned up to drown out road noise.
Visibility is perfectly acceptable, especially for a car that looks this dramatic, thanks to a low windshield scuttle, excellent mirrors, an acceptable view out the back and a reversing camera.
Still an analog sports car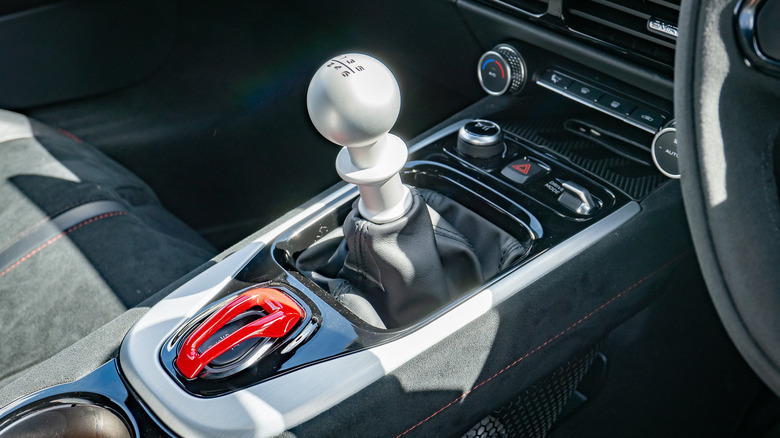 Alistair Charlton/SlashGear
But don't let all this lull you into thinking Lotus has gone soft. The Emira is still a proper sports car — something that is apparent from the moment you clamber over the wide sill, settle into the low seat, and feel the weight of the controls. The clutch is heavy and so is the hydraulic steering, at least by today's standards, while the six-speed manual gearbox needs serious effort.
I was surprised to find the gear shift was my least favorite part of the entire car. I'd hope to wheel out the tired journalistic cliches about a rifle-bolt shift action, but in truth I prefer my Miata's. The Emira's shifter looks fantastic, complete with exposed linkages beneath, but the action is too loose and vague for a sports car that is otherwise so well dialed in. But then again, perhaps a heavy and occasionally awkward gear shift is all part of what makes a sports car like this engaging and likable in the first place.
If you prefer, Lotus also offers the Emira with an automatic transmission and paddle shifters. Even though it isn't the best manual shift, I'd still choose this over a less engaging auto option.
The steering is far better. Although the wheel is slightly too thick for my liking, the weight and feel is superb. Direction changes are delivered with millimetric precision, and the detail of communication is such that you're never left in doubt about what the front tires are up to.
Just enough tech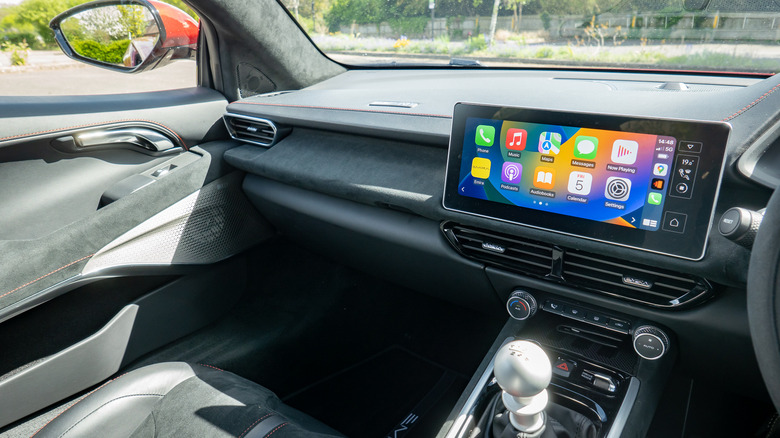 Alistair Charlton/SlashGear
Back to the interior, and the Emira has an all-digital, 12.3in driver display behind the wheel, which changes its layout when each of the three drive modes — Tour, Sport, Track — is selected. It's a great-looking display that is perfectly visible even in bright sunlight, delivering just the right amount of information.
The central, 10.25in touchscreen is similarly impressive. Bright, sharp and very responsive, it is quick and easy to use. Lotus's own software is mostly limited to a settings menu, climate and a lap timer, so you'll want to hook up a phone and use Apple CarPlay or Android Auto, both of which are available wirelessly or via a pair of USB-C ports in a deep storage bin below the central armrest.
Climate can be adjusted via the screen or with a set of physical controls below, while there are buttons for media and the driver display on the steering wheel.
There's no head-up display, no voice assistant, no integrated navigation, and no smartphone app for remotely unlocking the doors and checking the fuel level, but none of that really matters in a car like this. The car's active safety systems also go without active lane-keep assist, so the Emira will warn you of potential danger but doesn't interfere with the steering — a good thing, given the tendency for these systems to act incorrectly on the narrow country roads a Lotus like this will spend much of its time.
Four cylinders or six?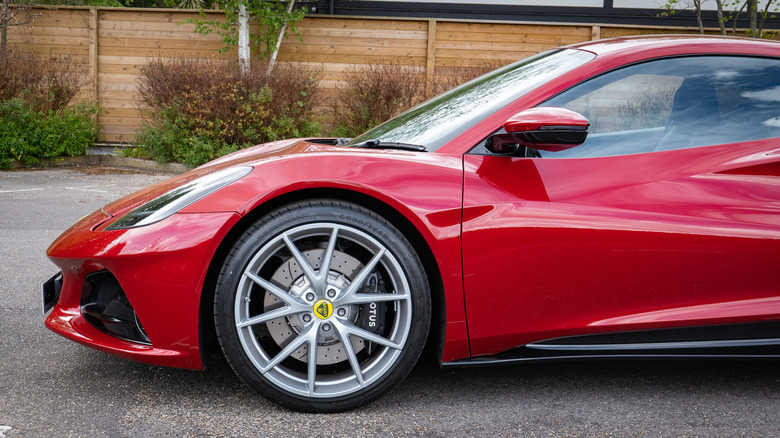 Alistair Charlton/SlashGear
The Emira tested here is powered by a supercharged, 3.5-liter V6 engine from Toyota. It's an engine Lotus has used for a while now and, in the Emira, produces 400 hp and 310 ft-lbs of torque. The zero to 60 mph sprint takes 4.2 seconds, depending on how quick you are with the gear shift from first to second, and the top speed is a claimed 180 mph.
Another version of Emira will be along later this year, powered by a turbocharged 2.0-liter, four-cylinder engine from Mercedes-AMG, producing 365 hp and driving the rear wheels through an eight-speed DCT automatic gearbox with paddle shifters.
While the V6 is likely the quicker car for now — Lotus hasn't announced performance statistics for the AMG model just yet — the Toyota engine doesn't have much headroom, while the AMG motor produces over 400 hp in the Mercedes A45 S, so a quicker Emira could well be on the cards.
Back to the V6, and it's a thoroughly mechanical and somewhat old-school motor. Combined with the heavy clutch and gear shifter, it can be a little tricky in traffic, while emitting a soundtrack that is harsh and mechanical rather than tuneful. Unleash it though, and above 3,000 rpm the V6 comes alive, serving up a serious shove of acceleration accompanied by a high-pitched wail from the twin exhaust that is properly loud. It's a noise that can comfortably afford the checks written by the supercar styling.
Touring chassis or sport?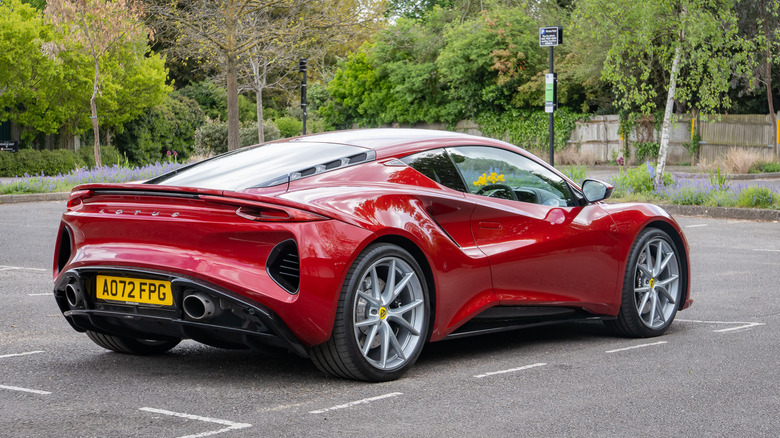 Alistair Charlton/SlashGear
As well as the engine, potential Emira buyers can pick from a pair of different chassis setups too. This isn't a case of a button on the steering wheel for adjusting the ride, though, but different hardware to choose at the point of purchase. The car reviewed here is the Touring chassis, which is intended for everyday use on the public roads, while the Sport chassis has a firmer setup better suited for buyers who like to do track days and care less for ride quality.
The Sport chassis may have the edge on track, but for road use the Touring setup provides a good balance between Lotus's famous scalpel-sharp steering with a ride quality that doesn't rattle your fillings out. Speed bumps are best tackled slowly, but the Emira didn't once ground out during my five days with it.
The heavy clutch and gearshift can become tiring, and while I never tired of walking up to the gorgeous Emira and firing the V6 engine, manhandling it through city traffic occasionally felt like a chore. It could be your only car if you really, really wanted it to be. But realistically you'll keep the Lotus for weekends.
The hydraulic steering is quick, precise and nicely communicative, while bodyroll is kept to a minimum and the overall impression is that of a properly-honed sports car that gives its driver confidence in the corners.
2023 Lotus Emira Verdict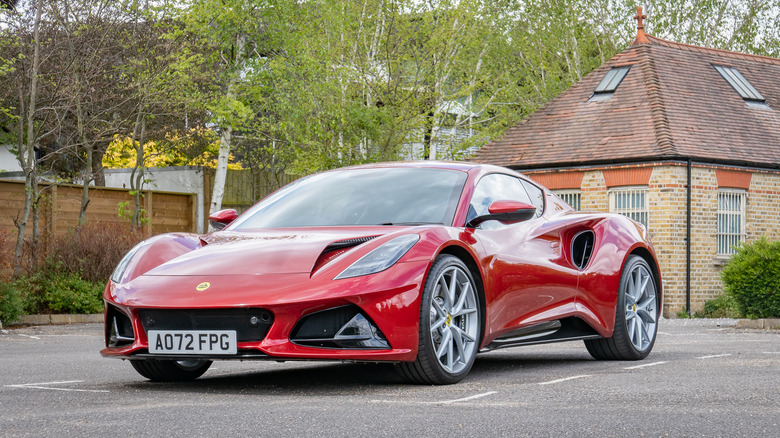 Alistair Charlton/SlashGear
Never has a Lotus had so much pressure on its shoulders, at least until the first all-electric sports car arrives. The Emira deals with this pressure remarkably well. It looks absolutely fantastic, and is visually every bit the junior supercar. At $105,400 for this fully-specced First Edition variant (or from about $80,000 for lesser models) it would look just as good at twice the price.
It isn't quite a supercar on the inside, but the cabin is still a massive improvement over its predecessor when it comes to comfort, refinement, and practicality. Yet it still manages to deliver the right sports car atmosphere, complete with exposed gear linkage and an intoxicating view of the engine in the mirror.
Performance is plentiful for a sports car of this price, and while the V6 is a bit industrial at low speed, it packs a punch when the revs rise and sounds fantastic once into its stride. The gear change is arguably the Emira's weakest attribute — but it isn't a reason to walk away — while the ride and handling are just what every Lotus buyer should expect: firm but beautifully composed.
The Emira is both the end of an era and the start of something new for Lotus. It is the company's last gas-powered sports car while also being the first delivered since Geely's deep-pocketed takeover. It'll go down in history for those reasons alone, but should also be remembered as a top-notch sportscar too.