The Timeless Moto Guzzi That Still Turns Heads Today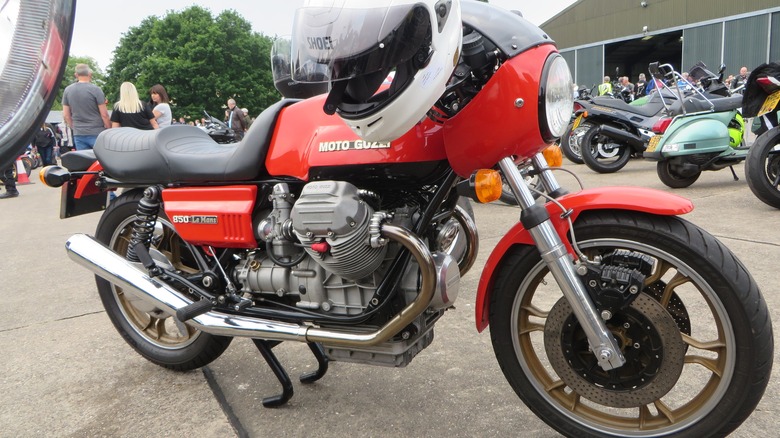 seeker_888/Shutterstock
Founded in 1921, Moto Guzzi has the distinction of being the oldest continually operating motorcycle manufacturer on the European continent. For its first 45 years or so, the brand was hugely successful in motorcycle racing, particularly Grand Prix racing, using an eclectic variety of engines from simple single-cylinders to incredibly complex V8s — yes, a tiny 500 cubic centimeter (cc) V8 motorcycle engine. But the engine which would eventually become synonymous with Moto Guzzi is its air-cooled 90-degree V-twin with its cylinder heads sticking out prominently from either side of the motorcycle's frame, initially developed in the early 1960s for use in Italian army vehicles.
During the 1970s, Moto Guzzi's iconic V-twin grew ever larger. Once considered huge, 750cc displacement engines eventually became commonplace, so manufacturers like BMW and alternative Italian motorcycle company Ducati developed 850cc engines in a bid to win the superbike wars. Out of that competitiveness was born Moto Guzzi's 850 Le Mans, considered by many to be the most collectible Moto Guzzi of all time. 
Introduced in 1976, the Le Mans used an 844 cc version of Moto Guzzi's famous longitudinally mounted V-twin engine adopted from the brand's 850T model, but with a higher compression ratio, a new camshaft, and larger Dell'Orto carburetors. The result was an impressive 71 horsepower which pushed the LeMans to a top speed of 132 mph. For riders who needed even more oomph, Moto Guzzi dealerships offered a "race kit" that added an extra 10 horsepower.
The brakes were as unique as the engine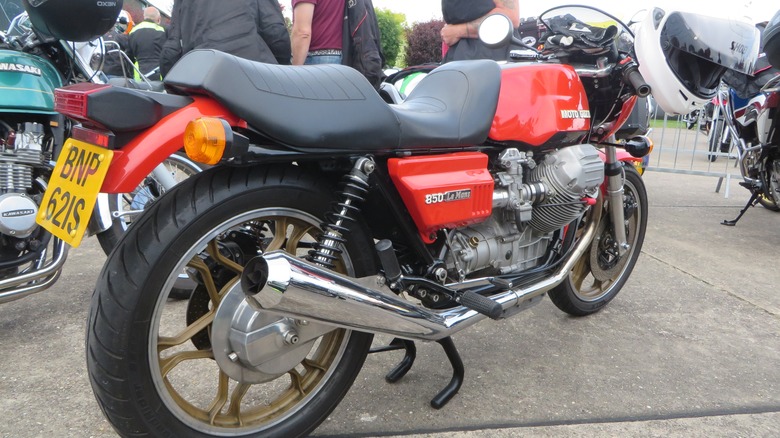 seeker_888/Shutterstock
Brute horsepower wasn't the only thing the Le Mans had going for it. The bike also incorporated a unique braking system with twin disc brakes in front and a single disc on the rear, with calipers from Italy's Brembo, naturally. That configuration wasn't uncommon. What was unconventional was that the rear brake pedal was also linked to the front brakes, which would normally be controlled independently via a hand lever. The Le Mans' new conjoined braking system reportedly presented something of a learning curve for riders, but once they adapted, it was praised for its durability and stopping power.
In the appearance department, the bike was dripping with classic 1970s Cafe Racer touches. Low-mounted clip-on handlebars and foot pegs set toward the rear of the frame conspired to give the rider a sporty, hunched-over stance. And like any Cafe Racer worth its salt, a compact "bikini" fairing surrounds the instruments and headlight. 
Although the initial Le Mans production run continued until 1992, the first-generation 1976-1978 examples are most desired among collectors. In later years, the fairing grew larger and more angular, with a rectangular headlight intended to modernize the bikes. If you're interested in picking one up to hop between Starbucks around town, Hagerty lists recent sales between $8,625 and $21,850 depending on mileage and condition.