2023 Subaru BRZ Review: The Fun Never Ends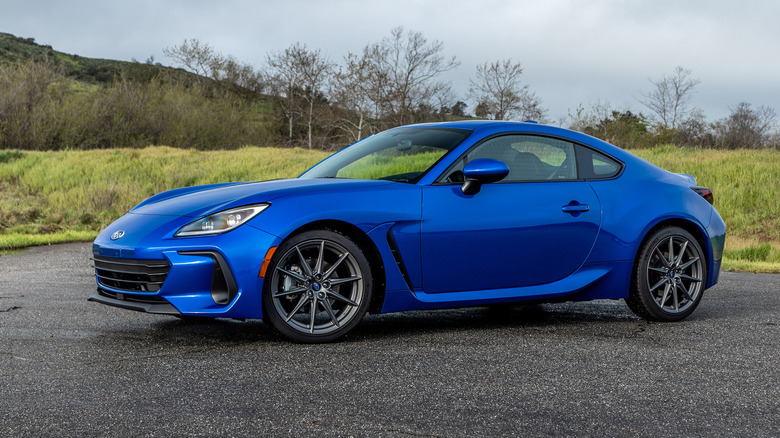 Tyler Clemmensen/SlashGear
The sheer amount of technology available in new cars is incredible. Yet it can also be a little overwhelming. That's why I love cars like the Subaru BRZ — it's a palate cleanser, a total reset of sports car simplicity. There are no electronically adjustable settings, no drive modes, no up-up-down-down-left-right-left-right-B-A-start cheat codes required to unlock this coupe's A-game. You just get in and get gone. That's it. That's the car.
Because of this inherent simplicity, the BRZ is pretty stinkin' affordable. The base trim, which is confusingly named Premium, starts at a reasonable $29,615, including $1,020 for destination. Even the more upscale BRZ Limited — which includes goodies like blind-spot monitoring, lane-keeping assist, 18-inch wheels with summer tires, and heated mirrors — only costs $32,115. Not bad at all
Fraternal twins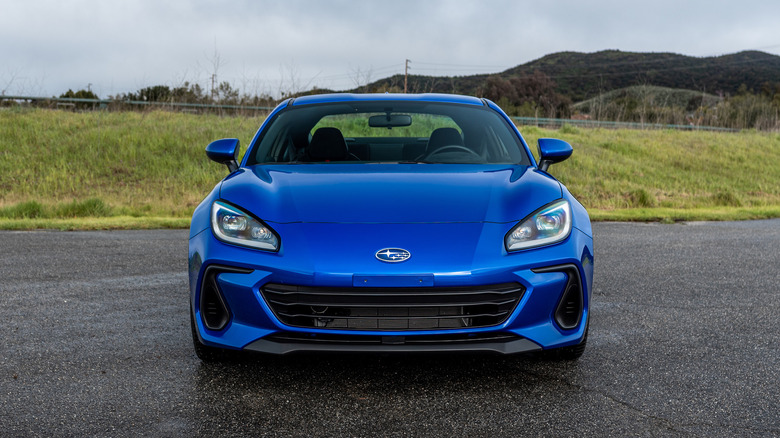 Tyler Clemmensen/SlashGear
The BRZ was developed as part of a joint venture between Subaru and Toyota, and the first-generation car — which Toyota initially sold as the Scion FR-S — hit the scene a decade ago. For the second-gen BRZ and GR86, Subaru took the lead on the engineering, and it builds both models at its factory in Japan. Interestingly, though, Subaru charges slightly more for its version of this coupe, with the Toyota GR86 coming in $120 less, at $29,495 (including a $1,095 destination fee). However, if you compare the BRZ Limited to a GT86 Premium — yes, Toyota's higher trim uses the same name as Subaru's base version — the difference is only 20 bucks.
Really, choosing between the pair is as much about personal preference than anything. I personally think the Toyota is a little more attractive, but maybe your eyes disagree with mine. Subaru and Toyota say the two rear-wheel-drive cars have unique power steering and damper settings, in addition to some other minuscule mechanical changes. The Toyota is supposedly tuned to be a little more tail-happy for all you wannabe drifters out there, while the Subaru is apparently a little more comfortable. Without driving the two cars back to back, it's hard to say for sure. And even then, you're probably just splitting hairs.
No turbo? No problem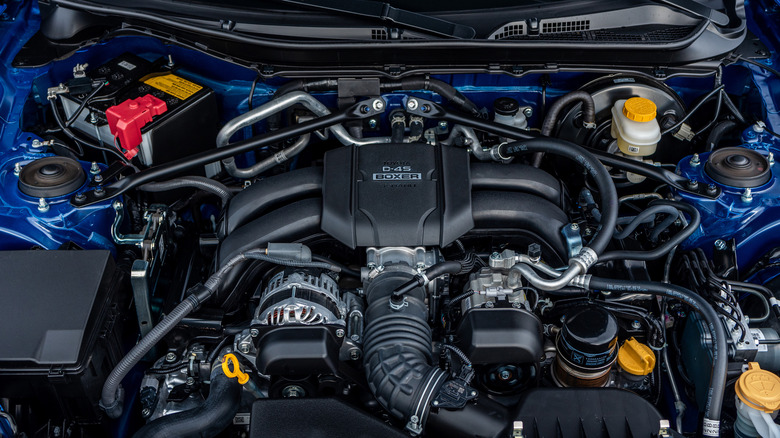 Tyler Clemmensen/SlashGear
Since Subaru handled the major mechanical engineering, it won't be a surprise to learn that the BRZ uses the same 2.4-liter flat-4 engine that's available in the Ascent, Legacy and Outback, just without the turbocharger. Output is rated at 228 horsepower and 184 pound-feet of torque, which doesn't seem like much, but is plenty for a sprightly little coupe that tips the scales at just 2,815 pounds.
A lot of enthusiasts continue to complain about the BRZ's lack of a turbocharger, but I really don't think it needs one. Subaru tweaked the 2.4-liter engine to deliver its peak torque at 3,700 rpm, rather than the lofty 6,400 rpm of the old BRZ's 2.0-liter engine. This means there's more low-end grunt when you need it, and you aren't constantly having to downshift to eke out passing power.
On that note, while you can spec the Subaru BRZ with a six-speed automatic transmission, the standard six-speed manual is truly the way to go. With its light clutch and short-throw shifter, the BRZ has one of the best stick-shifts around, and it really fits with this car's whole driver-focused nature. Buyers seem to agree: Subaru says roughly 70 percent of BRZ customers choose to shift their own gears. This gives the BRZ one of the highest manual transmission take rates in the entire automotive industry. A round of applause for these true believers.
That's not to say the automatic gearbox doesn't have some advantages, of course. On the BRZ Limited, the six-speed auto unlocks adaptive cruise control, and regardless of trim level, this transmission is more fuel-efficient, with EPA ratings of 21 mpg city, 30 mpg highway and 25 mpg combined. Manual models reduce those numbers to 20 mpg city, 27 mpg highway and 22 mpg combined. But also, let's be real: If you're buying a two-door sports car, how much do you really care about radar cruise and a couple miles per gallon?
Little coupe, big thrills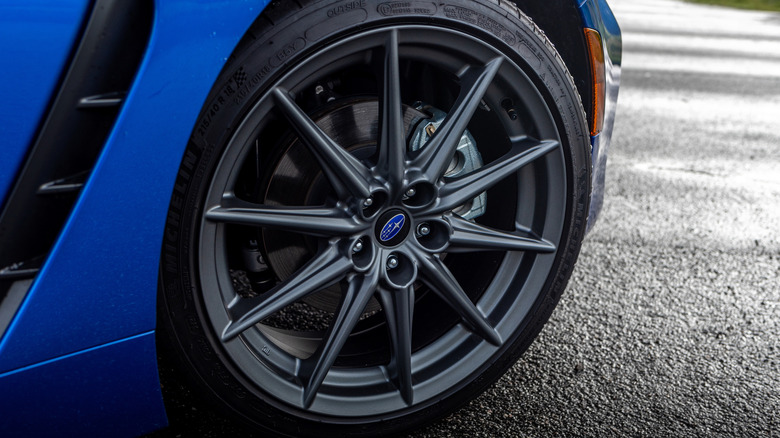 Tyler Clemmensen/SlashGear
The BRZ is what's known as a momentum car. It might not be fast, but it handles like a champ, and because it's light and stiff, you can carry lots of speed through tight corners. Turn-in is sharp and there's just enough body roll built into the chassis to give you a great sensation of speed. On tight canyon roads like the ones in Malibu, California, the BRZ is absolutely in its element, shooting from one hairpin to the next without any fuss, the engine fully on boil as you rev high in third gear.
Everything about the BRZ is predictable, and this is what makes it so darn rewarding. Plus, since you aren't trying to constantly rein in a billion horsepower or work through 2,000 different drive settings, you can push it harder and harder and know the BRZ will deliver consistent performance. It's also a car that lets you have a whale of a time without needing to hit way-above-legal speeds, with approachable limits that (probably) won't land you in jail.
This Subaru would be a great choice for someone who really wants to learn the fundamentals of car control. The 215/40 Michelin Pilot Sport 4 tires are grippy enough to prevent wheelspin, but there's enough freedom in the BRZ's rear end to let you slide around corners. Disable traction control on a track or autocross course and the BRZ can easily hold controllable drifts, with the communicative steering and linear power delivery through the throttle letting you manage the entertainment on your terms.
Little coupe, no frills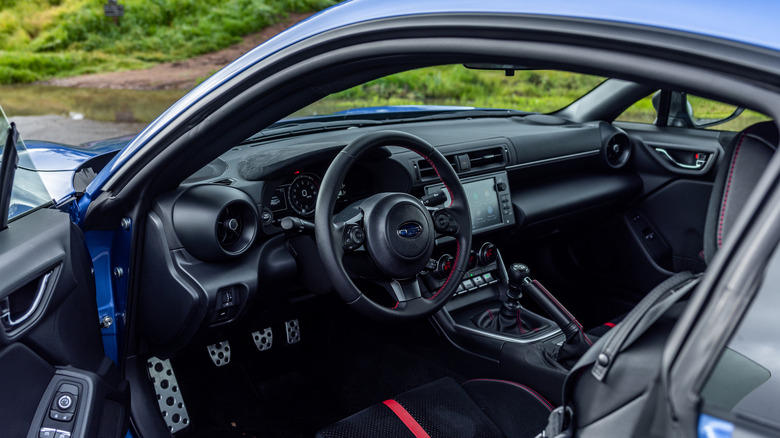 Tyler Clemmensen/SlashGear
Given the BRZ's focus on making driving a hoot, you won't be surprised to find an interior that's spartan at best. The cloth seats are nicely bolstered for back and thigh support, and they're heated, which is appreciated on chilly mornings. But overall, the BRZ's cabin is functional more than anything, with a straightforward layout and materials that are good but not great.
The BRZ technically has back seats, but I wouldn't recommend putting actual adult humans back there — even kids. Instead, consider these nice little areas to put shopping bags and backpacks. Or fold them flat, to accommodate longer items that won't normally fit in the relatively small trunk with its 6.3 cubic feet of space.
A standard 7-inch digital gauge cluster has a few reconfigurable display options, but it's nothing to write home about, showing all the information you need and nothing you don't. The 8-inch center infotainment touchscreen is also pretty rudimentary, with seriously outdated graphics and slow responses. But, thankfully, you can use Apple CarPlay or Android Auto for easier smartphone mirroring. Oh, by the way, the Limited's 'upgraded' stereo kind of sucks.
2023 Subaru BRZ verdict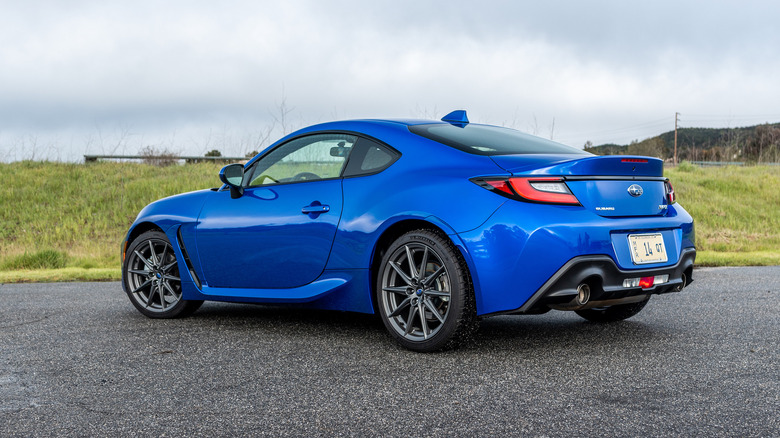 Tyler Clemmensen/SlashGear
Aside from the BRZ and its Toyota GR86 twin, the only other game in town that offers as much fun at this price point is the Mazda MX-5 Miata. I adore the Miata, and it'd be really hard to choose between Mazda's little darling and one of the Toyobaru twins. But I suppose if you don't really want a droptop, the BRZ or GR86 is the way to go. Even the Miata RF's retractable hardtop isn't as nicely insulated as a traditional coupe.
The BRZ is one of those cars that makes even the most mundane tasks exciting. You look forward to taking that one especially good freeway on-ramp by your house. You don't mind running to the grocery store, because there's a sharp turn at the end of the block that you can scoot the BRZ's little butt around. You don't even hate sitting in rush hour traffic, since the manual transmission is so pleasant to use.
Anyone who criticizes the BRZ for being underpowered or basic clearly hasn't driven one. This simplicity is the BRZ's best feature. It's impossible to spend a day driving one and not walk away amused.