The Fastest Car In The Mercedes-Benz Line-Up Might Surprise You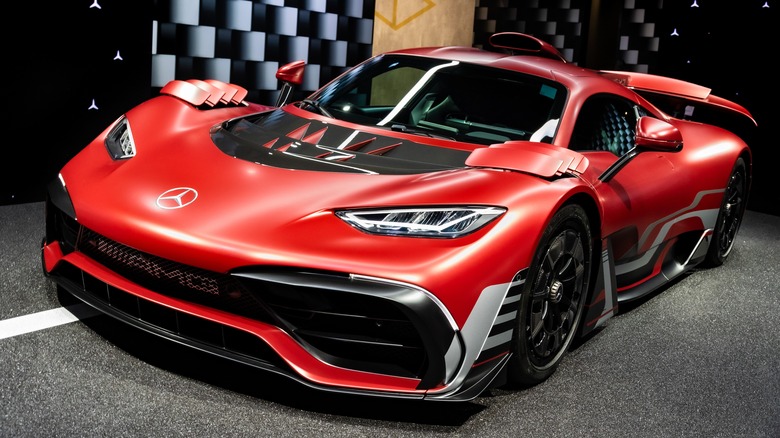 VanderWolf Images/Shutterstock
When the topic of the fastest Mercedes-Benz crops up, all eyes are on the German automaker's penultimate hypercar, the Mercedes-AMG One. Only 275 Mercedes-AMG Ones exist today. Each has an astronomical $2.72 million base price, making it the most expensive modern Benz ever made and one of the most expensive cars in the automotive world.
The One is typically a hybrid F1 racing car for the street, and it combines four electric motors and a high-strung 1.6-liter turbocharged V6 gas engine to produce 1,063 horsepower. With that many horses, the Mercedes-AMG One has a 219 mph top speed, officially dislodging the Mercedes-Benz SLR Stirling Moss as the fastest Mercedes in the automaker's portfolio.
Barring limited-edition hypercars from the equation, the fastest Mercedes-Benz might surprise you. It's neither a track-inspired Black Series nor a sporting coupe or grand tourer with two doors and a folding roof like the new Mercedes-AMG SL.
What is the fastest new Mercedes-Benz?
The fastest Mercedes you can buy today is the 2023 Mercedes-AMG GT 63 S E Performance, a four-door luxury car with a sloping roof and bewildering hybrid technology underneath. Under the hood is a 4.0-liter bi-turbocharged V8 with 639 horsepower and 664 lb-ft of torque. It also has a rear-mounted electric motor that churns out 204 horsepower and 236 lb-ft of torque.
With a total system output of 843 horsepower and 1,033 lb-ft of torque, the Mercedes-AMG GT 63 S E Performance has incredible numbers from what is conceivably a hybrid luxury car. And as expected, it gathers velocity that belies its posh intent. It goes from zero to 60 mph in 2.9 seconds and has a 196 mph top speed.
Not only is it quicker than any commercial-production Benz, but the GT 63 S E Performance requires deep pockets. It starts at about $221,888 before options, and the AMG Special Edition package is an additional $24,541 in exchange for dark chrome exterior trim, custom badges, and illuminated door sills. However, performance hardware like air suspension, composite brakes, and seven miles of all-electric range come standard.