A Fighter Jet Of Necessity: France And Germany's Versatile Alpha Jet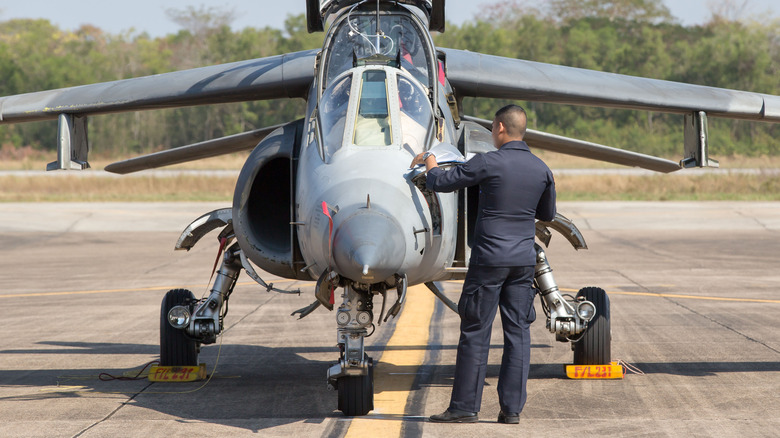 Gan Chaonan/Getty Images
In the late 1960s and early 70s, France needed a new training aircraft to replace the aging fleet of Lockheed T-33 Shooting Stars, a plane that was originally developed in the 1940s, during the very first years of jet powered aircraft. France also relied on the Fouga Magister, a similar plane to the Shooting Star, to train its Air Force. There was nothing inherently wrong with either plane, and both aircraft enjoyed long service lives, but France needed to keep up with ever-evolving jet technology. Throughout the Cold War, France would have been near the front lines of conflict if a large-scale land war broke out between NATO forces and the Soviet Union. Keeping airmen trained and ready to fly was a top priority. 
At the same time, the Federal Republic of Germany (West Germany) needed to fill the close air support attack plane role in its air force. Dassault and Breguet, two French aviation companies, and Dornier from Germany worked together on the plane that could solve both countries' problems. Such a plane was the Alpha Jet. The plane first flew without in 1973 and fortunately war never broke out. It proved to be just the plane Germany and France needed.
Five decades of service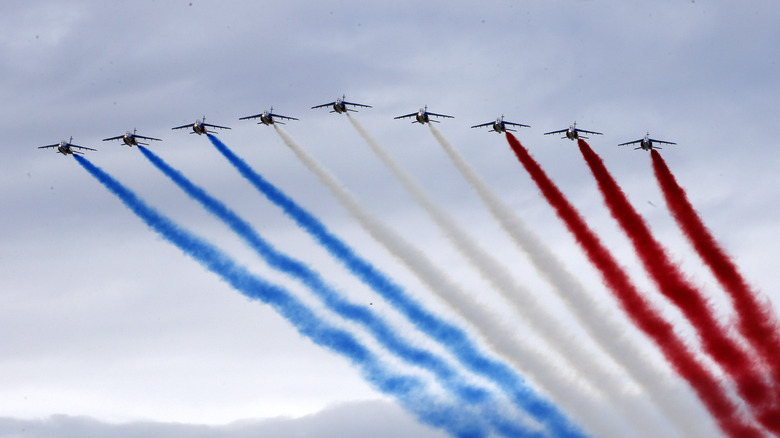 Thierry Chesnot/Getty Images
As a trainer aircraft, the plane excelled. It had no issues regularly exceeding 500 mph and proved to be maneuverable enough to fly with France's aerobatics team Aircraft of the Patrouille de France, which wassimilar to the U.S. Navy's Blue Angels or the U.S. Air Force's Thunderbirds. The two-seater was powered by two SNECMA Turbomeca Larzac turbofan engines that generate a combined 6,000 pounds of thrust, more than enough for the relatively light aircraft. Germany's air force successfully used the Alpha Jet in a light attack role for a couple decades, until it decided to sell them in the 1990s.
Since its first flight, 512 Alpha Jets have been produced and it has since been in the service of 13 different countries. According to Dassault, the Alpha Jet has clocked in over one million cumulative flight hours. France's aerobatics team still uses the Alpha Jet for its air shows and the once brand-new trainer still racks up flight hours entering its 50th year of service.