A Wildly Rare Koenigsegg Regera Hypercar Is Up For Auction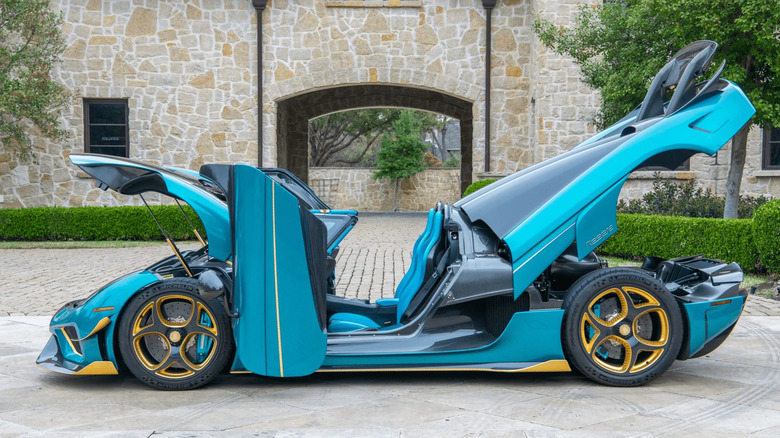 Bring a Trailer
Rarely would anyone see a Koenigsegg Regera on the road, much less for sale. First unveiled in 2015 at the Geneva Auto Show, the Koenigsegg Regera is the Swedish automaker's first production hybrid supercar. It's also the first Koenigsegg to feature the brand's proprietary Direct-Drive single-speed gearbox that seamlessly transitions from all-electric to gasoline power when pushing to the limit.
Tucked neatly in the back of the car is a 5.0-liter V8 gas engine developed in-house. It has dry sump lubrication, dual overhead camshafts, active engine mounts, a carbon fiber intake manifold, and twin turbochargers with custom 3D-printed housings. The hybrid part of the equation consists of three electric motors and an 800-volt architecture powered by a 4.5 kWh battery.
The Koenigsegg Regera offers 1,500 horsepower and above 1,475 foot-pounds of torque with its hybridized powertrain. Since it only weighs around 3,505 pounds (1,590 kg) with its carbon fiber & Kevlar body panels, the Regera has no trouble rushing to 60 mph from a standstill in only 2.8 seconds. Push harder, and you'll reach 186 mph in under 11 seconds.
Koenigsegg Regera: Rare exotica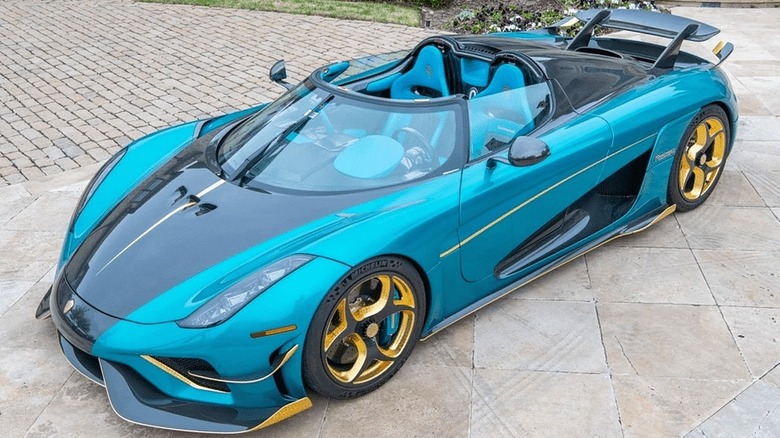 Bring a Trailer
Koenigsegg only made 80 examples of the Regera from 2016 to 2022. Moreover, the automaker has a reputation of selling every car it introduces at auto shows before production begins. Finding a Regera for sale at auction is enough to turn collectors mad, given the rarity and impressive engineering underneath. For instance, Gooding & Company estimates the Regera to sell between $2.75 million and $3.5 million at auction, which is not bad for a hypercar that initially sold for less than $2 million when bought new.
We bring good tidings if you have that kind of dough and have always obsessed over the Regera. There's a 2021 Regera currently on sale at Bring a Trailer, and the current bid is at $2,600,000 as of this writing. If the bespoke Candy Liquid Blue paint and machine-turned gold leaf accents are any indications, the Regera on this page has around $1 million in factory options.
The list includes a $285,000 Ghost Package that increases downforce by 20% thanks to an active rear spoiler, a bespoke front spoiler, side skirt winglets, and dive planes in the front and rear. In addition, the $250,000 Environmental Power Upgrade raises the power output to an astronomical 1,757 horsepower on a steady diet of E85 fuel. Other upgrades include Tresex Aircore hollow carbon wheels measuring 19 inches in the front and 20 inches in the rear, all wrapped in sticky Michelin Pilot Sport Cup 2 tires.
GT hypercar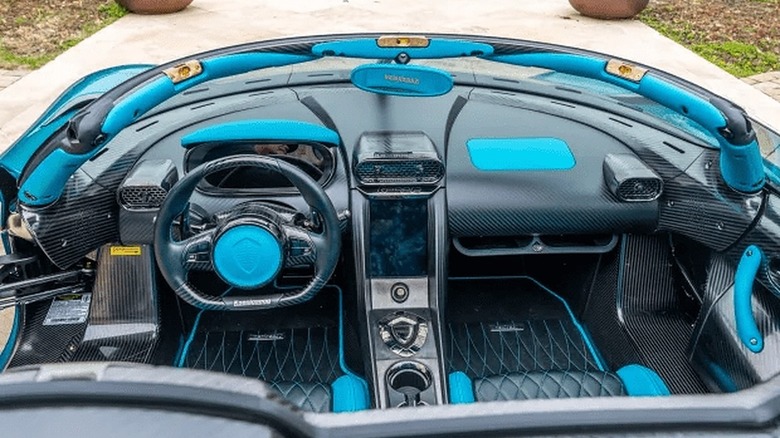 Bring a Trailer
Despite its mind-numbing performance attributes, the Regera hybrid is more of a grand tourer than a point-and-shoot track weapon. The Regera on Bring a Trailer features carbon fiber bucket seats with memory foam cushions, power windows, adjustable pedals, air conditioning, cup holders, USB charge ports, and an adjustable steering wheel.
Moreover, it has a touchscreen infotainment system, standard digital audio, Apple CarPlay connectivity, and wireless smartphone charging, to mention a few. You get all this in a sumptuous black leather cabin with blue stitching, blue accents, and genuine carbon fiber panels. Of course, you also get those fantastic robotized dihedral synchro-helix doors, a removable roof, ventilated carbon brakes, and pushrod suspension with adjustable damping.
With only 615 original miles, a clean Carfax title, and legit Texas license plates, this eye-searing Koenigsegg Regera deserves a home — preferably with someone willing to rack more miles on the odometer.