Sonos Era 100 Review: Stereo Sound Is Just The Start For This Smart Speaker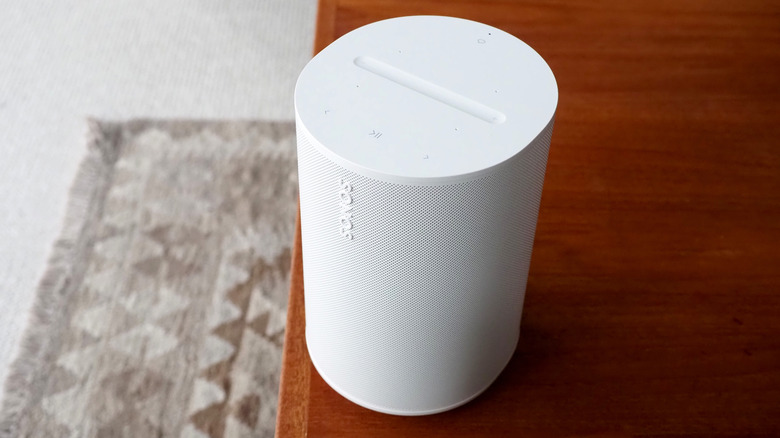 Chris Davies/SlashGear
Sonos has never been short of well-reviewed products, but the Sonos One has always held a special place in the speaker company's range. Punching above its scale in sound, aggressively priced, and neatly balanced on a design that's both surreptitious and sleek, the One — and its Play:1 predecessor — unsurprisingly proved the point of entry into Sonos ownership for a lot of music fans. That's a big set of shoes for the new Sonos Era 100 to fill.
Unlike the Era 300, also launching today, the Era 100 doesn't have spatial audio support to narrow its competition dramatically. It's not launching into a white space in the Sonos lineup, either, making its $30 price increase over the One all the more noticeable. And it doesn't break Sonos into new territory, like the affordable and battery-powered Roam.
Instead, Sonos focuses on the essentials. Sound quality, usability, and — more nebulous, but no less vital — fitting the sensibilities and expectations of the company's vocal user base. That's a whole lot to ask from a $249 smart speaker.
New connectivity inside a familiar design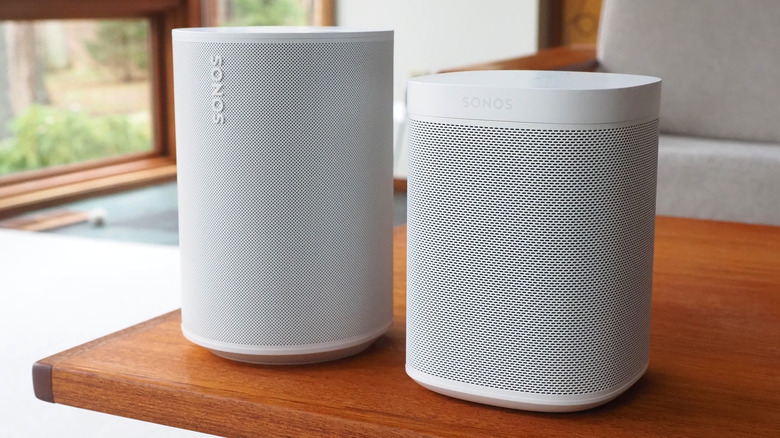 Chris Davies/SlashGear
The Era 100 is slightly taller than the old Sonos One — and more rounded. It's still small — just 7.18 inches high — but a little heavier than its predecessor, at 4.4 pounds. A redesigned top panel now has a touch-sensitive groove for adjusting volume. Also up top is a set of more traditional play/pause and track skip controls, while a physical microphone mute switch is on the rear. That disconnects the device's onboard microphone entirely, for those particularly concerned about privacy.
Sonos' distinctive aesthetic continues, with matte black or white finishes, seamless grille mesh, and a welcome avoidance of bells and whistles. There's a mounting screw on the bottom, but Sonos also has a special wall mount ($69) and floor stand ($139). It's also humidity resistant: you can't submerge it in water, or use it in the rain, but it'll handle a kitchen or covered patio.
Connectivity gets a welcome upgrade, with WiFi 6 and Bluetooth 5.0 support. The ethernet port has been removed, with a USB-C in its place. That'll work with Sonos' $19 line-in adapter for a 3.5mm input, or the $39 Sonos Combo Adapter which has both the line-in and an ethernet jack. Getting line-in functionality without needing to purchase a Sonos Five, Amp, or Port is welcome, though I suspect most people will use Bluetooth or AirPlay 2 wireless streaming.
Trueplay is finally Android-friendly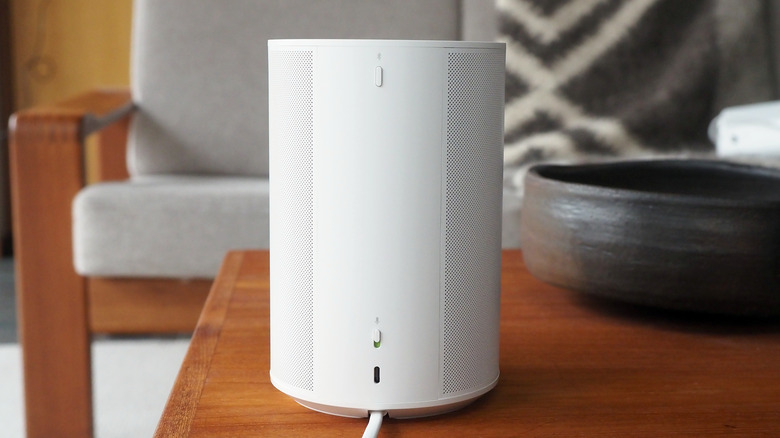 Chris Davies/SlashGear
Setup is simple, starting with a quick spotting of the Era 100 within the Sonos app where it is then quickly added either to a new room or an existing one. If there's already an Era 100 in there, you can wirelessly pair them, but since the new speaker supports native stereo — whereas the Sonos One is mono — you may not be in such a hurry to do that.
As before, you'll be prompted to run Sonos' Trueplay automatic tuning system. "Advanced tuning" uses an iOS device as before, and sees you walk around waving an upended iPhone while the speaker plays a long warbling sound. New for 2023, though, is "quick tuning" which relies on a shorter sound and the microphone inside the Era 100 to adjust the EQ. It's quicker and means Android users don't need to borrow an iPhone, and I couldn't spot a difference in sound between the two different Trueplay types.
In addition to making a stereo pair, two Era 100 can be combined as the rear channels for a surround sound system with one of Sonos' soundbars. With only one review unit on hand, though, I haven't been able to try that yet. It's worth noting that — as has always been the case — only speakers of the same model can be linked like this: you can't pair up an Era 100 with a Sonos One, for example.
A sweeter sounding speaker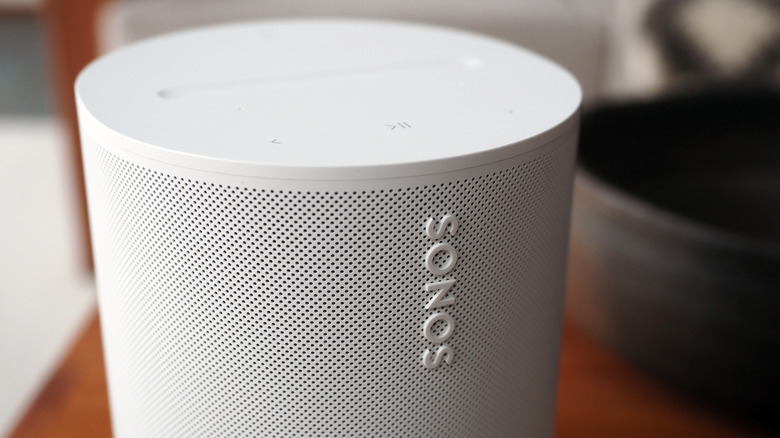 Chris Davies/SlashGear
Native stereo support is the big deal, here. Inside the reworked casing — which now uses a greater proportion of recycled plastics — there are two angled tweeters designed to spread the left and right sound out, plus a larger woofer, and new waveguides. It's not the spatial audio magic that the larger (and more expensive) Era 300 offers, but then again the Dolby Atmos music scene is still in its early days.
Side by side with a Sonos One, the Era 100's stereo embrace makes for a far more successful speaker. Obviously, there's not quite the same degree of channel separation as you'd get with two individual speakers, but it definitely makes it easier to distinguish detail that sometimes could get lost with the One. High-end clarity gets a boost.
The sweet spot for the most balanced sound feels wider, as does the soundstage. The low end is noticeably more potent than on the One, but not to the point where it overwhelms vocals. Sonos' generally transparent tuning takes a hands-off approach to the original mix, though you can still tweak treble, bass, and loudness manually if you'd prefer. In all, the old One magic — of feeling like there's really more sound than a speaker of this scale should be capable of supplying — is carried over.
Rivals are circling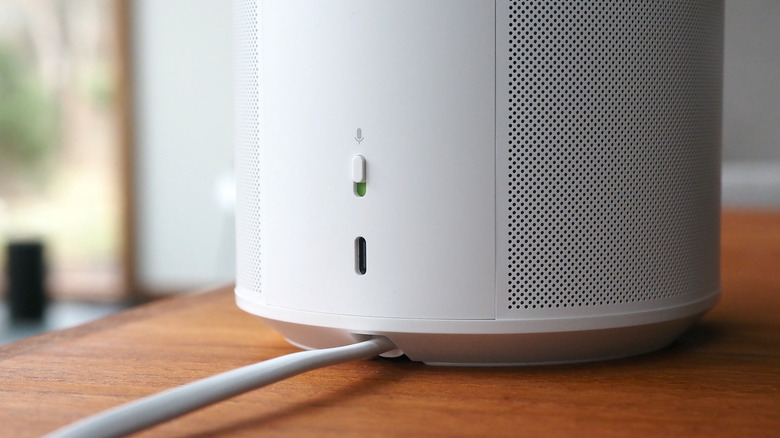 Chris Davies/SlashGear
The home speaker world has changed since the Play:1 and Sonos One, mind. Apple's HomePod has launched, died, and been resurrected in the meantime, and price shuffling from both companies means there's now just a $50 difference between the second-generation HomePod and the Era 100.
Devotees of Apple's ecosystem should probably spend the extra, this time around. The HomePod (2nd Gen) packs more power, with bass particularly thunderous, and though its spatial audio isn't as convincing as that of the Era 300 to my ears, as a whole it feels generally more compelling sound-wise than the slightly cheaper Era 100.
That's great, just as long as you're an Apple Music subscriber. If you prefer other big-name streaming services, like Spotify or Amazon Music, the experience on HomePod is still subpar. There, Sonos' more platform-agnostic approach pays dividends: you can link multiple services to your system, including Apple Music, and have them treated as equals both via the Sonos app and Amazon Alexa.
Sonos' own Voice Control is also present, though it still doesn't have support for Spotify. Another oddity is the absence of Google Assistant, despite the Sonos One and other older models having access. Sonos says that's down to a change in Google's requirements, though the company maintains adding it is the goal.
Sonos Era 100 Verdict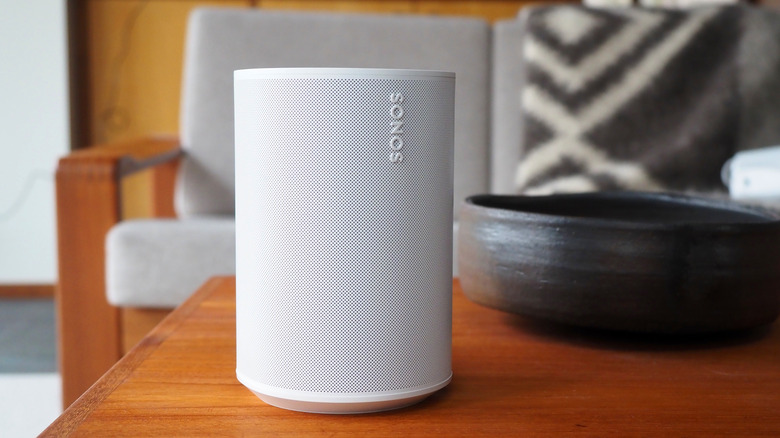 Chris Davies/SlashGear
Existing Sonos fans are really going to like the Era 100, I suspect. It sounds better than the Sonos One, and it continues in that model's pattern of refined, restrained design. Being able to use it as a line-in for external sources is a welcome addition, as is Bluetooth streaming support, while both the on-speaker controls and the new Trueplay are easier to use.
More than that, there's a nod to some of the other expectations Sonos users prioritize. Power consumption, particularly in standby, is lower, while the number of recycled materials inside and out have been increased. Sonos is using less glue and more screws so that future repairs — and, eventually, end-of-life recycling — are more straightforward. For a company that has long been known for the lengthy lifecycle of its products, they're important considerations.
Overall, the Era 100 asks more from your wallet but offers more in return. Despite its age, the One still sounds great; this successor only improves on that. More broadly, though, the added features like line-in support, Bluetooth streaming, and a processing upgrade for added headroom for future software updates are that make the Era 100 feel so solid. While Apple, Google, and Amazon devotees should still consider each company's own speakers, Sonos continues to upend the assumption that the only way to get a slick, rewarding experience is to stay safely within your ecosystem.
The Sonos Era 100 can be purchased for $249 from Sonos.