The Sonos Era 100 May Look Familiar, But This Is One Huge Update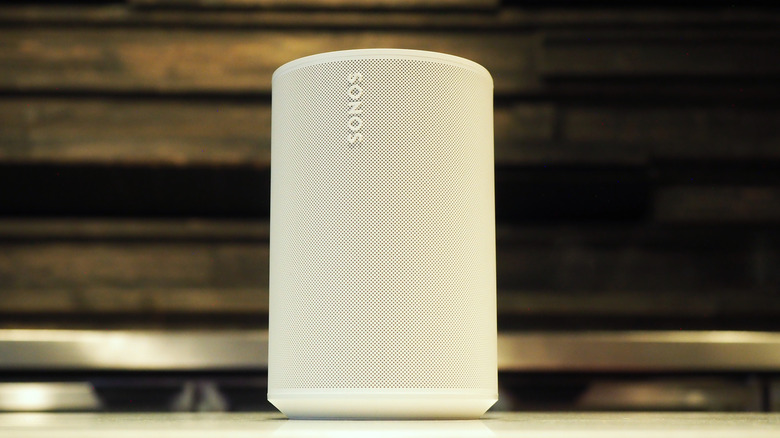 Chris Davies/SlashGear
The Era 100 takes what is arguably Sonos' most important speaker, and gives it a meaningful upgrade. The Sonos One wasn't the company's first model, but as one of the most affordable, this speaker — and the Play:1 before it — have been the point of entry into the ecosystem for a lot of users. All the same, with a sonic design effectively unchanged since 2013, it was about time for an update.
"The goal was to reinvent one of our most iconic products," Ryan Moore, Principal Product Manager for Hardware at Sonos, told SlashGear ahead of the new Era 100's launch today. That's an opportunity and a risk, of course. Sonos' customers trend loyal, but they've also not been afraid of voicing complaints when they disagree with the company's decisions.
For the Era 100, then, the recipe was deceptively straightforward: affordable enough, compact enough, and yet delivering great sound for the size. "We want it to be 'surprisingly good,'" Giles Martin, SVP of Sound Experience at Sonos, explains.
Familiar looks, but a whole new heart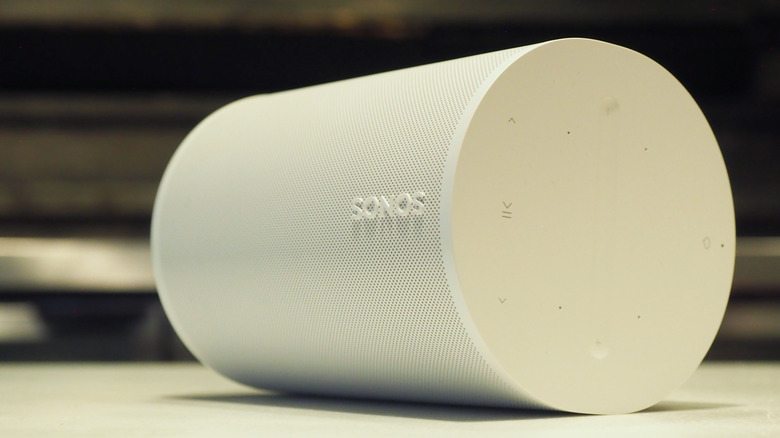 Chris Davies/SlashGear
The result looks at first glance much like its predecessor, but the Era 100 is actually entirely new inside and out. About an inch taller than the old Sonos One, the biggest improvement is probably its embrace of stereo. Where the old speaker was mono, two angled tweeters have been squeezed into the top of the Era 100, and a larger midwoofer delivers deeper bass.
A full assessment of that will have to wait until we can test the speaker side-by-side with its predecessor, but first impressions at a Sonos preview event that SlashGear was invited to are promising. Like the Sonos One, the Era 100 is louder and boasts more clarity than you would expect from its scale.
Sonos has replaced the old ethernet port with a USB-C on the rear. That'll work with two accessories initially, including a 3.5mm line-in adapter, and a second dongle that has line-in and ethernet. As well as Wi-Fi 6 and AirPlay 2, there's Bluetooth 5.0 for wireless line-in, with support for then distributing that external source to other Sonos speakers in the network.
Along with the increase in volume, there's also a bump in price, with the Era 100 launching at $249. Like before, two can be paired for broader stereo separation, or as the rear channel speakers for a surround sound system with one of Sonos' soundbars. It also gets an updated top panel interface, with a touch-sensitive groove for controlling volume, along with Sonos Voice Assistant and Amazon Alexa support at launch.
Responsible design and still platform-agnostic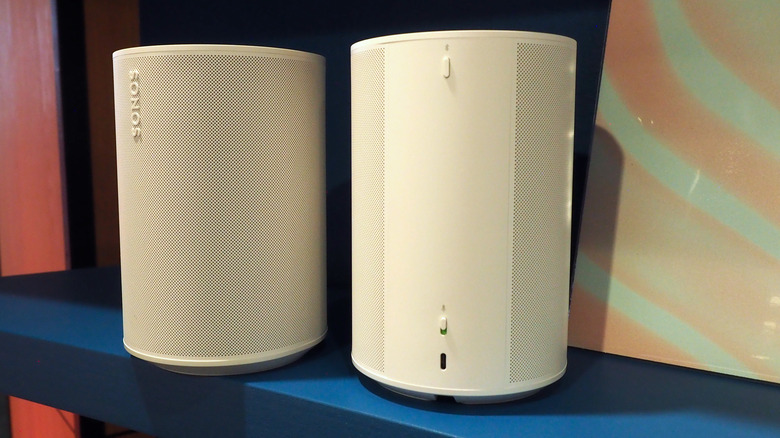 Chris Davies/SlashGear
A physical microphone mute switch on the rear disconnects power to the mic array for privacy, though Sonos has other uses for the speakers beyond interacting with virtual assistants. Owners will be able to use Trueplay in the Sonos app for iOS to automatically configure the EQ to suit the acoustic properties of the room, but the Era 100 can also do that with its onboard microphones. That finally means Android users can access Trueplay without needing to borrow an iPhone first.
These are not the only mindful decisions Sonos has made. The Era 100 follows the company's principle of "responsible design," with lower standby power consumption, and better efficiency overall. The packaging uses 100% sustainably-sourced paper, paired with rattan handles and smaller, recycled plastic latches.
The speaker itself also makes considerable use of post-consumer recycled plastic. Sonos is also switching to screws in many of the places it would've traditionally used glue, paving the way for more straightforward repairs over the Era 100's lifespan. Once it does reach end-of-life, dismantling and recycling should be easier, too.
Big risks could bring big rewards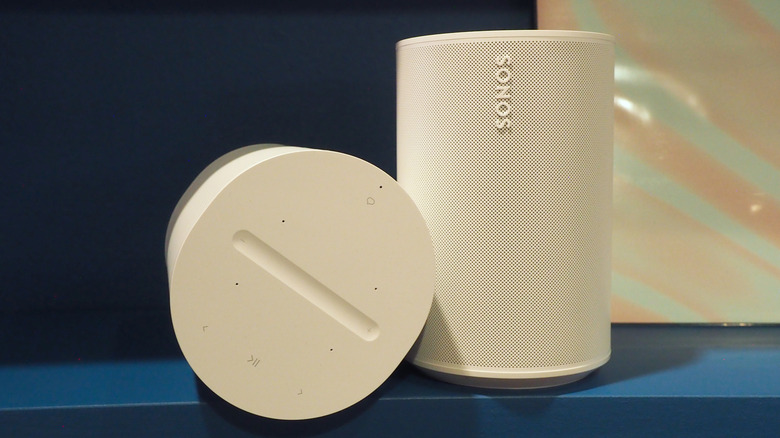 Chris Davies/SlashGear
Long-time Sonos users might be forgiven for feeling apprehensive about such big changes to what is, at this point, a mainstay of the company's speaker range. Especially since Sonos' changes have come with a price increase from the One's current $219 tag. Nonetheless, there's shaping up to be a whole lot to like about the Era 100, even if we need to spend more time with it to judge its overall audio performance.
The ability to use it as a more affordable line-in source, for instance, could please a lot of turntable users. Until now, you've needed to spend at least $449 on a Sonos Port for that. Meanwhile the switch from mono to stereo should help Sonos push back at competition from Amazon and Google's smart speaker ranges — along with freshly-reintroduced rivals like Apple's HomePod.
Preorders of the Sonos Era 100 kick off today, with the speaker shipping from March 28, 2023. It's priced at $249, and will be offered in black and white.