Whatever Happened To The One-Of-A-Kind Car From Chitty Chitty Bang Bang?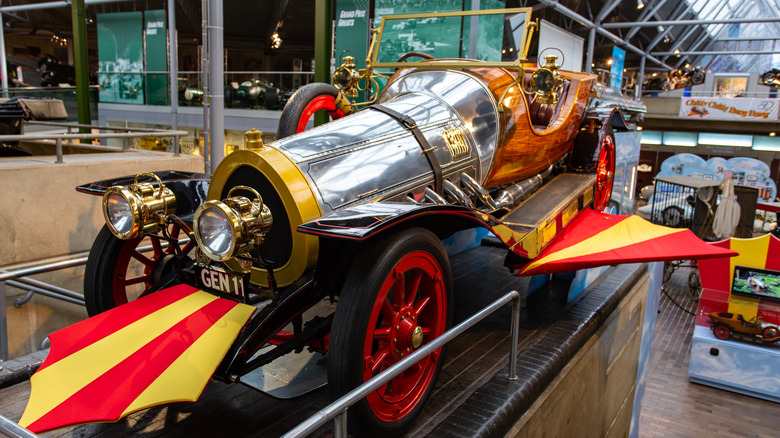 RoseyPhotos/Shutterstock
When one thinks of British author Ian Flemming, what immediately comes to mind is his series of novels from the 1950s and 1960s featuring the suave super-spy James Bond, code number 007. But Flemming was also an avid petrolhead and his writing typically placed Bond behind the wheel of an anglophile Bentley or Aston Martin. As Flemming's catalog was transformed into a successful film franchise over the following decades, Bond's choice of wheels received a contemporary refresh that included a Toyota 2000 GT, a Lotus Esprit, a BMW Z8, and even a Ford Mustang Mach I.
As a youth, Flemming had admired a series of aircraft engine-powered race cars owned by Count Louis Zborowski, a British engineer, in the 1920s. The eclectic race cars, riding on a Mercedes chassis, shared the nickname "Chitty Bang Bang," reportedly because of the unique sound of their aircraft engines. So when the author penned his first and only children's book in 1964, it naturally revolved around a fictionalized version of Zborowski's race cars, with the name appended slightly to "Chitty Chitty Bang Bang."
Chitty Chitty Bang Bang was even more fantastical than the real-life oddball racers that inspired it, including the ability to perform extraordinary feats such as floating and flying. When the book was adapted into a feature-length film in 1968 by author Roald Dahl of "Willie Wonka and the Chocolate Factory" fame, the production crew faced the heady task of bringing the fictional flying, floating car to life.
Six cars were used for filming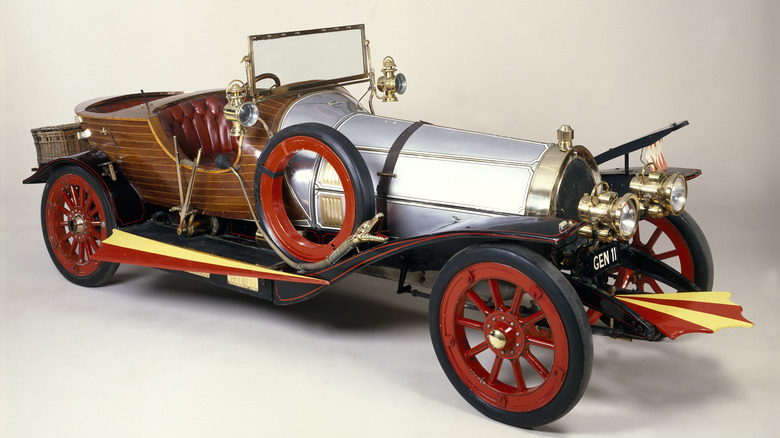 Heritage Images/Getty Images
The film represented Chitty Chitty Bang Bang as a turn-of-the-20th-century racing car with a winning streak that ended with a fiery crash at the 1909 British Grand Prix. The wrecked car was then purchased by the film's main character, Caractacus Potts, and rebuilt in steampunk fashion for Pott's family to adventure in. In reality, no less than six cars were fabricated to fulfill all of the film's special effects. The primary car used for filming was a fully functional, road-legal vehicle with a modern (at the time) Ford V6 engine and automatic transmission. The car's huge wood and metal body was a joint collaboration between U.K. boat builders and a local metalworking establishment. 
Actor Dick van Dyke commented that the car was difficult to drive and maneuver because of its extra-long wheelbase. After filming was complete, the primary car was purchased by Pierre Picton, a local celebrity resident of Stratford-upon-Avon. For the next four decades, Picton regularly toured the car for viewing until 2011 when it was sold to Peter Jackson, director, writer, and producer of the "Lord of the Rings" and "Hobbit" trilogies. Jackson exported the car Down Under to New Zealand, where it continues to make appearances for charity.
The other cars used in filming typically had specialized tasks such as a version that was easily trailered for close-up shots of the actors, a flying version, and a racing version of the car. Nearly all of those special-purpose cars have been preserved or restored and can be viewed in various automotive museums around the world, including the Hollywood Cars Museum in Las Vegas, Nevada, Stahls Automotive Collection in New Baltimore, Michigan, and National Motor Museum in Beaulieu, England.