The Timeless Ducati Motorcycle That Still Turns Heads Today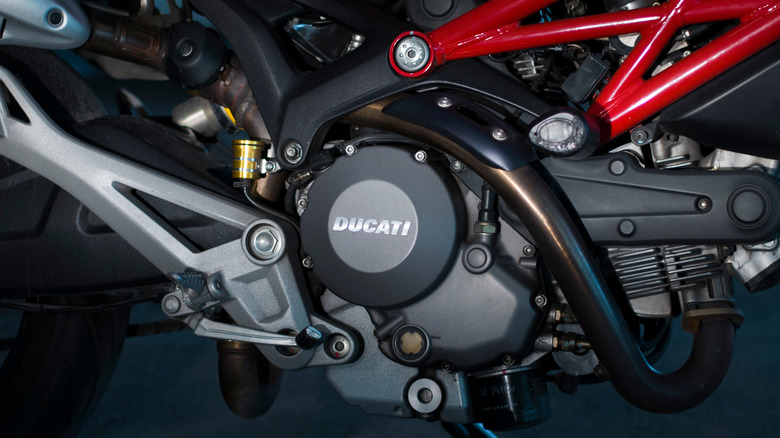 Jatuporn Chainiramitkul/Shutterstock
Ducati is one of the oldest and most storied players in the motorcycle marketplace. Per Ducati's own history, the superbike brand got its start in 1926, building radios under the catchy name "Società Scientifica Radio Brevetti Ducati." By 1949, the Bologna-based manufacturer had trimmed the brand name down to Ducati and released its first motorcycle, the Ducati 60, a major player in motorizing Italy after World War II.
Brand identity changes over the years, however. The Ducati 60 — with its 60cc engine and a frame so light riders routinely carried their bikes indoors to deter thieves — showed little promise of inspiring a line of lethally fast, top-market street bikes. The company's transition from utilitarian grocery-getters to the bleeding edge of street and track technology would take decades of work and dozens of models. Perhaps the bike that did the most to shape Ducati's modern brand identity was a product of the 1990s: the Ducati 900SS.
Writing its name in asphalt
Ducati has built a whole range of masterpieces over the years, but the 900SS was something special. When the 900SS hit the street, it represented both the end of an era and a new beginning for its manufacturer. The 900SS was the last air-cooled Ducati Supersport, as later engine designs would all be liquid-cooled. The 900SS also showed style flourishes that would inform Ducati for years to come, incorporating aerodynamic curves and breaking up the company's signature wraparound fairing to show off engine and frame.
Style can only do so much for a bike, however. A real classic has to perform: Per Cycle World, that's exactly what the 900SS did as of its 1991 release; inspiring new customers and defeating gearhead skepticism about European bikes in the heyday of American and Japanese market dominance. Light at 414 pounds and lethally fast with its 940cc Desmo Twin engine, the 900SS could hang with any motorcycle of its time and class.
Ironically, for all the success of the 900SS in its day, there's some mild friction about it now. Everyone still thinks it's a masterpiece, but there's some debate as to which model was the best of the brand. Nevertheless, the good news for motorheads is that both designs from 1991-1998 are widely available and reasonably priced on the used motorcycle market.
[Featured image by Ildar Sagdejev via Wikimedia Commons | Cropped and scaled | CC BY-SA 4.0]