Apple's Very Yellow iPhone 14 Is Now Available For Pre-Order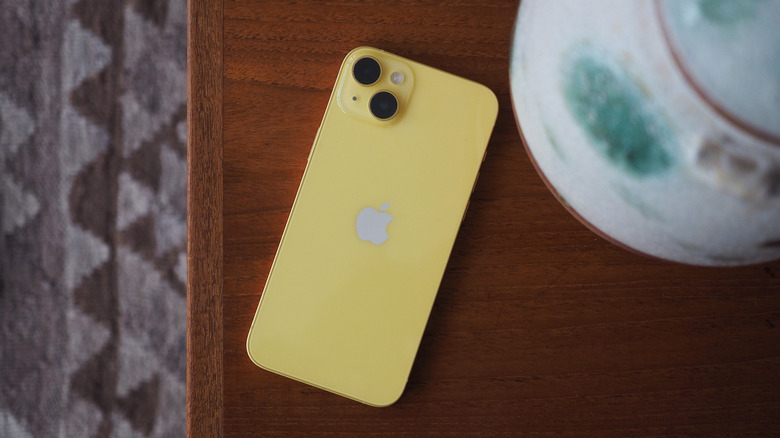 If you have ever, for any reason, wanted a phone that you can successfully hide among a bag of lemons, now is your chance. Apple has just introduced a brand-new iPhone 14 and iPhone 14 Plus, and both of them are as yellow as can be. The shade is remarkably vibrant without dipping into harsh neon tones — a "happy" yellow if you will. The good news is that this phone is already available for pre-order, but it might be a little while before it's actually in your hands.
Apple initially broke the news about the phone a few days ago, but the device is now up for grabs, although you can only pre-order it for now. The new shade, perfect for spring, could perhaps help the iPhone 14 lineup with a few additional sales. So far, the range doesn't seem to be a fan favorite. It's close in design to the iPhone 13, and while it does have a few new features, it might not be enough for people to rush to buy these phones. This might be one of those generations that some Apple fans choose to sit out, and with the iPhone 15 rumored to have more to offer, skipping this generation seems to be even easier to do. However, the new color might help Apple draw some more attention to the existing lineup as it continues preparing for the next generation.
Fresh on the outside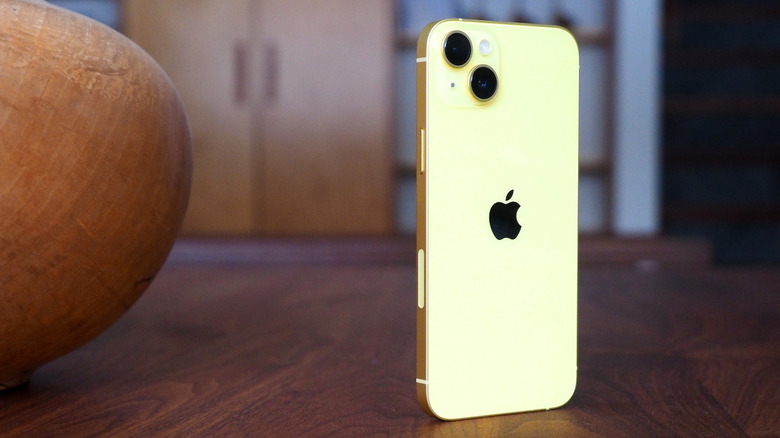 Framesira/Shutterstock
The happy new iPhone 14 is fresh on the outside, but the insides are the same as the rest of the color palette. The yellow color is available for the iPhone 14 and the iPhone 14 plus. The former comes with a 6.1-inch display, but the latter bumps the screen size up to 6.7 inches. You can also customize the storage size between 128 GB, 256 GB, and 512 GB. Each upgrade affects the final price. 
Apple's iPhone 14 comes with a dual camera system, and both phones house the A15 Bionic chip. Apple decked out this generation with some new safety measures, such as Emergency SOS which lets you send a text message via satellite even when you're out of cellular coverage. There's also automatic crash detection that alerts the emergency services if the phone suspects you might have had an accident.
You can pre-order the new phone from the official Apple Store. Your sunshine-yellow smartphone will not begin shipping right away, though — Apple notes that the yellow model will become available on March 14, 2023.