Grammarly Announces New AI Tool To Improve Your Writing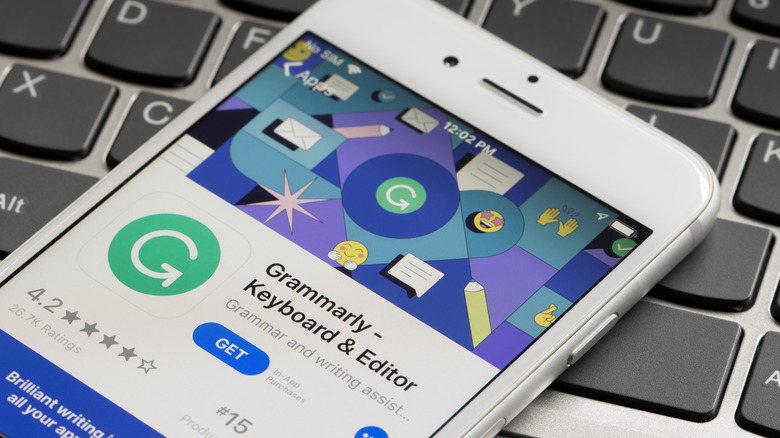 Tada Images/Shutterstock
We're not even a quarter into it yet, and 2023 is already proving to be the year of artificial intelligence. With the biggest players in technology like Microsoft and Google getting in on it, it's only natural that the rest of the digital world follows suit.
Just last week, we heard of Brave's browser and search engine combo getting its own unique AI tool. It doesn't claim to offer deep generative language capabilities that can perform any text-oriented task you throw at it, but it does help supercharge search to offer more relevancy and clarity in its results.
Now, we're being treated to another major announcement of a new AI writing tool by the folks behind Grammarly, a writing aid that helps you tighten up your prose, not to mention the various dottings and crossings we're prone to miss in everyday typing. It's called GrammarlyGO, and its goal is to take the platform well beyond its roots as a souped-up spellchecker.
In a sense, Grammarly already uses a form of artificial intelligence to power its feature set. Its grammar and spell-checking tools need, at the very least, a rudimentary system to understand proper language. And it's been fairly effective at its noted tasks. Ask 10 writers what their favorite tools are, and odds are a majority will swear by Grammarly to keep the quality of their scribing work in check.
GrammarlyGO will offer deeper AI functionality
GrammarlyGO proposes an offering similar to ChatGPT's: it'll take a prompt to compose a new piece of writing and generate an appropriate output within seconds. In addition to creating new drafts from scratch, it can also rewrite existing content, taking into account your personalized preferences for length, tone, and clarity. If you've hit a moment of writer's block, it can also help you ideate and outline new content.
How far it digs into the latter functionality remains to be determined. Unlike ChatGPT, GrammarlyGO doesn't claim to draw on real-time data by internalizing information gleaned from internet sources, so using it as a one-stop research and writing tool may be out of the question. It could be a powerful augmentation when used with other services, however.
It's unclear whether Grammarly leverages third-party technology or if it has developed something in-house. Compared to similar writing tools, it primarily targets the enterprise and academic sectors, with the company heavily advertising business tasks — such as quickly outlining project briefs or responding to emails — as standout use cases.
Business teams can apply for early access to the tool early, though individual subscribers to Grammarly's premium service will get access just as soon as it enters beta, which rolls out in April. Eventually, it'll be freely accessible for those in the US, UK, Australia, Canada, Germany, New Zealand, Poland, and Ukraine, with more countries to follow soon after.