US NHTSA Investigating Tesla Over Reports Of Model Y Steering Wheels Falling Off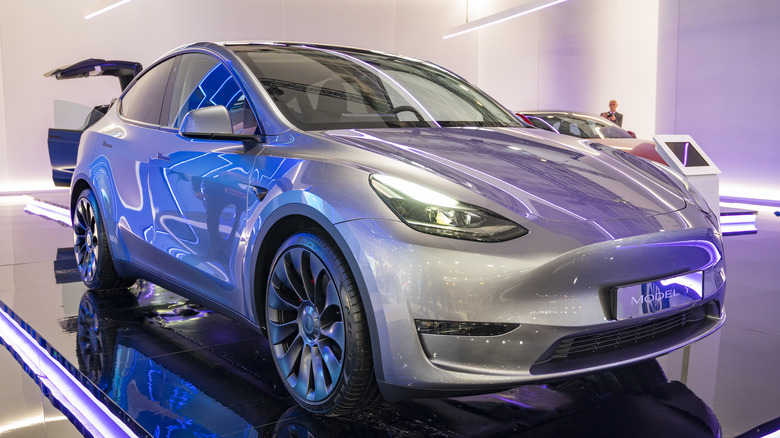 Sjoerd Van Der Wal/Getty Images
Tesla vehicles are known for their flash and high tech electronics. Tesla owners are able to utilize autopilot features and set intuitive charging schedules and limits. Now, apparently they're able to tear their steering wheels away from the dash with ease, though that was clearly not intended. The surprising development has recently made headlines, and regulators working within the U.S. automotive industry are taking notice.
The U.S. National Highway Traffic Safety Administration has launched an investigation into Tesla Model Y vehicles produced for the 2023 model year. In two separate incidents, "sudden separation occurred when the force exerted on the steering wheel overcame the resistance of the friction fit while the vehicles were in motion," the report indicates. The problem has resulted from a missing retaining bolt that's intended to lock the steering wheel onto the steering column. 
Instead, the friction fit created during installation allowed the wheels to appear properly connected, until the act of driving pried them loose. In total, the NHTSA report estimates that this problem could affect as many as 120,089 vehicles. The Administration opened its investigation on March 4, 2023, and will surely be looking to make sense of the defect's magnitude at a rapid pace.
The safety issue has quickly garnered national attention
One of the two complainants posted images of their steering wheel mishap to Twitter on January 30, 2023 — less than a week after reportedly taking delivery of the new car. 
@elonmusk @TeslaOwnersWW @BLKMDL3 Family was excited to receive Tesla Y delivery on 1/24/2023. Was driving on highway and all the sudden steering wheel fall off, was lucky enough there was no car behind and I was able to pull on devider #SafetyFirst #Fixit #TeslaModelY #help pic.twitter.com/4UMokFA2cv

— Prerak & Neha Patel (@preneh24) January 30, 2023
The post has seen over 2.4 million views as of March 8, 2023. The owner notes that while driving with his family, the steering wheel simply fell off. "Was lucky enough there was no car behind," they add, noting that they were able to carefully pull to the side and stop the car without incident. The owner filed a complaint with NHTSA, and took his Tesla to a service center to try to remedy the alarming issue. 
He was initially given an estimate for $103.96 to repair the wheel, but was later offered a replacement vehicle after asking for a refund and noting his understandable level of discomfort with the vehicle and Tesla itself.
This isn't the first recall or safety issue Tesla has faced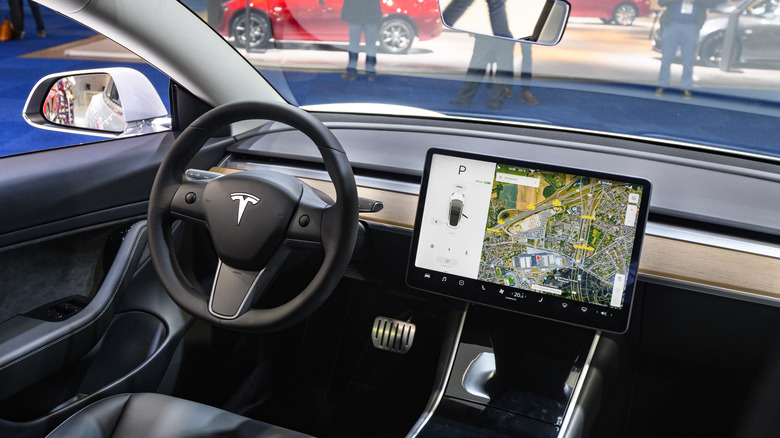 Sjoerd Van Der Wal/Getty Images
An investigation is the first step toward forcing Tesla to issue a recall, which the NHTSA may eventually do if the facts warrant this move. However, this isn't the first safety issue or threat of an enforced recall that Tesla has had to face.
Tesla announced its own recall of Model S and X vehicles from models years between 2017 and 2021 over power steering problems caused by potholes. This affected more than 40,000 Tesla vehicles in the United States. Similarly, The U.S. Justice Department has noted its concern with the autopilot features (particularly the "Full Self-Driving" option) after multiple crashes occurred as well. 
Notably, the Administration is concerned over use of autopilot features during driving conditions that the tool isn't fully capable of accommodating, leaving vehicle owners to fail to correct a steering or speed maneuver from the navigation system. Some issues are being seen in collisions with parked emergency vehicles, failure to change speed when entering a new zone with a new speed limit, and a lack of yellow light caution at intersections.
This isn't the first time a steering wheel detachment has occurred recently. Nissan recalled roughly 1,000 Ariya EVs after identifying a loose bolt in the steering column that could cause wheel detachment. The same type of issue may be at play here, but the results of an ongoing NHTSA investigation are forthcoming.