This LEGO Ford GT Gives The Supercar A Suitably Outrageous Send-Off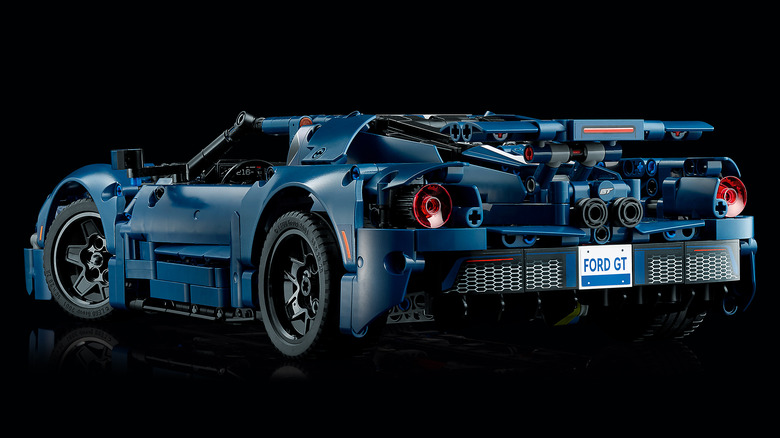 After a seemingly limitless parade of special editions, Ford finally ended production of its second-generation Ford GT supercar in late-2022. For the uninitiated, the GT is a modern reinterpretation of Ford's iconic GT40, which won the prestigious 24 Hours of Le Mans race four consecutive times between 1966 and 1969.
Perhaps you weren't able to get a Ford GT of your own because your checking account balance was a little short of the GT's $500,000 price tag? Or even worse, your application to purchase a GT was denied by Ford? Well, we have some good news.
One of the latest additions to Danish toymaker LEGO's "Technic" lineup is a Ford GT, replicated in 1:12 scale. That translates to the approximate dimensions of 15 inches long, 7 inches wide, and 3.5 inches tall. Best of all, you don't need to take out a second mortgage or beg for Ford's permission to snatch one up.
The level of detail is stunning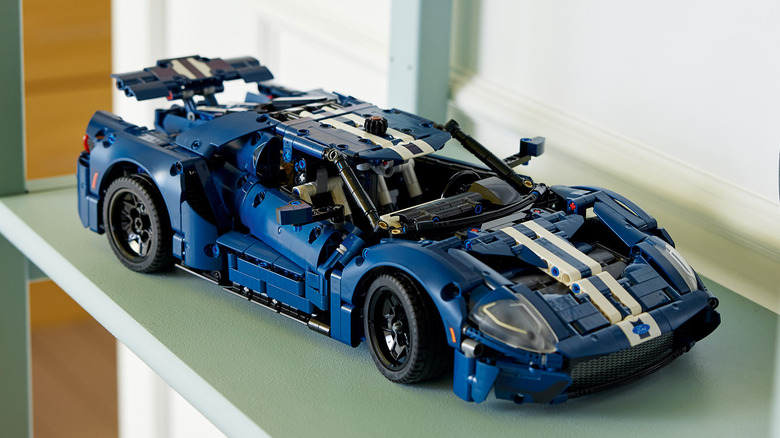 LEGO
Made of 1,466 bricks, the Lego Technic Ford GT has steerable wheels, working four-wheel independent suspension, a moveable rear spoiler, and opening doors and hood. But the highlight of the kit might be its "functional" V6 engine with visible moving pistons. For the record, the real Ford GT is powered by a twin-turbocharged 3.5-liter EcoBoost V6 that cranks out 660 horsepower.
Lest you think the mini-GT is child's play, LEGO says that this kit is intended for adults, 18 years or older. According to Brick Fanatics, assembly takes about four hours for an experienced builder, although it might be more fun to spread the build out over the course of a few evenings. The Technic Ford GT kit is available now at a suggested retail price of $119.99.
If a Ford GT isn't your jam, LEGO has also just released a Technic version of the Bugatti Bolide, as well as a NASCAR Next Gen Camaro ZL1.