ReMarkable's Keyboard Turns Its E-Paper Tablet Into A Laptop Rival With Weeks-Long Battery Life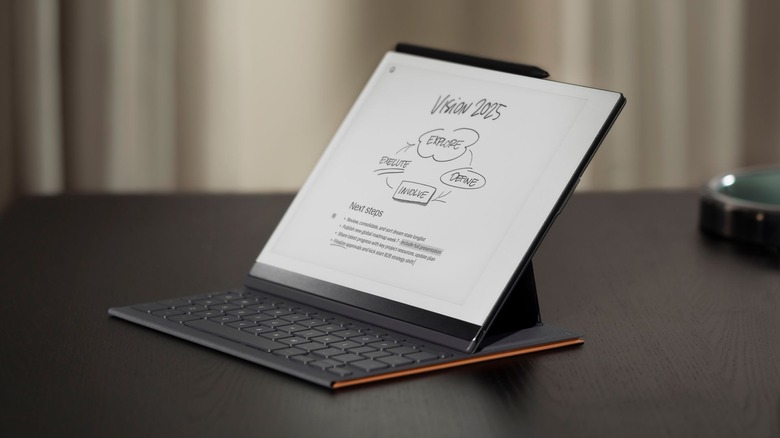 reMarkable
Norwegian technology company ReMarkable has been in the business of making e-paper tablets for a long time now. Launched in 2017, the first product from the company was the eponymous "reMarkable," which received favorable reviews from consumers. 
While most people who bought the reMarkable 1 loved it for being excellent at taking handwritten notes, the product did come with its share of issues. A major problem plaguing the reMarkable 1 was its slow UI and response time, and the fact that it did not support cloud syncing or handwriting recognition. In 2020, ReMarkable fixed most of these issues by launching a successor, the reMarkable 2.
For three years, the reMarkable 2 has served as the flagship e-paper tablet from the company. To enhance the utility of the tablet, reMarkable has also been adding new accessories to the list of supported products. Notable among these include the Marker Plus stylus, the reMarkable Book Folio protective sleeve, replacement marker tips, and official screen protectors. 
While these accessories made living with the reMarkable 2 easier, the product still lacked official support for entering text since the device was primarily designed for handwriting and sketching. In addition, while users could connect an external Bluetooth keyboard to the reMarkable 2, the experience was not always smooth.
ReMarkable has seemingly fixed the problem plaguing the reMarkable 2 with its latest accessory. On March 7, 2023, the company launched the TypeFolio — a slim keyboard that is specifically designed to work with the reMarkable 2.
Everything to know about the reMarkable TypeFolio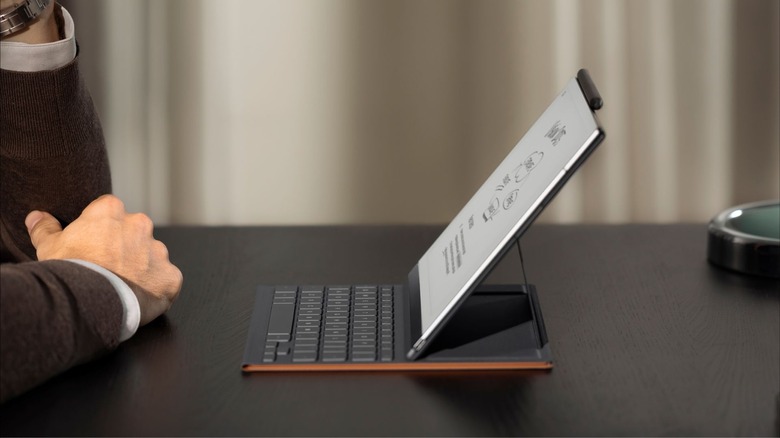 reMarkable
As outlined earlier, the TypeFolio brings official physical keyboard support for the reMarkable 2 for the first time since its introduction in 2020. The company claims that the external keyboard will improve the overall user experience of the reMarkable 2, making it a well-rounded tool that can not only take handwritten notes, but also have the option to type them in when needed.
The reMarkable TypeFolio features full-size keys and offers 1.3mm of key travel, connecting to the reMarkable 2 using two magnets. The company also claims the device doesn't need additional pairing or connecting: All the user needs to do is simply open the keyboard, and the reMarkable 2 detects it automatically. 
In addition, the product offers consumers the option to type in the traditional position and a near-flat position, which could prove helpful when users want to combine handwritten notes with typed ones. ReMarkable has also confirmed that the TypeFolio keyboard will last for nearly two weeks on a single charge, which is nearly the same as the tablet itself.
The reMarkable TypeFolio currently supports six languages: U.S. English, U.K. English, German, Spanish, French, and Nordic (including Swedish, Danish, Norwegian, and Finnish), and comes in "Ink Black" and "Sepia Brown" color options. The product has been priced at $199, and is available for order from reMarkable's official store.