Onyx Boox Tab X Review: A4 E-Ink E-Reader With Notetaking Chops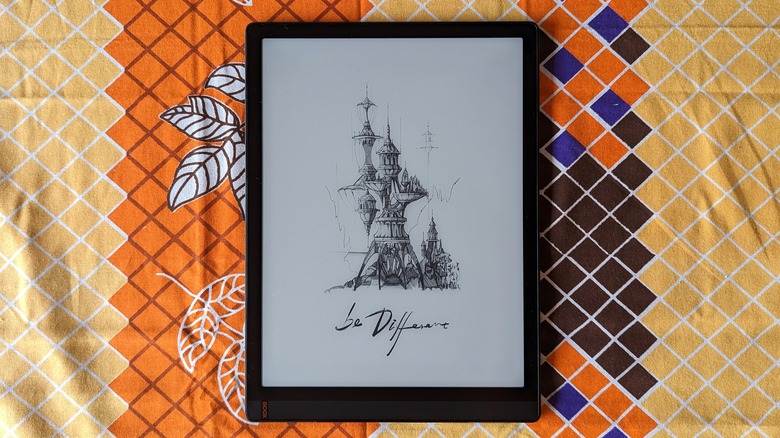 Palash Volvoikar/SlashGear
We may receive a commission on purchases made from links.
Over the past decade, e-ink tablets have made some drastic jumps in quality and usability. While Amazon's Kindle has dominated the field when it comes to E-ink tablet devices, there are plenty of alternatives now, and Onyx (or Onyx Boox, or just Boox, depending on your region) makes some of the best.
The latest e-ink tablet released by the brand is the Onyx Boox Tab X. This device runs a form of Android and works with a sizeable 13.3-inch display that is approximately the size of an A4 sheet of paper. This isn't one for those who want a smaller, book-sized e-ink experience. It's aimed at those that either want to read documents or just want a larger screen for reading.
This may well be the e-ink device you've always wanted — or never realized you could have. If you've only ever used an e-ink tablet for reading, or you've only used Amazon's earliest tries at making e-ink tablets into the e-reader-of-choice for the masses, now's the time to see what's new. This device was sent to me by Onyx Boox for the purpose of this review. 
Hardware specifications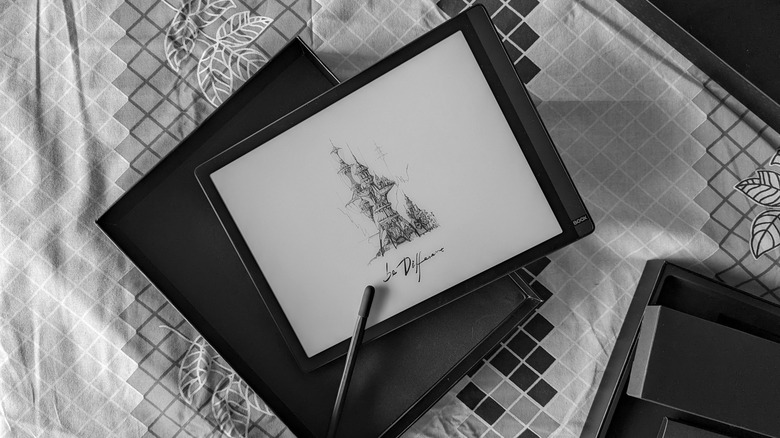 Palash Volvoikar/SlashGear
The Onyx Boox Tab X is a 13.3-inch e-ink tablet running on Android 11 with Onyx Boox's custom skin. The star of the show is the 13.3 e-ink Mobius Carta screen, which has a resolution of 1650 × 2200 dots, coming in at about 207PPI  pixel density. The screen supports 16 shades of grey. It comes with the SNOW Field functionality, which means fewer artifacts when the screen is partially refreshed. You get dual-tone backlight, letting you mix cool and warm backlight
Inside you get an 8-core, 2GHz Qualcomm 662 chip powering the whole deal. Onyx Boox hasn't specified the name of the chip. You get 6GB of RAM and 128GB of storage. A 6,300 mAh battery powers it, and you get USB-C charging with OTG support enabled on the port. Other specifications are on par with what you would expect from an average modern Android tablet, including dual-band Wi-Fi and Bluetooth 5.
Industrial design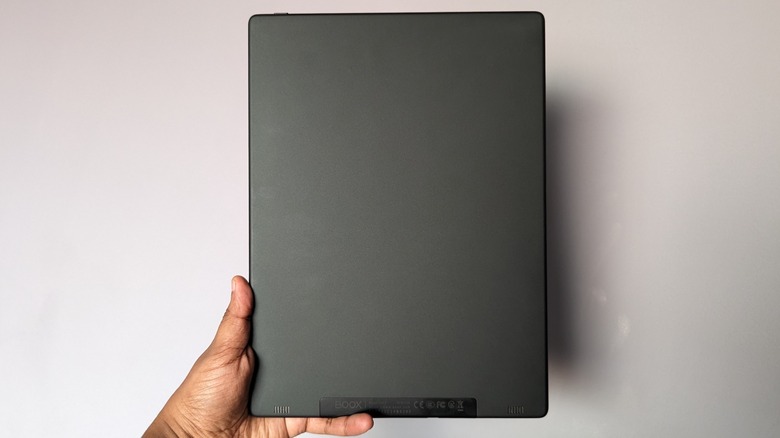 Palash Volvoikar/SlashGear
Onyx Boox has always made neat-looking e-readers, and the Onyx Boox Tab X definitely sits at the top of the lineup. It is definitely big in size, given the A4 sizing ambitions the company has designed it with — but once you hold it in your hands, the Tab X is surprisingly wieldable. It has a uniform thickness of 6.8mm, barring the edges, which are rounded for better handling.
It weighs about 1.2 lbs (560g), but at the 13-inch size, it's a winner. The tablet is well-balanced, which is a crucial thing for a device of this size. I was expecting this tablet to be difficult to hold given the massive size, but it actually felt better to hold than the M1-powered iPad Pro 11-inch that I used to own.
 n e-reader is generally likely going to spend more time in your hands than a normal tablet would, and the quality of the materials and construction make this the best tablet I have ever held in my hands. You get a matte feel on the back, which smudges, but nearly not as easily as a glossy back would, and it is easy to wipe clean, too.
If I were to judge this only as a regular tablet, the chin bezel being larger than the rest would have perhaps made me dock a point or two. However, the chin actually lets you hold the tablet vertically without any anxiety about touching the display area, which makes it an acceptable choice.
Book reading experience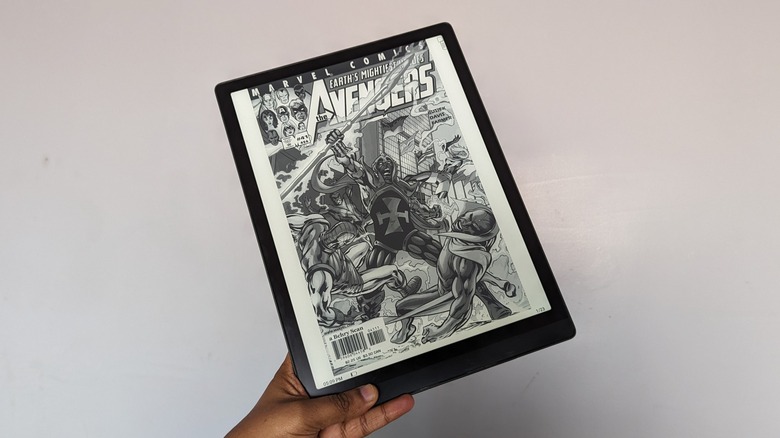 Palash Volvoikar/SlashGear
In my usage, I found the screen to be very crisp, and it is undoubtedly the best e-ink display I've ever had the opportunity to use. The display itself has a 4:3 aspect ratio, which is slightly different from the A4 ratio of the whole tablet's footprint. 
The reading experience on this tablet was excellent. The screen gives you five refresh modes. The HD mode is the crispest one, the Balanced mode is self-explanatory, the fast mode compromises on clarity for faster response, and the Ultrafast mode is the quickest of them all, suited for watching videos if that's something you want out of an e-ink tablet. The fifth one is the Regal mode, which promises minimal ghosting.
You can set the mode on a per-app basis, which is really nifty for an e-ink tablet. The cherry on top is the fantastic backlighting on this tablet. You get dual-tone backlighting, with the ability to mix and match warm light and cool light, which means you can set just the right color temperature for your reading.
Basically, if you want a large-screen e-ink reading experience, the Onyx Boox Tab X nails it.
Great for notes, not for drawing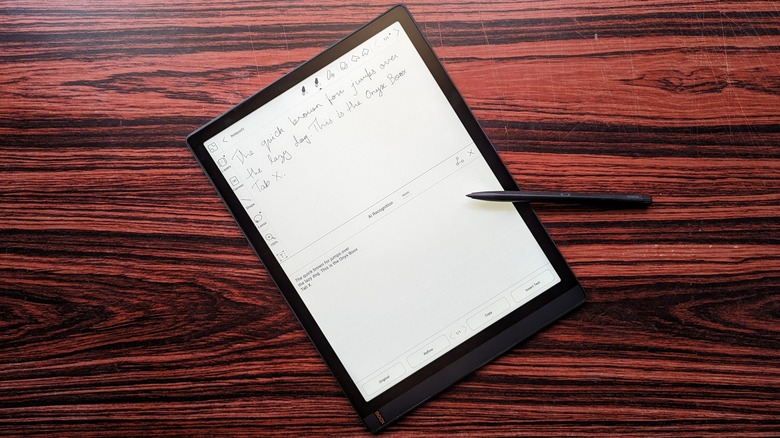 Palash Volvoikar/SlashGear
Notetaking on the Onyx Boox Tab X is surprisingly good. The display panel has been reinforced with protective glass, which means that writing with your palm on the screen feels very solid. The screen is inductive and capacitive, which means that there's support for the normal multitouch, plus support for a passive stylus.
Speaking of which, the Pen2 stylus included with every Tab X is pretty great, too. It handles fine, is grippy, and the tip works well with the matte screen, giving you a very paper-like feel. The only issue I have with this setup is that while you get the Pen2 — which is capable of attaching magnetically to other Onyx Boox tablets — the Tab X doesn't have this functionality. This seems like a missed opportunity, given the size of this tablet, but I assume it was a compromise the company made to make the tablet easier to hold, with the rounded edges.
My notetaking experience was pretty solid, on the first-party app as well as Microsoft OneNote, which was the app I used for notes on my iPad previously. Onyx Boox Tab X is definitely right up there when it comes to notetaking. If you're thinking of drawing, however, this is not the setup you want to go for, because of the lack of color and pressure sensitivity, among other things.
Software experience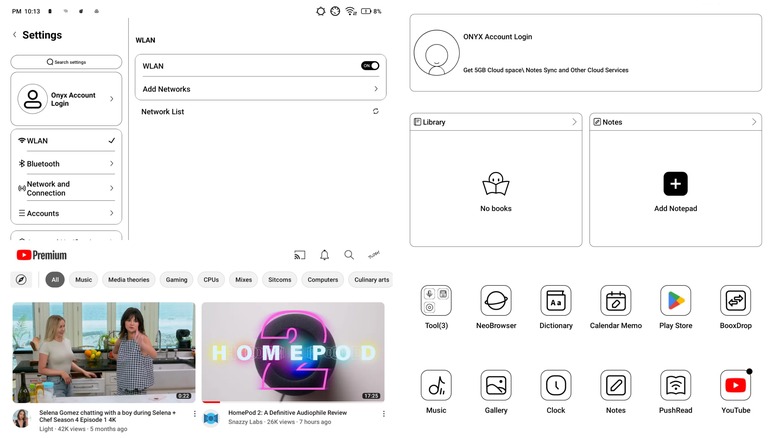 Palash Volvoikar/SlashGear
Hardware can only get you so far. When it comes to products like these, the software experience is just as important. Onyx Boox has loaded up the Tab X with Android 11, which is a couple of iterations behind the latest Android version — but in my opinion, this doesn't really play into the experience all that much.
Editors note: This e-ink tablet does not display color beyond blacks and grays, but if the user captures screenshots and exports them from the tablet, they appear in (partial) color.
This is more of an e-reader that happens to run Android 11, instead of being an Android tablet with an e-ink screen. The Tab X can run all the notetaking and reading apps you want, straight from the Google Play Store. I tried out the Kindle app for obvious reasons, and it worked well. However, the average user likely won't quite feel the need to download any app at all, especially for the basic functionality you expect from this device.
Onyx Boox's software suite is pretty solid. The Boox Neo Reader app, which is the default reading app for this device, has all the functionality you're expecting from an e-reader. It opened the files I threw at it without any issues. The notes app is also pretty sweet to use, and unless you have a reliance on a notes app already, you'll do just fine with it. Onyx Boox also gives a 5GB cloud backup plan similar to Apple's iCloud, bundled with the device.
Onyx Boox's skin on top of Android 11 doesn't leave much to be desired. My personal favorite feature is the App Optimization button that lets you select the display resolution on a per-app basis, for non-system apps. This was particularly helpful in optimizing my experience with respect to battery life.
Performance and Battery life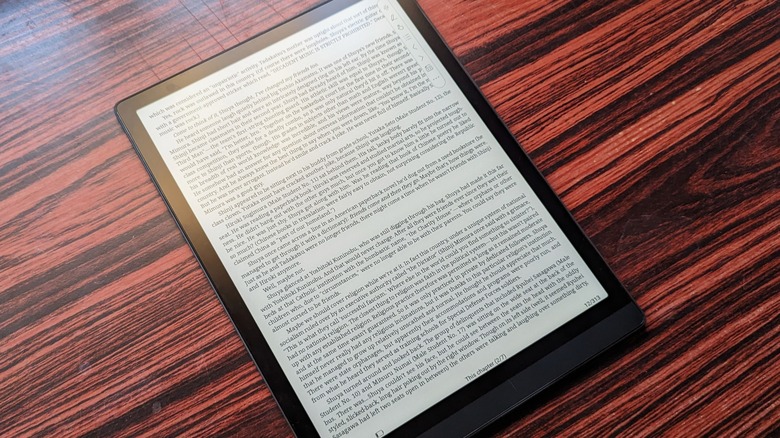 Palash Volvoikar/SlashGear
The Onyx Boox Tab X is an e-reader first, but it does work rather well as an Android tablet too. The screen makes it a specialized device, but it can also be a bit limiting. For example, you cannot possibly think of the Tab X as something you can do high-FPS gaming on, because the screen isn't just designed to handle that, which is fine. You can, however, get by playing something like "Clash of Clans," which was fantastic with the Fast mode.
Watching videos with Fast mode resulted in acceptable motion performance and relatively low ghosting. However, this screen really isn't designed for moving media, so don't expect it to work the same way a normal LCD/OLED screen tablet does.
The speakers on this tablet are also very nice. You get a stereo pair, but there are no volume rockers on this tablet. That means you have to pull the notification shade to adjust the volume. That also means taking screenshots is a pain.
Battery life in the Onyx Boox Tab X is fantastic. It is obvious that there are a lot of power-saving mechanisms at work here. For example, when the tablet goes to standby mode, Wi-Fi is automatically disconnected, resulting in a much lower draw on resources when you're not actively using the device. This is a forte of e-ink tablets, and Onyx Boox has kept the software light enough to keep battery life shockingly extensive.
I haven't found myself reaching for the charger once in my 25 days with this Tab X. Even with heavy use, this tablet will return a rock-solid battery life given the 6300 mAh battery. There is no charger bundled in the box, but the USB-C port will take your standard PD charger, making for a hassle-free charging experience.
Conclusion: Should you buy the Onyx Boox Tab X?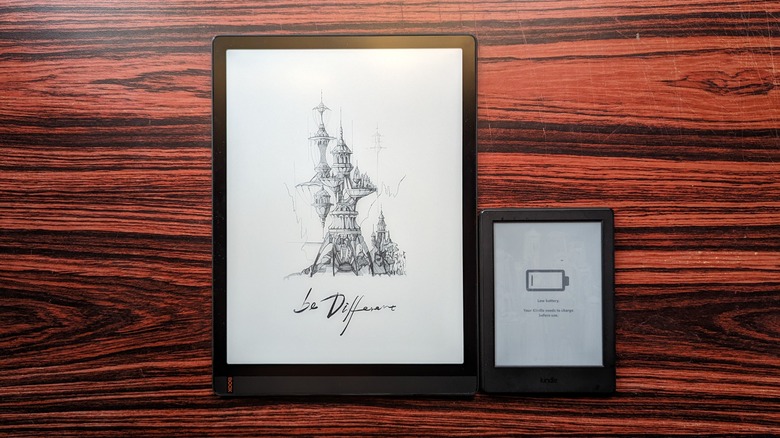 Palash Volvoikar/SlashGear
The Onyx Boox Tab X is certainly a formidable offering, and it doesn't have much to compete against. The Kindle Scribe comes close, but it is a 10-inch tablet, and Onyx has its own Onyx Boox Note Air 2 Plus that's made to match. A notable direct competitor is the Fujitsu Quaderno A4 2nd Gen, which comes in at $779.99, but doesn't have the versatility of the Onyx Boox Tab X.
Priced at $879.99, the Onyx Boox Tab X is aimed at a very specific customer. It is for folks that want a non-distracting reading and notetaking experience, and are willing to pay the price. There is plenty of appeal in getting a really good reading and writing experience, and the Tab X provides it. The price tag isn't for everyone, but it is an acceptable one given the lack of large e-ink devices. Since the device comes with Android 11, with Google Play Store already working out-of-the-box, you can start off with your own apps.
If you're looking at a tablet and an e-ink display isn't your priority, you'll likely find a winner in our most recent Best Tablets list instead.
The Onyx Boox Tab X is available on Amazon and the Onyx Boox Store. The box contains the Pen2 stylus thrown in, and there's a pretty great-looking magnetic three-fold case that Onyx Boox will bundle with the tablet if you buy it from its own store.