Mercedes-Benz Knows Who It Can Trust To Build The Future Of Car Tech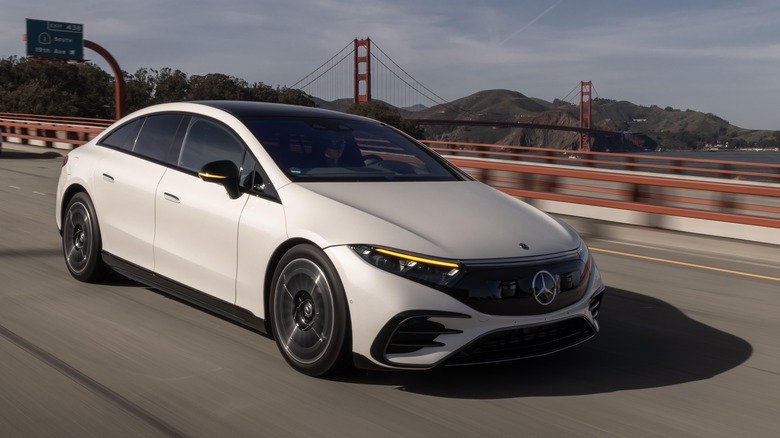 Mercedes-Benz
If you want something done right, you've got to do it yourself. That's why, even though Mercedes-Benz broke plenty of new ground with the MBUX infotainment system — and even though the third generation of MBUX is on the way — the German automaker has decided to develop its own operating system from the ground up to power all its new vehicles. 
There are numerous advantages to this strategy, even though it's a complex undertaking. During a recent tech event at the automaker's Silicon Valley research center, Mercedes previewed the new operating system, MB.OS, which is set to replace the current MBUX user interface across the brand's entire stable.
Meanwhile, the redesigned Mercedes-Benz E-Class will mark the debut of the third generation of the MBUX infotainment interface. Our preview took place in a preproduction E-Class, though, since that car hasn't yet been revealed, it was fully disguised under a dome and only the front seats were accessible. 
Routines, elevated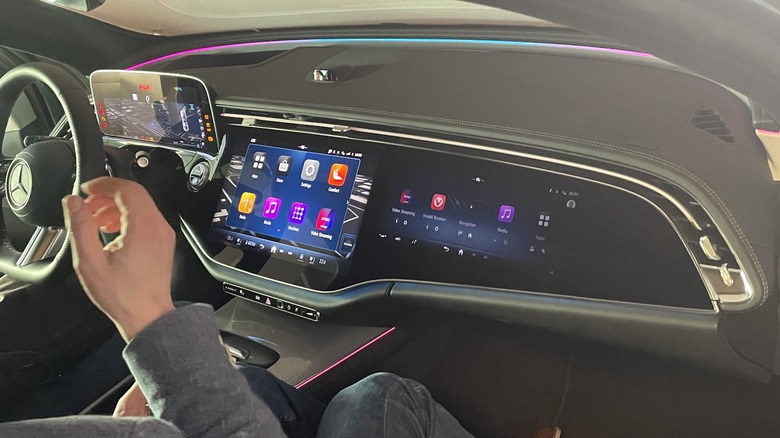 Cherise Threewitt/SlashGear
Though Mercedes is promising that the new MBUX system will be better in every way, there are a few highlights. Smartphone-based access to cars is no longer particularly novel, but we liked that a digital key can be added to Apple Wallet — which the car can detect automatically — and the car unlocks without the iPhone being removed from bag or pocket.
If you're an existing MBUX user and hate saying "Hey Mercedes," the updated system offers up considerable improvement. When the driver is alone, the voice assistant will respond without that wake-prompt (though it remains necessary to distinguish a voice command from the conversations of multiple passengers). Even better, the upgrades incorporate what Mercedes called "multi-intents": that means you can combine two commands into one statement, such as closing the windows and making a phone call. It'll be limited to two commands for now, but Mercedes says it's scalable, meaning it can get more complex in the future.
The new E-Class, and other Mercedes vehicles with the new MBUX, will be available with a dash-mounted selfie camera. Think that's ridiculous? Sure, but with other changes coming to Mercedes vehicles, you might not be the brand's target customer anymore. That camera can enable Zoom video calls from the driver's seat, for example, while plenty of other third-party apps will be available — such as TikTok and Angry Birds — thanks to Mercedes' partnership with Google.
Depending on your perspective, you might find the routines feature more appealing. The car notices your habits and offers you the choice of creating a regular program: think switching the music from Disney to, well, anything else, as you drive away from morning daycare drop-off.
Decoupling the structure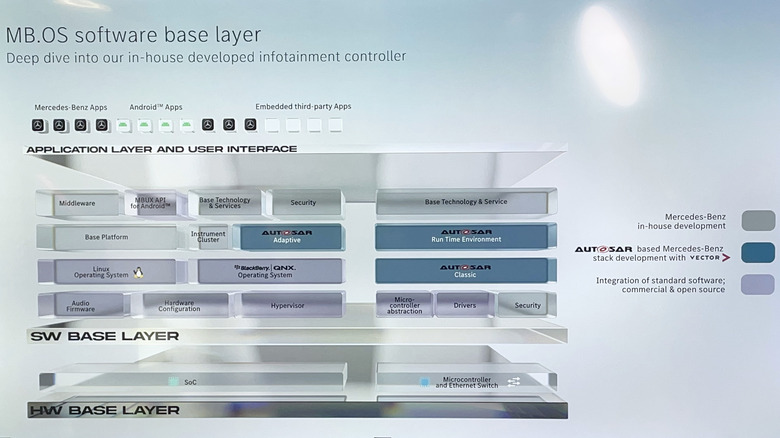 Cherise Threewitt/SlashGear
The key message, and in particular of a roundtable interview with Mercedes-Benz Chief Technology Officer Markus Schäfer, is that Mercedes wants more control. For that, the company believes, it needs to build a proprietary operating system from the ground up.
MB.OS' concept is that hardware can now be standardized across the brand's lineup, while the software is more customizable. Since the driver-facing software is layered on top of the OS, it's easily customizable for different global markets, easily upgradable with over-the-air updates, and more resilient overall in terms of longevity. In other words, the goal is to decouple hardware from software, leaving the latter easily and rapidly updated when changes are necessary or desired, without the hardware needing to be updated as well.
That's a strategic decision, Mercedes points out, because the kinds of communication modules, or hardware, that drive all new connected cars (so really, all new cars) have to be certified on a per-country basis, and when that hardware constantly needs to be updated, future-proofing a car is a challenge. The hardware can be upgraded; it's just much easier and more efficient to update solely via software. Thus, Mercedes' transition toward becoming a software company is well underway, with the first vehicle with the MB.OS system slated for a late 2024 reveal and early 2025 on-sale date.
MB.OS will be exclusively available in new Mercedes vehicles and cannot be integrated into older cars, though some current cars will get hardware facelifts to incorporate some MB.OS features and functionality. Yes, Mercedes is aware this will be overwhelming for some buyers, but no worries — the cars can be preloaded with how-to videos and tutorials.
A choice of bedfellows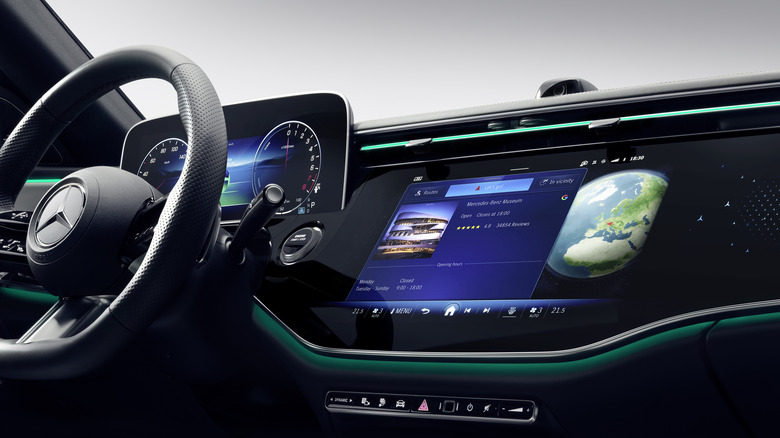 Mercedes-Benz
Mercedes reps say that, though the need for ultimate control drove the push into software development, they've learned that picking the right partners is key. More specifically, Mercedes is choosing to work with "local heroes," picking and choosing which partners are best suited to the different layers of the system. For example, Google is a great partner for some layers, particularly in the Western market, while Apple is the natural fit for music integration. 
Equally important, Mercedes says, controlling these relationships means that the automaker needn't worry about what else these partners are doing. If the Apple Car ever came to fruition, say, that competition wouldn't be a cause for concern, because Apple wouldn't have control over MB.OS or its data. 
And on the topic of Apple and Android, Mercedes says the goal of the system is not to mirror a smartphone, but to create a distinct experience that creates a relationship with the customer. Other notable partners include the Unity 3D game engine, making Mercedes the first auto manufacturer to use this kind of technology to create more realistic navigation maps. Amazon and Microsoft are both on board to provide cloud services.
That's a lot of partners who all have their own goals in terms of data collection, artificial intelligence, and other objectives, but Mercedes says privacy is key.
One person's advantage is another's nightmare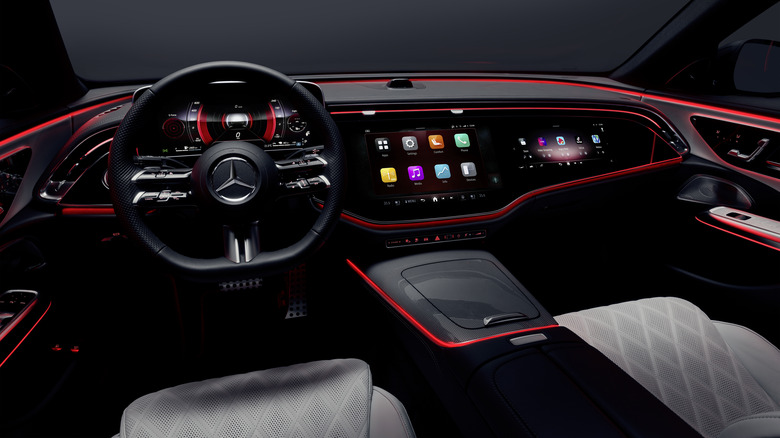 Mercedes-Benz
The creation of Mercedes' own app store brings up an unavoidable conversation: MB.OS' potential for revenue generation. It's a factor that was (seemingly) talked up to investors on site, while downplayed to the media. Ultimately, Mercedes says, they know that the company's cars are expensive and – having seemingly taken note of the blowback BMW faced recently – that people don't want to constantly pay for new features.
While revenue generation is a stated goal, the company would only say that it's "initially" being "conservative" in terms of expectations. Furthermore, Mercedes says, it's being selective in terms of the apps that will be available. It knows, after all, that it needs to get MB.OS right: while the focus on infotainment development has grown tremendously across the auto industry in the past decade or so, the in-house creation of an entirely new operating system dwarfs even the coolest infotainment systems in scale.
Here's why: this proprietary system is invaluable to Mercedes-Benz' stated goal of being a fully electric car company by 2023 (with the caveat, where market conditions allow). First, data is invaluable to making the most efficient electric cars possible, and this system enables Mercedes to use data in all kinds of new ways. Second, when most cars on the road are electric and, increasingly, self-driving, the traditional measures of a "good" car — horsepower, torque, and other performance metrics — simply aren't going to matter anymore. Driving isn't going to be the experience. The experience is going to be the experience, and Mercedes is hoping you'll want MB.OS to be the face of that.