The Sleek And Sporty Honda That Started A Street Bike Revolution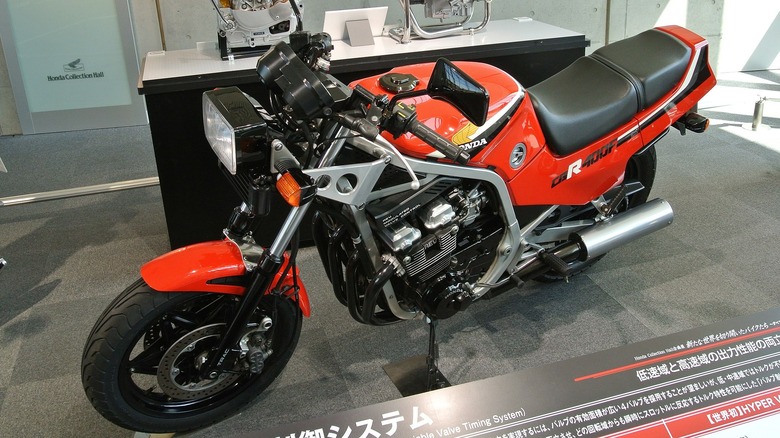 Rainmaker47/Wikimedia
When someone mentions Honda CBR nowadays, thoughts instantly shift to a slippery, fairing clad, street-legal version of Honda's famous racing motorcycles. However, the first bike to wear the CBR badge hardly fit that mold. The 1983 CBR400F — only available in Japan — was a naked bike with a fully-exposed, 399 cubic centimeter inline 4-cylinder that produced 58 horsepower. Producing power by way of its "REV" valve-actuation hardware, the CBR400F was an early version of what would become Honda's famous VTEC system.
Some Honda enthusiasts maintain that CBR is short for "City Bike Racing," and the earliest CBRs certainly do fit that description. High handlebars, low pegs, and a comfortable seat were a recipe for a comfortable daily commuter. Other Honda fans insist that CBR stands for "Cross Beam Racer," in reference to the bike's transverse-mounted inline 4-cylinder engine that doubled as a stressed component of the frame.
Honda has never publicly settled the discussion over the origin of the CBR name, but one thing that is certain is that the original CBR400-series bikes were extremely compact — befitting their urban roots. If Honda intended to import the new line of sport bikes into the United States with its long, winding roads and wide-open countrysides, it needed to up its game.
[Featured image by Rainmaker47 via Wikimedia Commons | Cropped and scaled | CC BY-SA 3.0]
The CBR finds its identity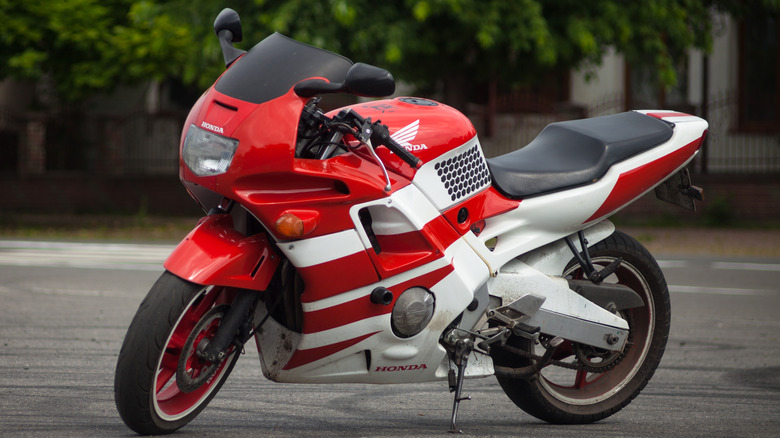 Brylynskyi/Shutterstock
By the time the CBR reached the American market in 1987 as the "Hurricane," the minimum engine size had grown to 600 cubic centimeters, belting out an impressive 85 horsepower. The bike had also fully realized its wind-cheating ABS plastic fairing that helped it reach a top speed of 134 mph. 
While certain high-dollar European bikes of the era were already wrapped in full bodywork, the Hurricane was the first Japanese product to do so — and with a reasonable price tag. Besides being aerodynamic, the full fairing had the added benefit of keeping manufacturing costs down by eliminating the need to dress up the engine for viewing.
Besides the CBR600F Hurricane, Honda also introduced a massive 998 cubic centimeter version in 1987, the CBR1000F Hurricane. The CBR1000F produced a whopping 132 horsepower, more than any other 1000cc bike up to then. The Hurricane 1000's top speed of 164 mph was also a record — the highest of any production motorcycle. 
Although the CBR1000F was undeniably powerful, it was truly more a sport touring bike. Its larger frame wasn't as nimble through corners as its 600cc little brother, but it did make for an extremely comfortable long distance cruiser. 
Even though the CRB400F was the first CBR ever, it was the late-1980s CBR600F that made Honda the sport bike to beat. In 1987, the CBR won all nine of the AMA supersport racing events held that year. Despite its racy looking bodywork, its riding position was comfortable enough to use every day. 
In 2023, over 35 years after debuting, you can still buy a brand new CBR600 — albeit with cutting edge technology and, of course, even more power.