Big Meta Quest 2 And Meta Quest Pro Price Drops May Put VR Within Reach For More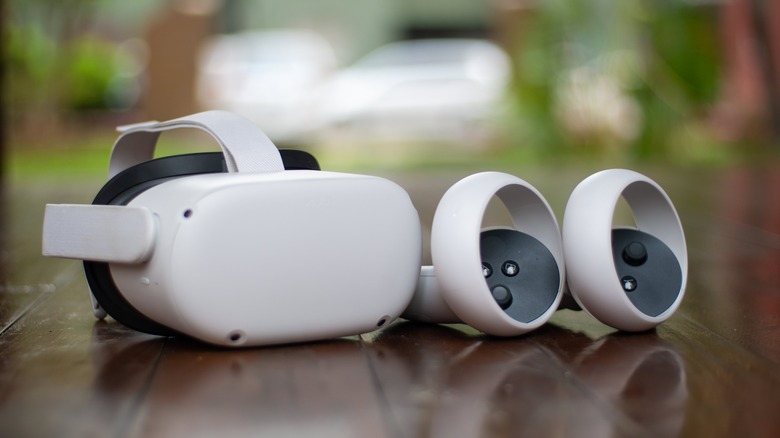 Abel Brata Susilo/Shutterstock
Meta, the Facebook-owned VR and AR company, has largely focused on creating affordable hardware that can help people enjoy the benefits of virtual reality, without the need for a separate PC or gaming console. Thanks to a cost-efficient combination of Its most basic inside-out tracking technology, onboard chipsets, and increasingly rich displays, you no longer need to spend close to $1,000 on a VR headset, plus an even more expensive computer to play games with. You no longer need to be tied down by wires, either.
At a starting point of just $299 for a 64GB model that had everything you needed to start playing, the Meta Quest 2 (formerly Oculus Quest 2) proved to be a winning refinement on this philosophy, and at an affordable price point. Later in 2022, Meta gave the Meta Quest 2 an unwelcome price hike. While the company hasn't publicly disclosed exact sales numbers, a recent report by The Verge suggests it has sold nearly 20 million units to date.
Meta is trying to build on that success with the Quest Pro, a system that maxes out the potential of this technology in an experience that leans more into the "mixed reality" bag of tricks. It's meant to entice businesses as much as it does enthusiasts. No matter which side of the tracks you stand on, it's about to be even more accessible.
Meta Quest 2, Quest Pro cheaper than ever
Wirestock Creators/Shutterstock
Meta has announced that it will be lowering the prices of its Meta Quest 2 and Meta Quest Pro beginning March 5. The 256GB version of the Meta Quest 2 will be priced at $429.99 (formerly $499.99). The Meta Quest Pro's drop will be even more dramatic — it'll cost $999.99, down from $1,499.99.
We're not yet sure what this means for the future of the 128GB Meta Quest 2, which replaced the 64GB model at the same $399 price point. Meta says it has no current plans to drop the price of the lower model (which is just $30 cheaper than the new price of the upgraded unit), nor is it clear whether it'll eventually phase the SKU out to simplify its offering.
The price reduction for the Meta Quest 2 will take effect on March 5 in several countries, including Australia, Austria, Belgium, Canada, Denmark, Finland, France, Germany, Iceland, Italy, Japan, Netherlands, Norway, South Korea, Spain, Sweden, Switzerland, Taiwan, the U.K., and the U.S. As for the Meta Quest Pro, we'll see its new price go into effect on March 5 in the U.S. and Canada, and March 15 in all other countries where the device is supported.