5 Ways To Smarten Up Your Apartment Security As A Renter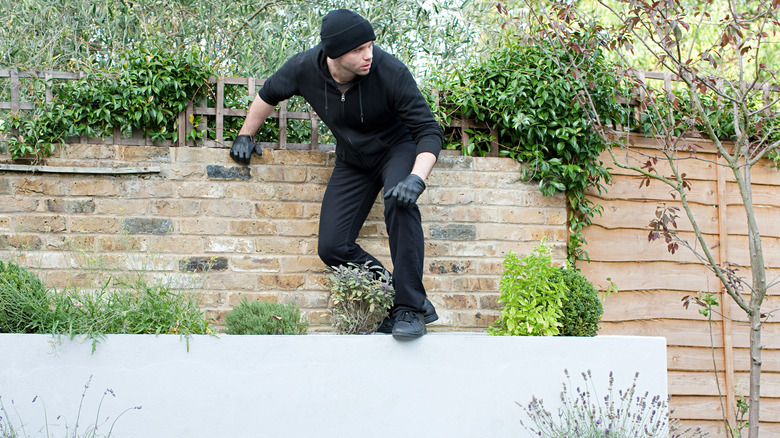 Image Source/Getty Images
We may receive a commission on purchases made from links.
The nature of a rental property adds a unique wrinkle to the concept of adding home security because you typically can't make permanent changes to your living space at will. Even if you get permission from a landlord to install new locks or update features in the home, you're likely to be leaving these potentially expensive installations behind when you move out. Or worse: You might have to pay to remove them and return the property to its original state.
Fortunately, it's possible to achieve your home security goals without sacrificing the deposit on your apartment or lowering your standard of what that safety should look like. To build better security in a rented apartment, it's crucial to think smarter about what prevention looks like. For many renters, this involves creating a burglary-resistant home environment. A detached house has the added buffer zone of a yard and physical exterior that can make breaching the property a true gauntlet. With exterior security cameras, an alarm system, and floodlights, even some of the most determined burglars may tuck tail and run. Apartment security is a different creature, however, because a break-in is likely to happen from within the building itself.
Start by thinking like an intruder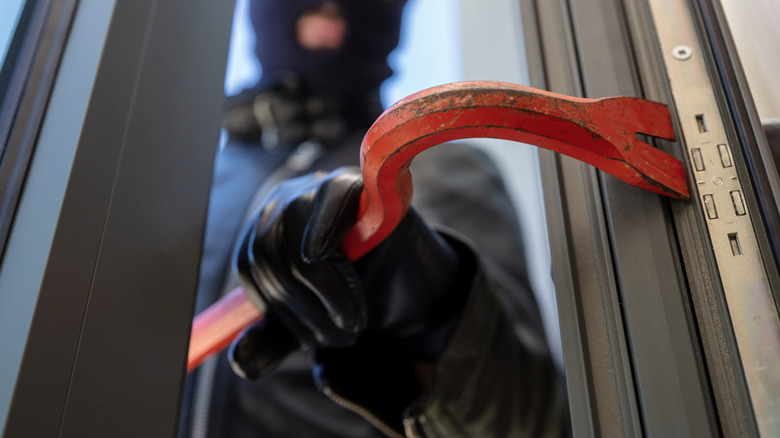 rawf8/Shutterstock
The first thing that any apartment dweller should do is put themselves in a potential thief's shoes. This might be difficult, but it's an important step in the right direction for enhancing the security of your home. Thinking about ways that a thief might break into your home can help you increase the protective barrier that stands between a burglar and your prized possessions. The most obvious entry point for a burglar scoping out an apartment building is the front door. There might be dozens or even hundreds of people coming and going from your building, so a thief may be able to blend in without drawing too much attention when slipping into the building. Even in a smaller residential community, you may not know all of your neighbors.
You might consider asking the building management to install a more robust front entry system to ensure that only authorized individuals are gaining access to the common space. But if they don't bite, you'll need to focus your efforts inside your apartment. If an intruder is able to gain access to your home, where are they likely to look first? A burglar spends roughly 8 to 10 minutes in a home during the average break-in; some last two minutes or less. This means that you'll want to utilize any tools you can to slow them down during their frantic hunt for valuables. You might consider using a safe, hiding jewelry in an unassuming spot, or mounting the TV if possible. A TV on a stand can be carried away, but one that's mounted requires tools to remove.
Build a DIY home security system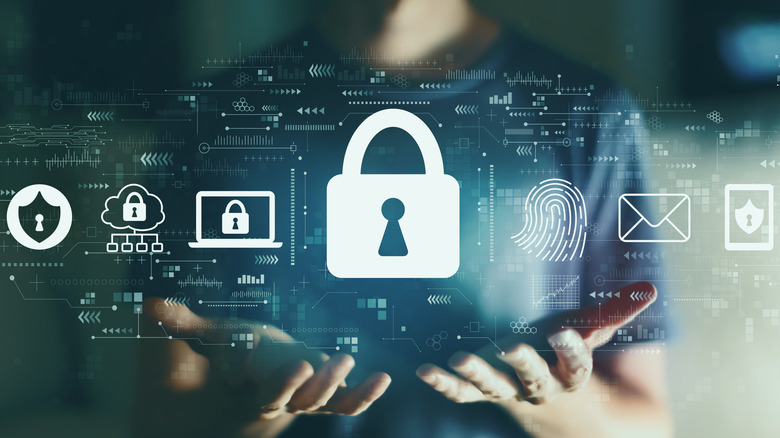 TierneyMJ/Shutterstock
Building your own home security system to combat the potential threats to your apartment is the smartest way to approach this issue. In the past, home security systems meant the installation of wiring across the property by drilling holes, screwing in sensors, and more. The process was invasive. This isn't the case any longer, however, thanks to technology
Systems like Ring and SimpliSafe don't require permanent installation and many of the products included in their ranges can be stuck onto walls or windows with quick release mounting brackets or adhesives. This means that installation is fast and customizable, and when it's time to move out, returning the property to its original state won't require spackle and elbow grease (or a part of your deposit, hopefully). As with any installation, though, it's always a good idea to at least mention your intentions to your landlord.
These smart home systems can be armed, disarmed, and monitored through an app on your phone as well. This means real-time updates if an intruder has indeed broken into your apartment or home. With motion sensors and cameras in your home, you can prepare for the worst and repel even some of the most stubborn threats to your worldly possessions.
Purchase a security camera (or two)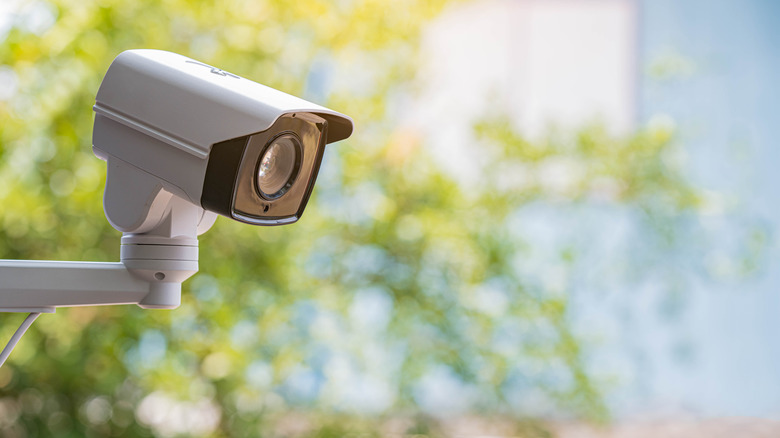 APChanel/Shutterstock
Security cameras are a great way to prevent burglaries. According to ADT, "If you install a security camera, your home is 300 % safer from break-ins than a home without a camera." A camera acts as a warning sign to would-be thieves as visible cameras are a potent deterrent for this type of criminal behavior. In an apartment, you may not need, want, or be allowed to place a camera outside of your unit. But you can install one in a location near a window. This makes the security camera a prominent feature that would be hard for a would-be burglar scouting out their next score in your home.
You might also consider a Ring Doorbell or some another moveable outward=facing camera system on your front door or near it to serve as a deterrent. This signals to a thief who has already broken into the building that they should move on from your property and look elsewhere. A wide range of cameras can be purchased and mounted with removable tacks or similar hooks. They come packed with alarms and talk capabilities too, as well as powerful connectivity features that help eliminate downtime issues.
Pay attention to the comings and goings in your apartment building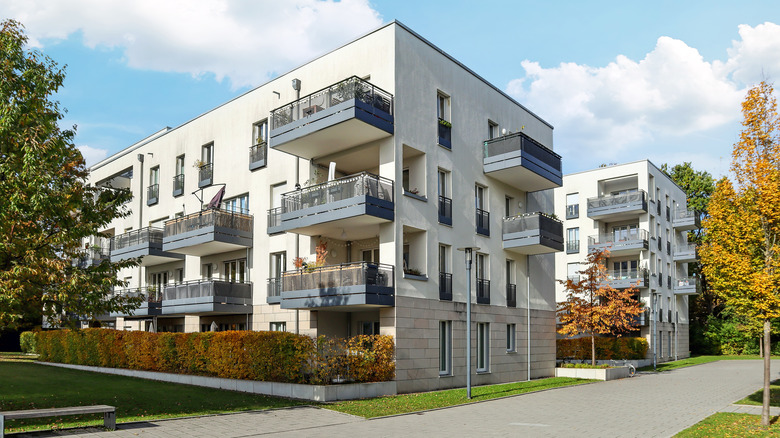 PIXEL to the PEOPLE/Shutterstock
In addition to stealing quickly, burglars will return to the same places, to continue looting where they've been successful in the past. This means that a single burglary in your building can open up the entire community to a continued threat. Therefore, it's important to shore up security within your apartment, but also to use common sense when coming and going throughout the day or week. Most burglaries happen during the daytime between 10 a.m. and 3 p.m. because this is when people are out of the house.
Using common sense as you enter and exit the building can lend itself to better building and apartment security. Always ensuring that the door closes and locks behind you as you leave will eliminate the potential for someone to slip in behind you after you've turned your back. Similarly, it's a good idea to refuse entry to anyone you don't know. Generally speaking, a tenant will easily be able to buzz themselves in through the front door, don't buzz in unexpected guests, or open the door for strangers if you can avoid it. On the flip side, you should try your best to get to know everyone that you can in your apartment community. A vibrant, community atmosphere is a surefire way to prevent malicious strangers from wandering freely throughout your living space.
Install window locks (perhaps non-permanent additions)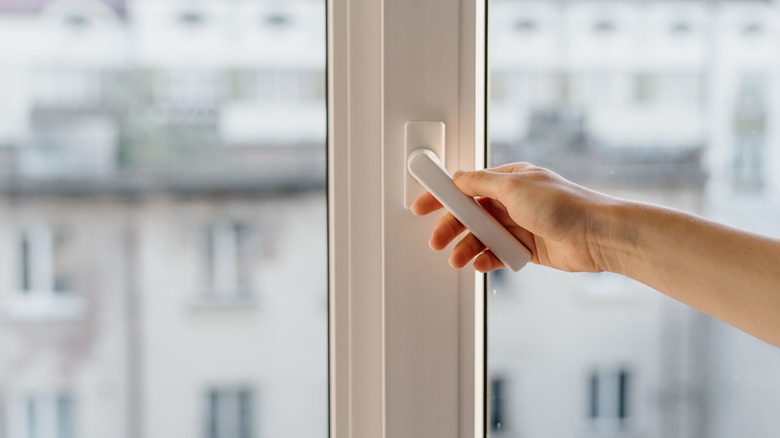 brizmaker/Shutterstock
Windows are a common entry and egress point. On a ground-floor apartment, your windows can be just as important to the security of your home as if you were living in a suburban house. The same can be said for apartment dwellers who have balconies or other easily accessible areas outside their living space (a fire escape, for instance). Installing new locks that will ensure the structural integrity of your windows can go a long way to preventing a burglar from targeting your home.
You can install a variety of different locking mechanisms, depending on the way your windows open. Speaking with your landlord or building manager about a permanent solution can be beneficial in this case. Window-locking devices are often inexpensive and can make for a vast improvement in your peace of mind. However, in a pinch, cable locking or sticky-mounted Lexan installations can prove highly effective without the need to drill holes or screw in equipment.
You may also be able to add security film (like this film on Amazon) to your windows. Speak with your landlord about this option, though, because it will require a slight alteration to the panes themselves. Security film makes breaking a window much harder. The glass will hold together rather than shatter, meaning a burglar will have to draw increased attention to themselves in an effort to enter your property this way. Installing motion detectors near the windows or contact sensors on them can also allow for a more technical defense. You can even install a simple, hanging alarm (like this one on Amazon) that slips over a door or window handle without requiring alterations. Ringing an alarm if the windows are tampered with may effectively ward off an intruder as well.