SimpliSafe Smart Lock is a super-skinny $99 door upgrade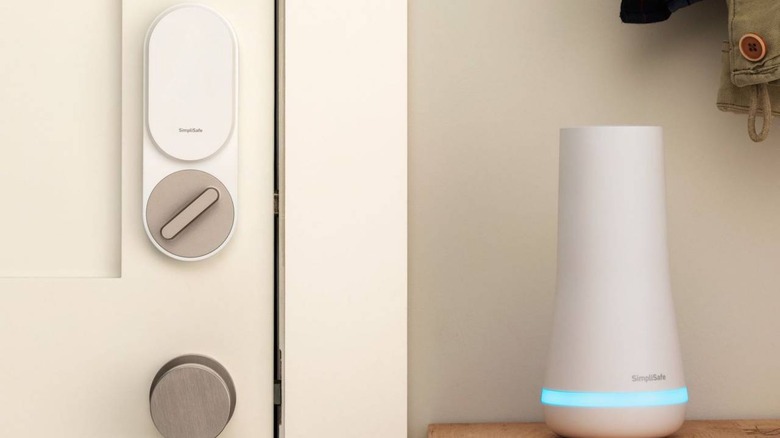 Your options for a sleek connected lock are about to get more interesting, with SimpliSafe revealing its new Smart Lock for a low-profile fit on the front door. The lock is just 0.9-inches thick, SimpliSafe says, making it the thinnest on the market. However the company also promises it will be smarter than other connected locks.
As you'd expect, you can check whether the lock is open or closed through SimpliSafe's app, and then remotely control it from there too. If you've got a SimpliSafe Video Doorbell Pro or SimpliSafe Security Camera, you can get notifications if people get near the door, too.
However you don't need to lock it manually – either with the knob on the lock itself, or through the app – since SimpliSafe has added an auto-timer feature. That automatically locks the door every sixty seconds, reducing the likelihood of inadvertently leaving the door open. Of course, that also requires that the door itself is closed; unlike, say, August's latest smart locks, which have a sensor to remind you if the door is ajar, the SimpliSafe Smart Lock relies on it being closed first.
As you'd expect, there's Alexa and Google Assistant support for voice-controlled locking of your SimpliSafe system. For getting back in, if you don't have the app you can use the PIN pad which is mounted on the outside. That's illuminated for night-time use, and will auto-lock the system after too many incorrect attempts.
The downside is that, if you want to be able to remotely lock or unlock the SimpliSafe Smart Lock, you'll need to be a subscriber to the company's service. That'll set you back $24.99 for the so-called Interactive Monitoring plan. Indeed, you'll need a SimpliSafe system for the Smart Lock to actually work; the company says a standalone version is in the pipeline.
Battery-powered, the Smart Lock itself promises up to a year's battery life with typical use. It'll be offered in three finishes: Nickel, Cloud, and Obsidian. Add a door damage sensor and you'll get alerts if someone tries to smash their way in, too.
The sting of the subscription fee will be offset a little by the upfront price, which is lower than many competing connected locks. SimpliSafe says it will go on sale come September 15, priced at $99, while Best Buy preorders will begin October 1 with the Smart Lock arriving in stores on October 13.