August's new smart locks know if your door's ajar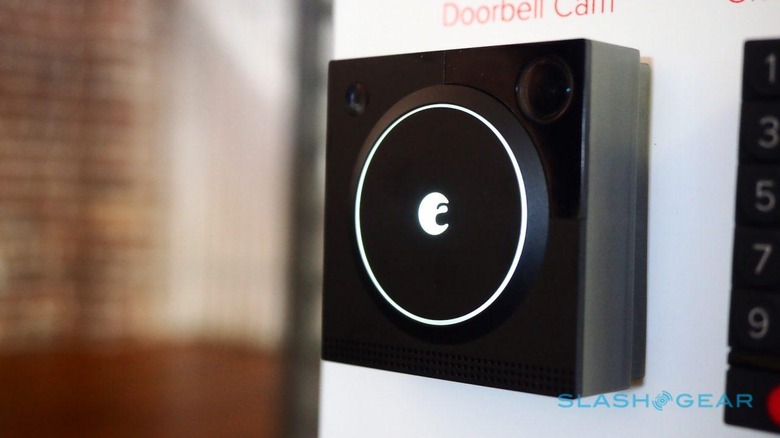 August has rolled out a trio of new devices, including a pair of connected locks that can tell whether your door is actually closed or not, and a smarter doorbell camera. Offering features like Apple HomeKit support, integration with Amazon's Alexa, Google's Assistant, and Apple's Siri, and the same straightforward installation that made their predecessors so popular, the new IoT gadgets also offer more usable remote security monitoring.
August Smart Lock Pro
August's third-generation lock may look like its predecessors, but inside it's all-new. Like the previous model, it supports both August's own Bluetooth protocol and Apple's HomeKit; it also inherits Amazon Echo and Google Assistant integration. New is Z-Wave Plus support and, for the first time, August is bundling its lock with the August Connect WiFi Bridge so that the lock can hook up to a home network more readily for remote access.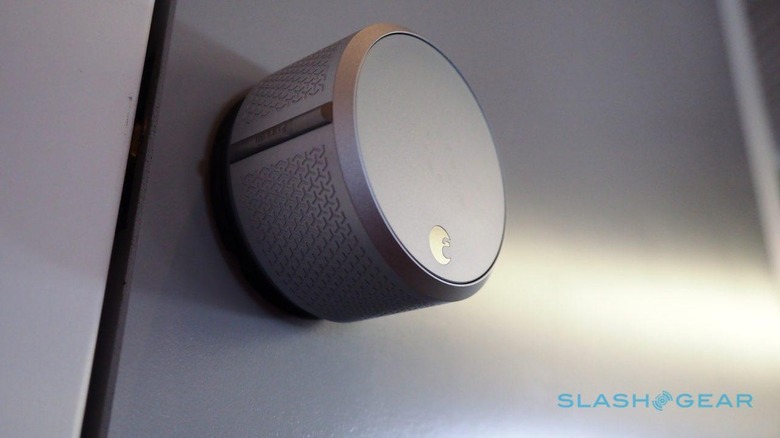 The most obvious change – beyond the slightly retextured grip of the outer aluminum body – is DoorSense. Previously, although the August app could tell you whether the lock was open, closed, or jammed, there was no way of knowing if the door itself had been properly closed. You could, for instance, have the false security of thinking your front door was locked when in fact it was simply swinging open with the deadbolt fired.
DoorSense addresses that. August includes a small sensor which is mounted to the doorframe; you can either surface mount it, or embed it into the frame itself. If the lock is set but the door is still ajar, there's a new alert in the app to warn you of that.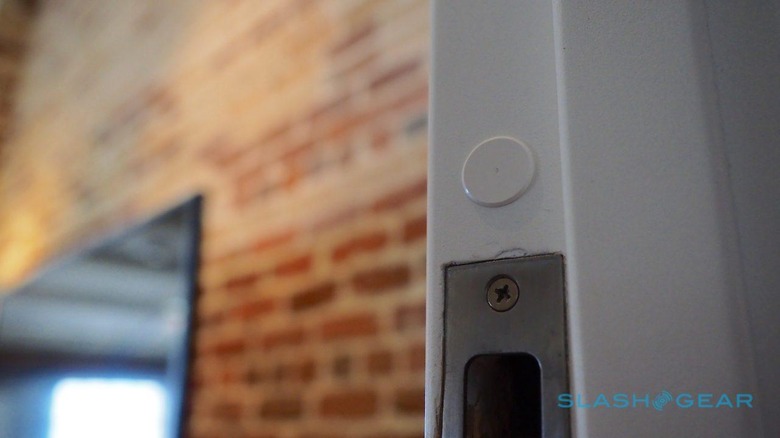 Similarly, if your door has been open for an extended period, August can now fire off an alert about that, too. As before, there's Auto-Lock to re-lock the door after a preset period of time; however, DoorSense adds the ability to automatically lock it when it's closed.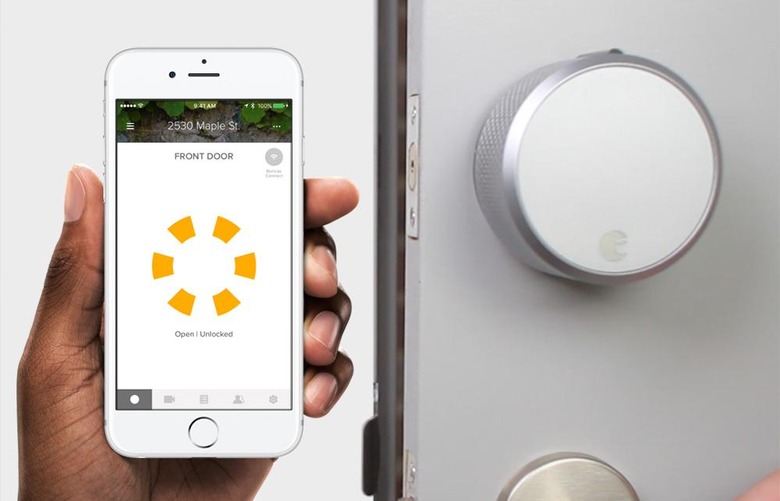 August is using DoorSense to trial a beta of Active Monitoring, its new smart alerts service. Initially, it'll warn of all activity around the door, such as if it's been left unsecured for a length of time. However, in the future, August plans to add more granular alert options, like only pinging out notifications during set periods of certain days.
August Smart Lock Pro will go on sale from today, priced at $279. It's available in silver and dark gray.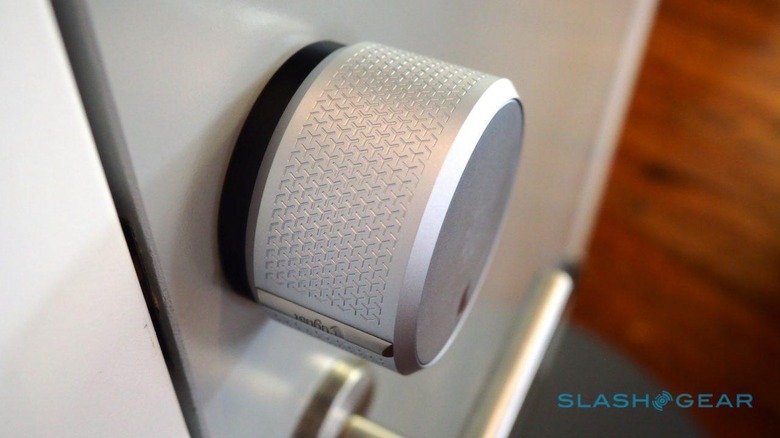 August Smart Lock
With the Smart Lock Pro occupying the high-end of August's range, there's now a new, entry-level model. The August Smart Lock is the company's more affordable version, built on the same underlying platform as the Pro but with only Bluetooth, not HomeKit support. It's also a new shape, with a narrower, longer metal body and a more traditional latch design.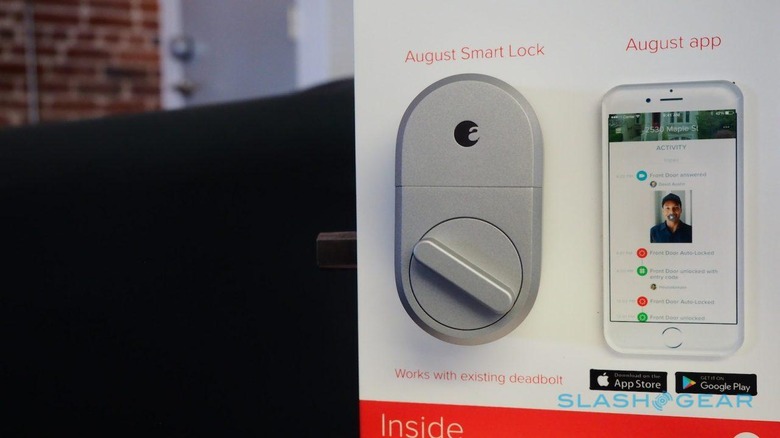 Although you may not get integration with Apple's home automation platform, the new Smart Lock does still support DoorSense. It'll also work with the existing August Keypad for phone-free access, and if you buy the August Connect WiFi Bridge separately you can hook it up to your home WiFi network too. It's also available from today, with the August Smart Lock priced at $149 and offered in both silver and dark gray.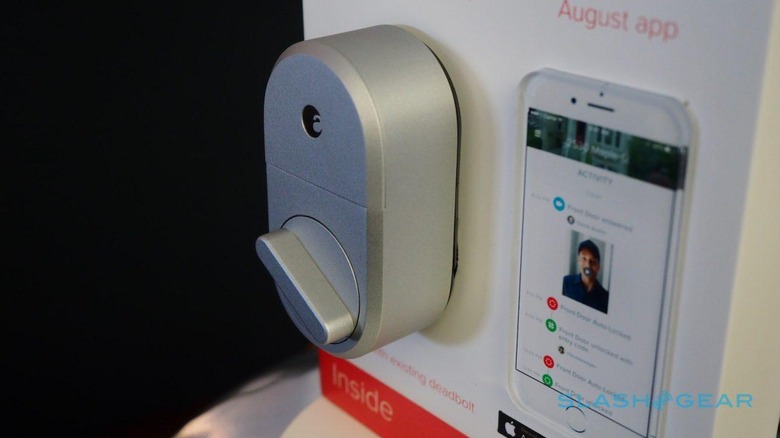 August Doorbell Cam Pro
August's third new product for today isn't a lock, but an update to its doorbell camera. The August Doorbell Cam Pro keeps the circular button of its predecessor, but the company logo in the center now hides a floodlight with three levels of adjustable brightness.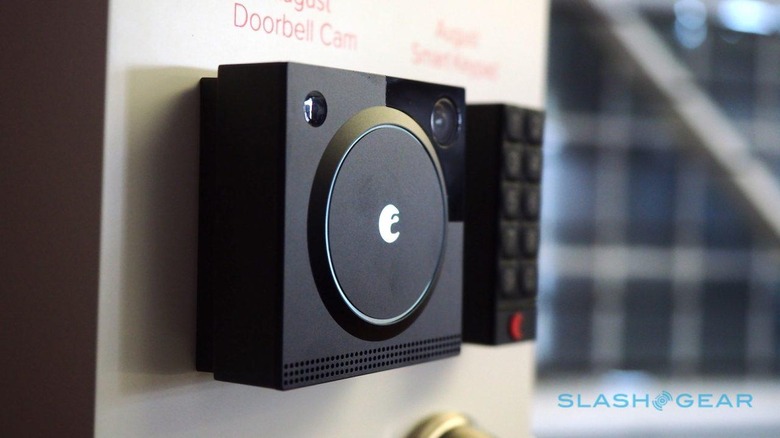 The goal, August says, was to deliver not only night vision but a picture that remains full color rather than the monochrome you generally get with infrared illumination. As with the previous Doorbell Cam, there's motion triggering even if the person in the frame doesn't actually press the button themselves. Video quality has been improved, too, and there's support for viewing the footage on Amazon's Fire TV and Echo Show.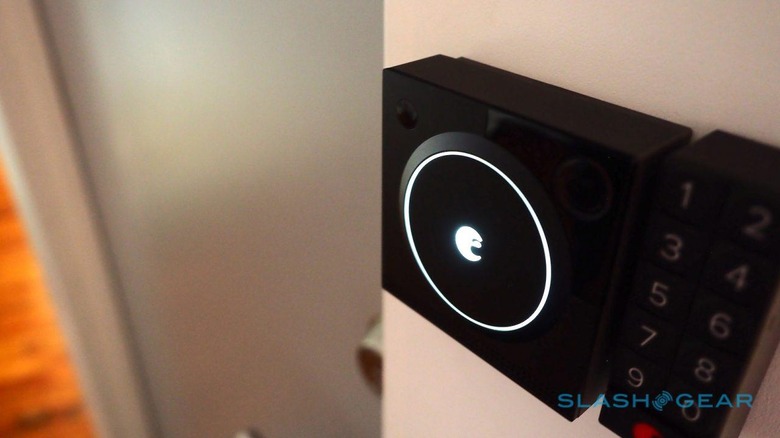 Also new with the Pro model is HindSight. In effect, it's automatic video buffering: whenever a new recording is triggered, the Doorbell Cam Pro also saves a few seconds to the beginning of the clip. That way, you can see what happened just before the alert, helping identify fast-moving thieves. To help with improved positioning, August is including a USB dock in the box which can be used to temporarily mount the doorbell so as to ensure both line-of-sight and WiFi strength is acceptable.
The August Doorbell Cam Pro is up for pre-order from today, priced at $199. It'll begin shipping on October 10.