The Rad Audi Of The '80s That Became A Cult Classic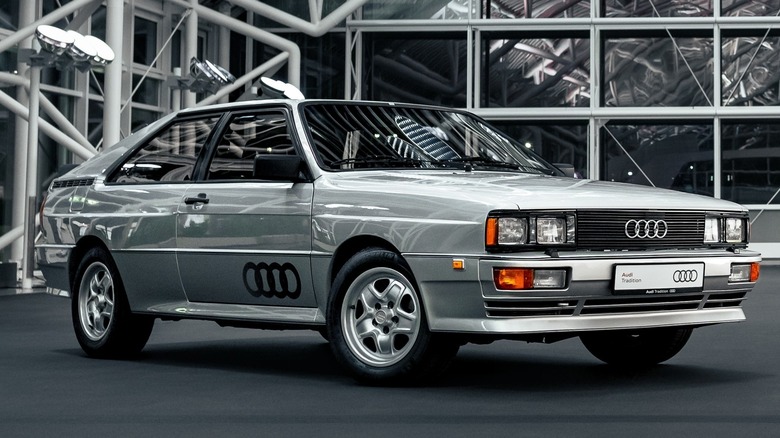 Audi
If you're a hardcore fanboy of the Subaru WRX STi or Mitsubishi's Lancer Evolution, you have the Audi Ur-Quattro to thank. Legend has it that Audi started experimenting with four-wheel-drive in the late 1970s after one of its engineers watched a Volkswagen Iltis military vehicle give an impressive performance in snowy conditions due to its four-wheel-drive configuration. Until then, four-wheel-drive hardware had mostly been a bulky affair limited to pickup trucks and Jeeps. The Quattro smartly utilized compact differentials that would fit in the smaller spaces of a passenger car and not require a huge increase in ride height.
By 1980, Audi's appropriately named "Quattro" was ready for the market. Besides full-time four-wheel-drive, the big hatchback also had Audi's trademark 5-cylinder engine, turbocharged to produce 197 horsepower and coupled to a 5-speed manual transmission. Production ranged from 1980 to 1991, although the North American market had a much shorter window between 1983 to 1986. Like with many European imports of the era, the U.S. version of the Quattro was detuned to meet stricter emissions requirements and only produced 160 horsepower. MotorTrend tested one of the earliest North American Quattros in 1982 and it accelerated from zero to 60 mph in 7.9 seconds which was respectable for the time.
It was a rallying monster
Total worldwide Quattro production was only 11,452 units, with a scant 644 of those being sold in the United States. A big part of the reason for the Quattro's lackluster sales was the steep sticker price of approximately $35,000 which is the equivalent of $105,000 in today's dollars.
What the Quattro lacked in sales, it made up for by filling Audi's trophy case. It turns out that Audi was cleverly positioned to take advantage of a recent rule change that allowed four-wheel-drive cars to participate in the World Rally Championship (WRC). For several years, Audi enjoyed a first-mover advantage and dominated most of the competition. The Quattro racked up 23 WRC wins during the 1980s, as well as setting multiple records at the prestigious Pikes Peak hill climb in Colorado during that same period. By the late-1980s, Audi's competition developed their own four-wheel drive cars and no two-wheel drive car has won a WRC championship since.
Nowadays, Audi uses the badge 'quattro' (note the shift to lowercase "q") on all its vehicles with permanent four-wheel-drive, such as its R8 supercar. But if you're nostalgic for the original 1980s trendsetter, the website classic.com lists an average sales price of $73,447 for vintage examples over the past 12 months. For buyers whose wallet is a little thinner, higher mileage, driver quality examples can be found for approximately half that amount. But considering just how many of these OG Quattros are coming out of the United Kingdom, you had better get used to driving from the right-hand side.