Why Henry Cavill Loves The Peugeot 206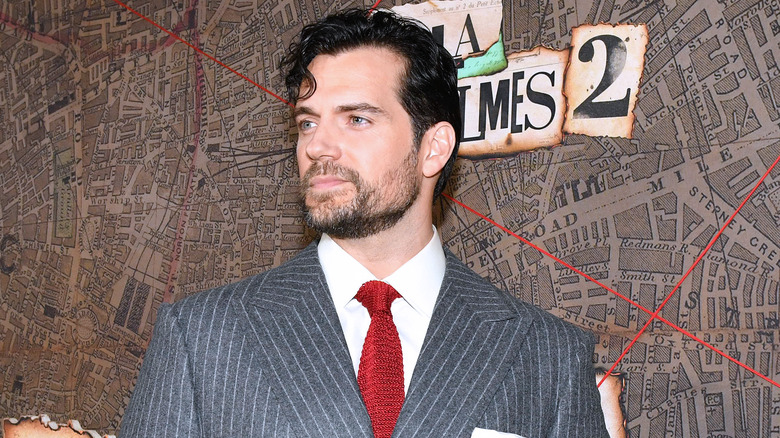 Craig Barritt/Getty Images
Henry Cavill, who you may know as Geralt from Netflix's "The Witcher" or for his role as "Superman," is pretty recognizable. However, his first car is a touch more inconspicuous. While many celebrities are spotted behind the wheel of a Ferrari, Porsche, or Range Rover, Cavill opted for something with a far lower profile. He bought pretty much the same kind of hatchback as every other British teenager in his age group.
His choice of car isn't the only thing shockingly down-to-earth about Cavill. The man also builds his own PCs, and has developed a bit of a cult following around his desktop designing antics. Then again, Cavill is still a multi-millionaire, so he can basically knock out every gamer's dream build every time he gets the screwdrivers out. 
There's no trawling the internet for deals on parts, or compromising on things like the case, just so you have an extra $50 to dump on the CPU. Cavill builds them well, and he builds them with whatever parts he feels like getting.
Although he goes high-end with his custom desktop builds, and despite the fact he had just finished filming a major movie at the time, Cavill opted for a relatively cheap first set of wheels. It was a special edition Peugeot 206, and he loved it enough to keep it for close to a decade and a half, even when his garage was filling up with some of the world's most desirable cars.
Superman drove a Peugeot economy car
For the most part, the rich and famous don't tend to play by the same rules as everyone else. When it comes to first vehicles, there is no exception for many of them. Many people with a similar profile to Cavill have gone big on their first ride and splashed out six figures on something like a Range Rover, lucked out with an iconic muscle car, or been gifted a custom pickup truck.
Not Henry Cavill, though — his first car was incredibly normal. Cavill bought a Peugeot 206 Grand Touring (GT) back in 2002, shortly after his breakout role in "The Count of Monte Cristo." To be fair to Cavill, he did splash out a bit on his 206. The GT (not to be confused with the GTi) was a limited edition sporting version of the vehicle, and is sought after by people who collect Peugeots. 
It sported 16" alloy wheels and a unique "aggressive" bumper configuration. Despite the rarity, it wasn't actually the most powerful Peugeot 206 of its day — that title went to the WRC. Despite this, Cavill was still a massive fan of the little hatchback and hung on to his Peugeot 206 GT for around 14 years.
Unlike a lot of 14-year-old hatchbacks, Cavill also made sure his Peugeot went to a good home. Cavill raffled off his Peugeot in aid of a charity, the Durell Conservation Wildlife Trust, during its 2016 challenge weekend.
The Peugeot 206 is nothing special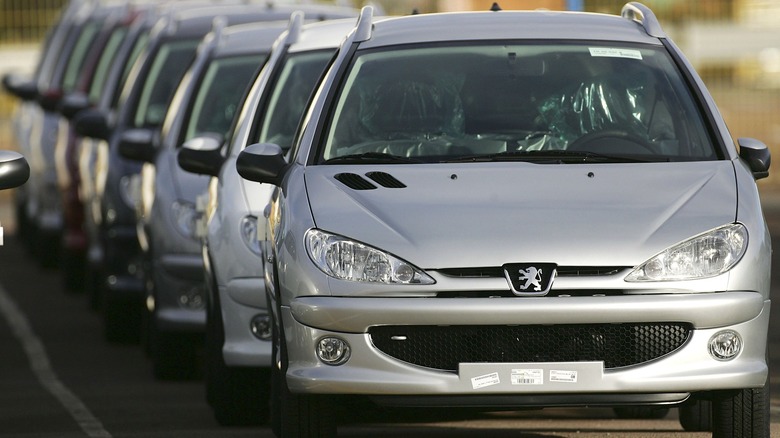 Christopher Furlong/Getty Images
There is nothing outstanding about a Peugeot 206: it's a pretty standard hatchback, and the kind of thing that many European teenagers chose as their first car. Cavill may have chosen the 206 for similar reasons. 
The French hatchback is highly compact and tends to be powered by a smaller engine — usually between 1.1 and 1.6 liters if we ignore the more powerful GTi editions. Again, the smaller engines tend to make the 206 an ideal first car. A new driver is less likely to abuse lightning-fast acceleration, and if an accident does happen, it might take place at a lower speed. As a result, insurance also tends to be cheaper on the Peugeot and similar hatchbacks.
The 206 wasn't entirely boring, or at least its offshoots weren't. The GTi had a lot more grunt: It was packing a 2.0 liter engine, which significantly boosted the power output. A Peugeot 206 GTi is by no means a sports car, but it is significantly more powerful than the basic model, and could do 0-60 in under 7.5 seconds. 
A good number of modern sedans would slaughter it these days, but it's a small hatchback from 20 years ago, and 17-year-olds were happy with it at the time. 
Peugeot eventually killed off the 206 in 2012. By the time its run finished, it was Peugeot's best selling model of all time. As for why Cavill liked it? Well, everyone gets attached to their first car, don't they?
Cavill's current cars are a bit more powerful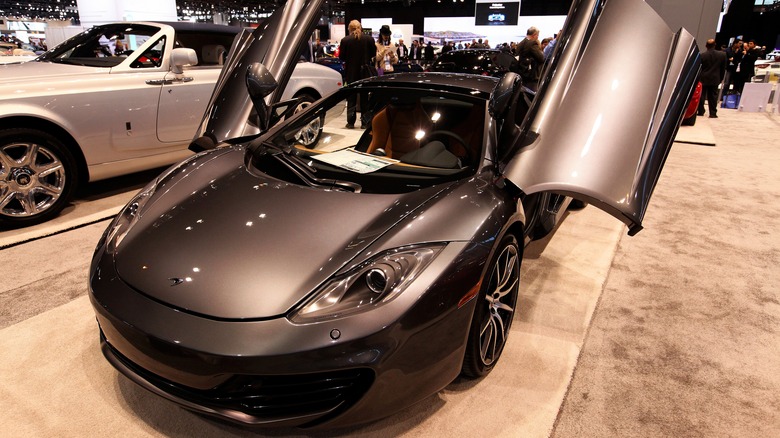 Raymond Boyd/Getty Images
Despite the humble start, Cavill's current car collection is a lot more impressive; including the likes of the Aston Martin DBS Volante, the Ferrari 458 Italia, the McLaren MP4-12C Spider, a Rolls Royce Wraith and a couple of Bentleys. 
Arguably, the Ferrari 458 Italia is the most standout car in what is one of the most impressive celebrity garages. Its 4.5-liter, 562 horsepower V8 is capable of keeping up with "Superman," going 0-60 in less than 3.4 seconds and hitting its top speed at 202 mph. It's beautifully styled, and unlike Justin Bieber, Cavill hasn't fallen foul of Ferrari by losing his prancing horse endorsement.
The McLaren MP4-12C Spider came out around the same time as the Ferrari 458 Italia, and is another distinguished, high-end, supercar. It has a slightly smaller engine, a 3.8 liter V8 — but size isn't always the defining factor. With an output of over 600 horsepower, Cavill's McLaren MP4-12C is capable of outgunning his Ferrari. It will go from 0-60 in just 3.1 seconds, and flat out it will do two miles per hour more than its Italian garage companion.
Everything in Cavill's garage is, on paper, better than his old Peugeot, but the French hatchback did have one thing going for it. If he decided to take it for a 2 a.m. McDonalds, nobody would be able to accuse him of trying too hard.