Ferrari 458 Italia unveiled: 4.5L 200+mph sportscar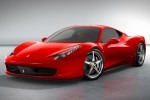 Ferrari have unveiled their latest supercar, the frankly delicious 458 Italia, a slippery wedge of V8-powered insanity that will replace the F430.  The combination of a freshly-fettled 4.5-liter 562 horsepower V8 and carefully engineered aerodynamics means the 458 Italia not only makes the o-60mph dash in under 3.4 seconds but does so with the lowest emissions and fuel consumption in its class.
When your "class" is utterly extreme luxury sports coupés, though, that's perhaps not as impressive as the latest super-frugal hatchback.  Still, you're unlikely to risk breaking the 200mph barrier as you will be able to in the Ferrari.
Plenty more detail about the 458 Italia at the car company's site, and they're promising video from the design teams, Pininfarina and Michael Schumacher over the next month.  One of the best details, perhaps, are the front grill winglets, which are intended to deform with increasing wind resistance and thus shift to a place whereby downforce is maximized.  Start saving now...
[via Acquire]