The Unforgettable Track Record Of Mercedes' 1954 Formula One Car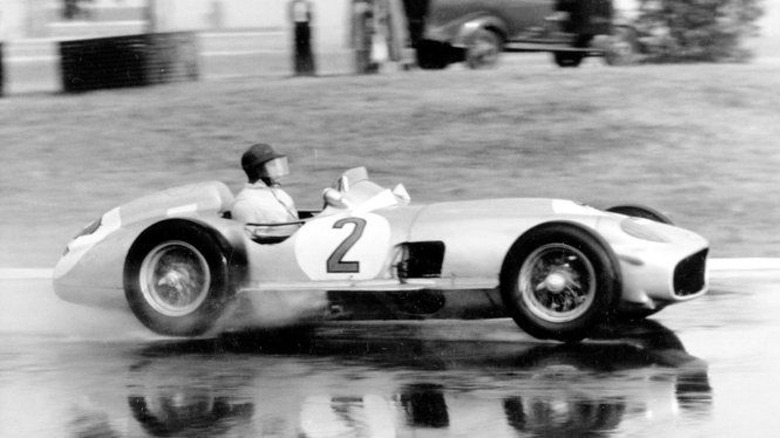 Mercedes-AMG F1
German automaker Mercedes-Benz has dabbled in Grand Prix racing long before dominating the world of Formula One. However, younger racing fans know Mercedes as the brand that won seven consecutive world titles (with Sir Lewis Hamilton behind the wheel) and eight constructor titles from 2014 to 2021. Moreover, Mercedes-Benz has set the record for most wins in a single F1 season, making it one of the most successful teams in the sport's history.
Mercedes-Benz started racing in the early 1930s, but it wasn't until 1954 that it entered Formula One. Its weapon of choice was the Mercedes-Benz W 196 R, an all-new racing car explicitly designed and engineered to make other racing cars feel inferior. The brand's first post-war F1 car is a streamlined beast with a tubular space frame and an advanced straight-eight engine with springless valves. The Petersen Automotive Museum calls it the most advanced racing car of its era after accumulating a remarkable track record during its two-year lifespan.
Mercedes-Benz W 196 R: Hardcore track weapon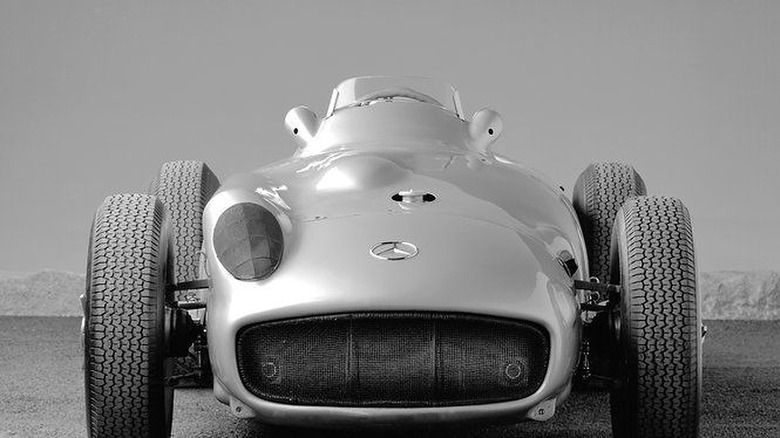 Mercedes-AMG F1
Mercedes-Benz built two W 196 R F1 car variants, although only 14 units (and one prototype) left the factory. The original streamliner version had a svelte body developed in the wind tunnel. The brand debuted an open-wheel "monoposto" variant at the 1955 Argentinian Grand Prix and won fourth place behind the wheel of iconic names like Herrmann, Kling, and Moss. The legendary Juan Manuel Fangio relocated to Mercedes-Benz from Maserati and won two consecutive world championship titles in 1954 and 1955, all behind the almighty W 196 R.
Equipped with a hi-tech 2.5-liter naturally-aspirated straight-eight engine with two valves per cylinder and a bespoke Bosch injection pump, the W 196 R's engine had a breakthrough feature that allowed it to rev higher and produce more power: desmodromic springless valves. The innovative design enables the rocker arms and cam lobes to control the intake and exhaust valves without conventional springs.
Combined with lightweight, aero-optimized aluminum bodies and an innovative low-pivot swing axle rear suspension, the Mercedes-Benz W196 R was a monster on the racetrack. It scored nine victories and fastest laps, eight pole positions in twelve Grand Prix races, and Fangio's two world titles in 1954 and 1955. However, the car's mythical run was short-lived, as Mercedes-Benz withdrew from professional racing after the infamous 1955 Le Mans disaster.