Xiaomi 13 Pro Review: The Complete Package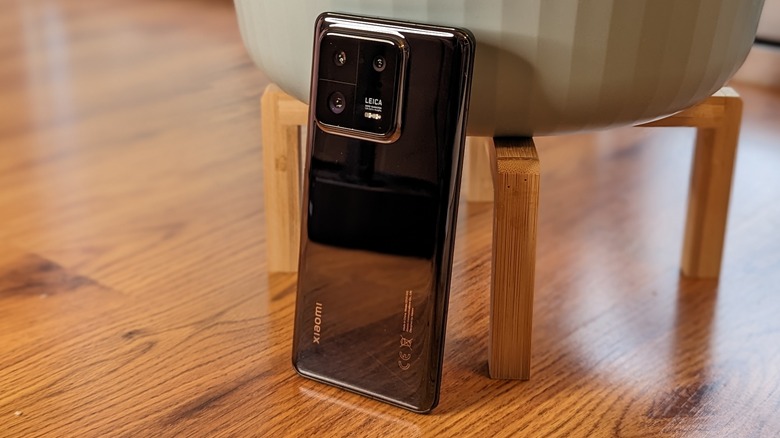 Steve Smith/SlashGear
Depending on where you live in the world, Xiaomi may not be a manufacturer that you are familiar with. Xiaomi has been around for over a decade and has grown into one of the top three smartphone manufacturers in terms of sales each year — right alongside Samsung and Apple in total global sales. Xiaomi has a wide variety of devices that target just about every price point. While Xiaomi's Redmi and Poco phones do a fantastic job in the budget and midrange segments, the company is more than capable of creating a top-tier device.
The Xiaomi 13 Pro is its latest flagship device and an absolute beast on paper. The question is, does it do enough to take on the top Android phones such as the Samsung Galaxy S23 Ultra or the Pixel 7 Pro? I spent some time with the Xiaomi 13 Pro to determine how it stacks up against its competition. Xiaomi sent us a Xiaomi 13 Pro for the purpose of this review.
Hardware Design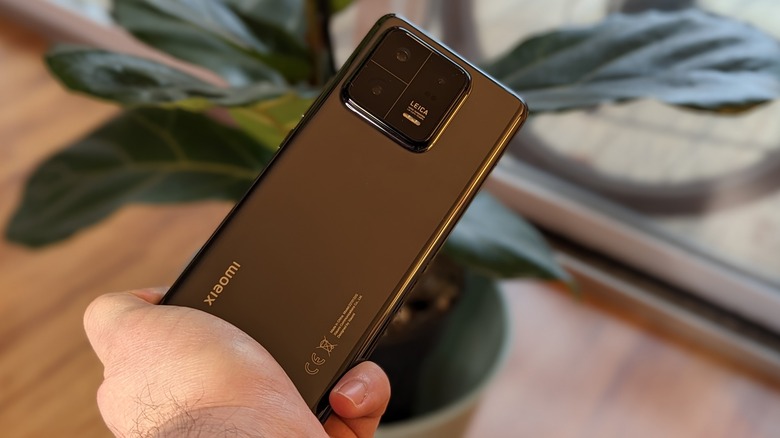 Steve Smith/SlashGear
The Xiaomi 13 Pro is a beautifully designed device and feels great in the hand. The phone is solidly built and is on the bigger side. It measures 162.9 x 74.6 x 8.38mm and weighs a hefty 229g. The front of the device is dominated by the Gorilla Glass Victus-covered curved display. The 13 Pro has very thin bezels and its selfie camera is located in the top-middle of the glass.
The back of the device is made from ceramic and it feels fantastic. Ceramic gives the 13 Pro a premium and unique feel that helps differentiate it from other manufacturers — but while it looks and feels amazing, it is very slippery. It is also a fingerprint magnet, so make sure you have a cloth or two if you are the type that likes to keep their device looking pristine. It is IP68 certified and is available in either black ceramic or white ceramic.
The back has a large square bump that houses Xiaomi's triple camera setup. It is positioned near the top left corner and juts out quite a bit. It acts as a natural resting point for your finger, which helps with overall grip, but it feels a bit bulky. Xiaomi did a good job of balancing the phone and it doesn't naturally tip to the side with the lens.
Display and Audio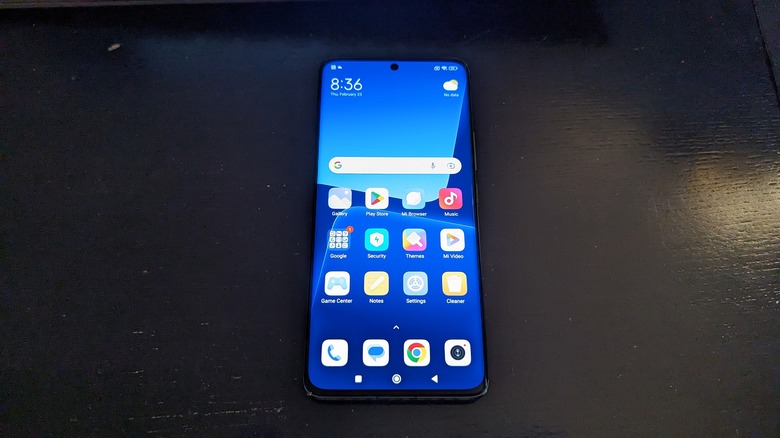 Steve Smith/SlashGear
The Xiaomi 13 Pro has a 6.73-inch WQHD+ (3200 x 1440) display with a pixel density of 522ppi. It has a 120Hz refresh rate that can scale between 1 and 120Hz. Xiaomi suggests that the standard brightness of the display here is 1200 nits, with a peak brightness of 1900 nits. It is capable of Pro HDR, Dolby Vision, HDR10+, and HDR10. It also has an in-display fingerprint sensor that works remarkably well.
Add it all up and you get an absolutely gorgeous and immersive display. The colors looked great and the 13 Pro's display felt buttery smooth with its 120Hz refresh rate. 
I am not a fan of the curved edges though, especially as the 13 Pro struggled with swiping gestures whenever my touch originated beyond the flat top of the screen. It routinely didn't register that I was trying to move back a menu and would take me two or three attempts before it would work. Maybe it was the (Xiaomi-made, included in-box) protective case that I had on, but that should be no excuse.
Xiaomi included dual stereo speakers with the 13 Pro. They get plenty loud and I didn't notice any distortion, even when the volume was cranked up. When placing calls using the device's loudspeaker, the caller sounded loud and clear.
Performance and Battery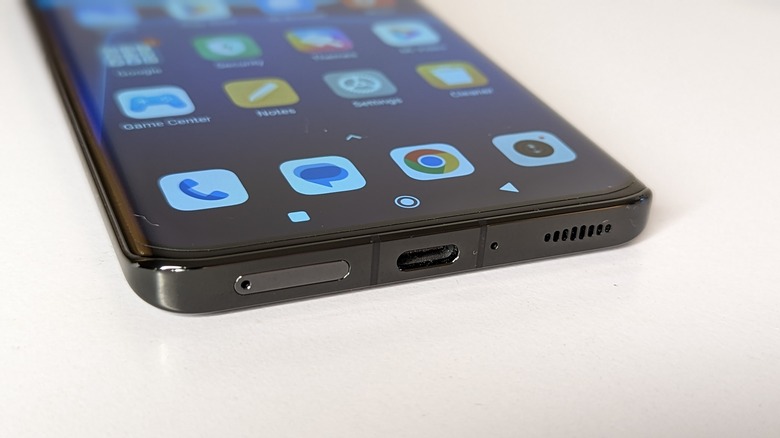 Steve Smith/SlashGear
With a Snapdragon 8 Gen 2 processor, 12GB of RAM, and either 256GB or 512GB of UFS 4.0 storage, this device flies. It handled routine tasks and apps easily and there was nothing I could do to slow it down. That includes prolonged gameplay sessions to see how it would handle the extended use.
To put the device to the test, I installed "Call of Duty Mobile" and "GRID Autosport." Both games defaulted to max graphical settings and never skipped a beat. Gameplay was consistently smooth throughout testing. The back does get a little warm after an extended gameplay session.
I ran a few benchmarks and it confirmed my first-hand experience. Geekbench 6 resulted in a CPU benchmark score of 1403 (single-core) and 5084 (multi-core). This puts it in the same ballpark as the OnePlus 11 and slightly behind the 1956 (single-core) and 5126 (muli-core) scores of the Galaxy S23 Ultra.
With a 4,820mAh battery, The Xiaomi 13 Pro easily got me through a day of heavy use. With lighter use, you could push the device to two-day territory, and Xiaomi includes a charger in the box that is capable of 120W "HyperCharge." Xiaomi states that it can charge your device from dead to 100% in as little as 19 minutes. I couldn't test that because my unit had a European charger that I couldn't use here in the states. You also get 50W wireless "turbo" charging and 10W reverse wireless charging.
Cameras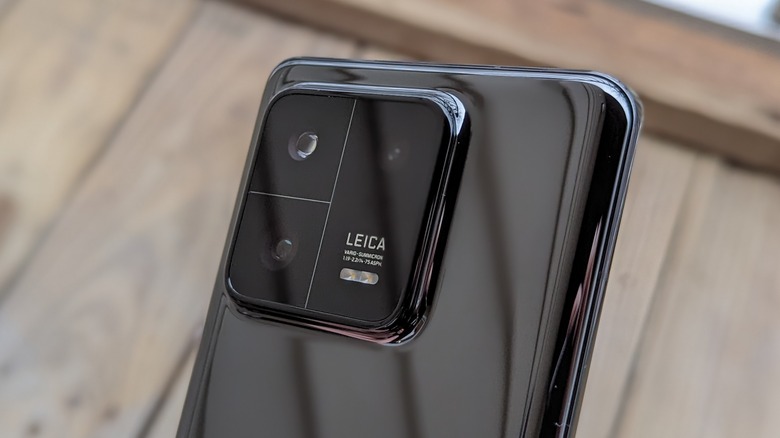 Steve Smith/SlashGear
The Xiaomi 13 Pro has a Leica-tuned triple rear camera setup. It has a 50MP f/1.9 main lens with a massive 1-inch sensor. It also has a 50MP f/2.0 telephoto lens a 50MP f/2.2 ultrawide lens, and a 32MP front-facing camera.  All of the photos in this section below were captured with the Xiaomi 13 Pro's back-facing camera array.
You get two different photo styles, Leica Vibrant (the default) and Leica Authentic. Leica vibrant produces punchy colors similar to Samsung's Galaxy S-series of devices. Leica Authentic gives you more true-to-life colors, but to me felt bland in use. I suspect most people will stick to the default settings.
The main lens is extremely capable and results in some great shots. The 1-inch camera provides a natural depth of field to your images creating DSLR-type bokeh to its shots. Color accuracy was spot-on and very true to life.
Pictures taken at night and in dimly lit environments result in solid photos, so long as you're able to stand reasonably still. Above you'll see a relatively dimly-lit hallway, and below you'll see a photo captured outdoors at night. Both are handheld shots captured without the assistance of a tripod.
 The hallway was much dimmer than the picture looks and the building was taken after the sun had gone down completely. There is a bit of noise in the sky, but overall I think it's a great shot.
Xiaomi touts its portrait mode on this device and while it is capable, I found it to be a bit restricting. You get a variety of portrait options, but it crops so close to the subject that I had to back up further than I was used to or wanted to.
Software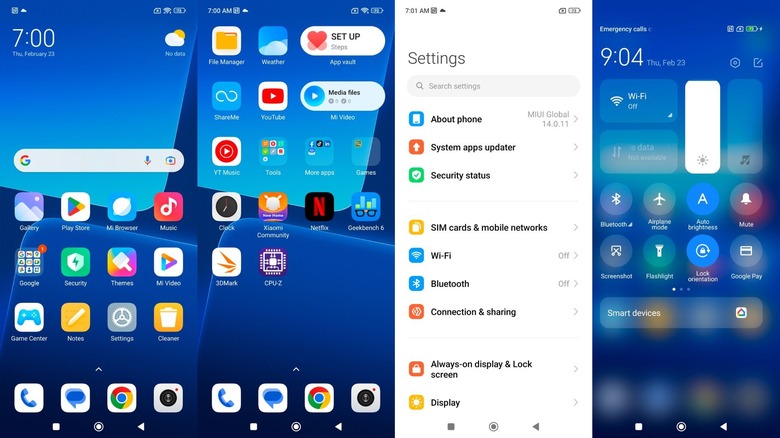 The Xiaomi 13 Pro runs MIUI 14, which is a heavily customized skin of Android 13. The look and the feel of MIUI 14 remind me a lot of Samsung's One UI skin. For some reason, Xiaomi defaults to onscreen navigation buttons but can be easily configured to run Android gestures.
Also, much like MIUI on many Xiaomi devices that have come before, MIUI 14 offers a ton of customization options. One of my favorite options was the notifications settings. You can make the screen flash along the curved edges if you get a notification. As someone that misses the notification light, it was a nice implementation of it. You can change layouts, themes, wallpapers, lock screen settings, and a whole lot more.
Navigating the menus isn't always the easiest and I tend to prefer Google's Pixel implementation of the menu system. Not all the options on the 13 Pro are easy to find, but luckily the search feature within the settings menu can get you to where you need to be.
You are getting a bit of bloatware with this device and not all of it can be removed. Apps that are preinstalled range from Xiaomi's first-party apps to third-party ones such as Netflix and Facebook. The third-party applications can be removed, but most of Xiaomi's apps can't be.
Final Verdict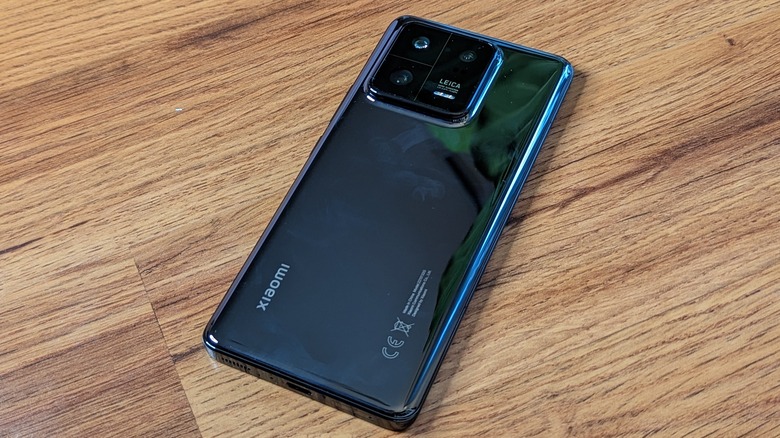 Steve Smith/SlashGear
The Xiaomi 13 Pro is a complete package. It has impressive performance thanks to the Snapdragon 8 Gen 2 processor, great battery life, and a highly capable camera system. If you are a gamer then you will be quite satisfied with the performance of this phone. The camera is versatile and can get you some great shots, just remember portrait mode is a bit tricky.
The device is a bit large, heavy, and bulky though. In addition, Xiaomi's MIUI 14 software implementation is serviceable but not as smooth as what is found in Samsung's One UI or Google Pixel software — both of which are also based on Android. I also wish that you could remove Xiamoi's first-party applications.
Overall the Xiaomi 13 Pro offers performance that can easily take on the best devices available on the market today. The display and ceramic back are beautiful and add to the overall greatness of this phone. This device is available for purchase in China for approximately ¥5399 (converted directly, this would run about $776 as of late February 2023) and will be made available to international markets soon.