How The BMW E36 Became A Rising Star In The Car Community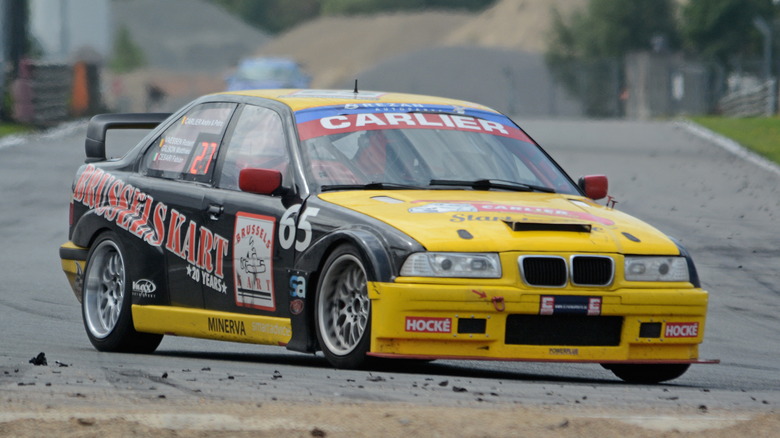 Didier Messens/Getty Images
Some cars are simply made to be messed with. Customization is every gearhead's sacrosanct right, and the best carmakers build certain models with that in mind. As large manufacturers invest in cars-as-a-service, however, hiding engines under metal panels and wrapping bodywork in restrictive policies preventing third-party futzing, custom car hobbyists often look to the past when looking to get their hands dirty.
Enter the BMW E36 M3. The E36 has built a substantial fanbase since its debut in 1992, driven in large part by motorists looking to personalize their rides. Stock, the car delivers the thoroughbred performance expected of any vehicle wearing a BMW M badge, but custom builds are where the sedan really shines.
Of course, no car manufacturer designs a product solely to provide entertainment for petrolheads looking to tinker with stock builds. BMW had every intention of the E36 M3 being a classic sports sedan right off the lot. Ironically, it was that goal that made the E36 such a tempting platform for custom car fans.
Love it for its flaws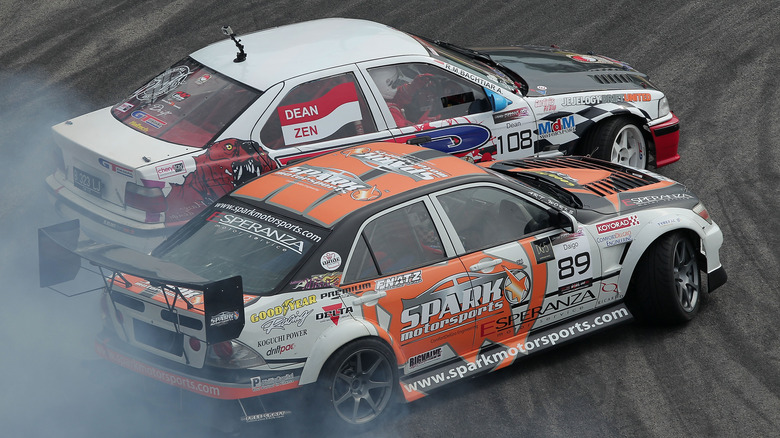 Chris Mcgrath/Getty Images
As RallyWays reports, the E36 M3 had a challenging beginning. It was the first successor to a burgeoning dynasty. Its direct predecessor, the E30, was BMW's original M3, the founder of arguably the most esteemed line of sports sedans ever built. No pressure.
Unlike the E30 M3, which was originally built as a racing car before being tuned for daily driving, the E36 would be built from the ground up for roadgoing use. Per RallyWays, BMW's goal was a grand tourer, a comfortable, full-featured sedan that could still raise goosebumps like an M3 should.
Whether they met that goal is subjective; "full-featured" means different things to different people. What is certain is that BMW built a true M3, with no racing inspiration required. The E36 was a track day masterpiece, packing a 3-liter straight six and unadorned manual transmission. The handling was superb, according to Road and Track, making the M3 a delight to drive on daily errands as well as on the track.
As Road and Track rightly reports, however, the E36's immortality came from a surprising place: its flaws. Drivers nitpicked the cheapish interior and debatably underpowered – closer to "not quite overpowered enough" – 240 stock horsepower. Those flaws, of course, made the E36 a perfect platform for anyone looking for a reliable ride to customize. The bones of the E36 M3 were brilliant; everything else was fixable. The result was a petrolhead's delight, equal parts top performer, and a neverending project car. Who could ask for more?