The Classic Mercedes Convertible That Symbolized '60s Cool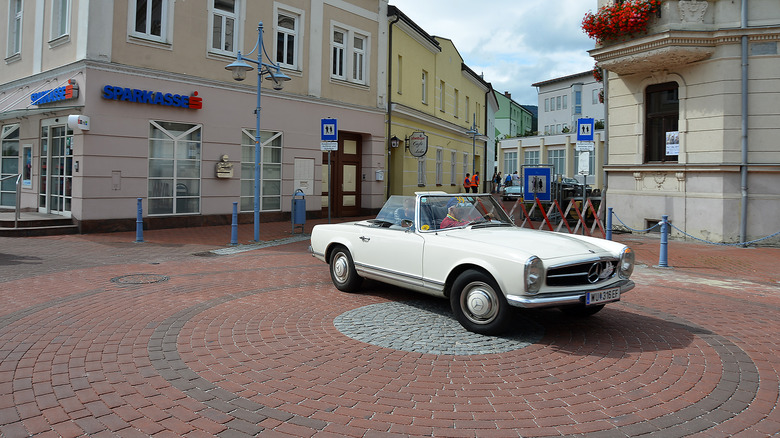 Manfred Schmid/Getty Images
Mercedes-Benz isn't short of iconic cars. To start with, its co-founder Karl Benz built the first car ever, all the way back in 1885. That's quite a claim to fame. Benz and his successors haven't rested on their laurels, either. Over the intervening century plus, Mercedes has built dozens of beauties, from mighty Maybach-branded Autobahn grand cruisers to snarling race cars and class-defining two-seat roadsters.
It's those roadsters, classic and modern, that have, in many ways, defined the Mercedes-Benz brand. The 300SL, in particular, has been repeatedly touted as the ultimate Mercedes and the greatest roadster ever by everyone from Mecum Auctions to Hot Wheels and Mario Kart.
In its shadow, however, is our choice for the actual holder of the "World's Coolest Mercedes" throne. The 300SL's direct successor in the top-end two-seat roadster market segment, the 230 SL "Pagoda," embodied the '60s style and represented a new idea of what sports cars could be.
The people's champion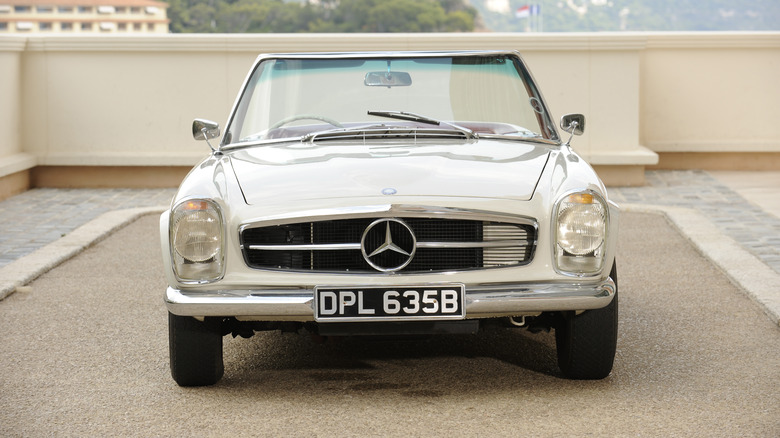 Heritage Images/Getty Images
The crucial change between the 300SL and the 230SL — known internally as the W113 — was accessibility. According to Auto Evolution, the 300SL had been exclusive in every sense of the word: high-priced and high-powered, with a manufacturing run of just over 3,000 models. In that respect, the 230SL wasn't just the 300SL's successor. It was the successful merging of that car with the 190SL, a comparatively underpowered but far cheaper and more widely available two-seater that sold almost 26,000 models.
Splitting the difference could have meant disaster, creating a car that could neither perform like the 300SL nor deliver the thrifty thrills of the 190. Instead, Mercedes went to the drawing board and built a completely new car that exemplified the crucial improvements in engineering that defined '60s auto design. The 230SL was the first mass-produced car with a safety body, incorporating crumple zones in the front and rear and a removable hard top to improve safety in rollover accidents.
Safety measures required no compromises in performance, however. At 150 horsepower and 145 foot-pounds of torque, the stiff body and quick pickup of the sensibly priced roadster kept it just a few seconds behind dedicated race cars from Ferrari and other legendary marques on challenging tracks. Variants on the W113 sold from 1963 to 1971, delivering tens of thousands of models worldwide to demonstrate what Mercedes-Benz could do.