This HEMI-Swapped Comanche Is The Coolest Truck We Wish Jeep Would Build Today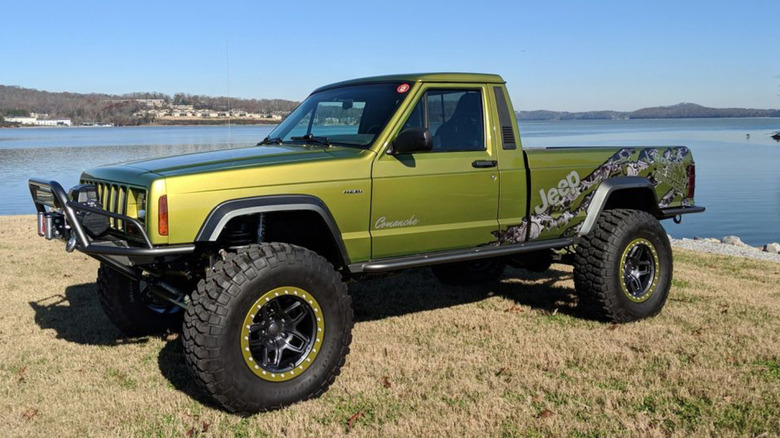 Rock Solid Off Road Fabrication
Rarely has any vehicle been as highly anticipated as Jeep's latest Gladiator pickup truck. When it was released in 2019 as a 2020 model, it was the brand's first production pickup truck since 1992. However, the final reveal of the new Gladiator left some fans disappointed on a couple of fronts.  Some Jeep enthusiasts — including Auto Trader's Eric Brandt — thought that the Gladiator should be a two-door model. Besides imparting a sportier vibe, a shorter two-door cab would have the added benefit of accommodating a longer, more functional cargo bed or a shorter overall vehicle length for better off-road prowess.
But the biggest bummer about the Gladiator is its weak-sauce powertrains, consisting of either a 285 horsepower gasoline-powered V6 or a 260 horsepower diesel V6. In either case, it takes over 7 seconds to propel the nearly 5,000-pound truck from zero to 60 mph per a recent Car and Driver road test. To add insult to injury, the Gladiator's sibling, the Wrangler, is now available with a 6.4-liter 470 horsepower HEMI V8. The 1991 Jeep Comanche resto-mod featured here handily solves both of those problems. Nicknamed "Manny the Manche," this killer creation comes from Rock Solid Off Road Fabrication out of Chattanooga, Tennessee.
More than just modern 5.7-liter HEMI power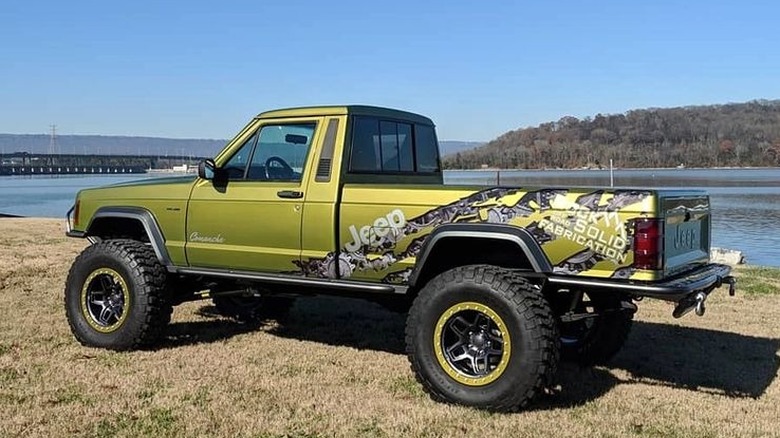 Rock Solid Off Road Fabrication
We're not sure whether this Comanche started life with a 4-cylinder or 6-cylinder powerplant, but what's important is the 5.7-liter HEMI V8 that currently occupies the engine bay. Rock Solid doesn't provide an exact horsepower spec, but the valve covers look like the flat type from a pre-2009 Gen. III HEMI, which pumped out about 345 horsepower in stock form. A bell housing from a Dodge Dakota pickup is used to transition the HEMI to an Aisin AX15 5-speed manual transmission, likely original to this truck, which is regarded as one of the best and toughest Jeep transmissions ever.
The "Rescue Green" Comanche rides on a 6.5-inch suspension lift with Fox shocks, which make room for the 35-inch tall BFG mud terrain tires mounted on AEV beadlock wheels. For reference, the biggest tires you're going to find on a stock contemporary Jeep pickup are slightly less than 33" tall. Although the old-school truck sacrifices some luxury conveniences, it does have a modern HVAC system and heated Corbeau bucket seats to keep its occupants comfy. Being that Rock Solid is a fabrication company, "Manny The Manche" sports bespoke front and rear bumpers, as well as custom rock sliders to protect those pristine rocker panels.
Jeep should take the hint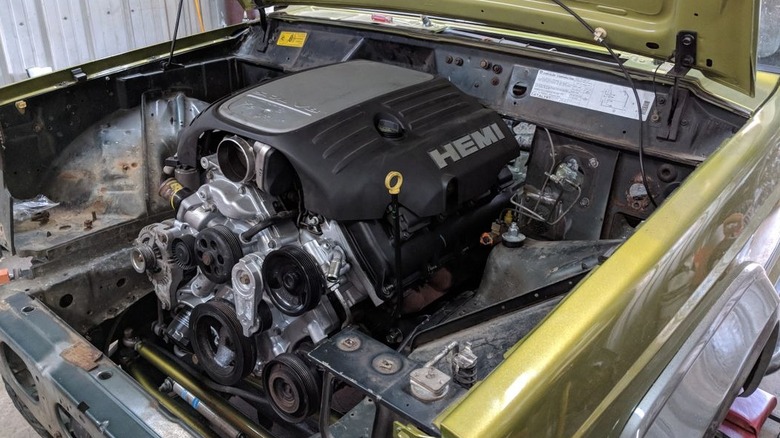 Rock Solid Off Road Fabrication
Honestly, we get why Jeep is hesitant to put a two-door pickup into production. A small but vocal group of gearheads might be clamoring for it, but the reality is that most buyers want the extra room for friends and family that a crew cab affords. To wit, GM recently killed off the two-door extended cab version of its Chevy Colorado and GMC Canyon midsize pickups.
But Jeep has no such excuse for ignoring the huge demand for a spunkier V8-powered Gladiator, especially since this option already exists for the Wrangler, which arguably needs it less. Jeep's parent company, Stellantis, offers high-performance versions of almost every vehicle in its lineup of cars, pickup trucks, and SUVs, with the Gladiator being the lone exception. So until Jeep comes up with something wilder, we'll just have to rely on quality builders like Rock Solid Off Road to fill the niche.