Is A New Flagship Android Phone Really Worth $1,000?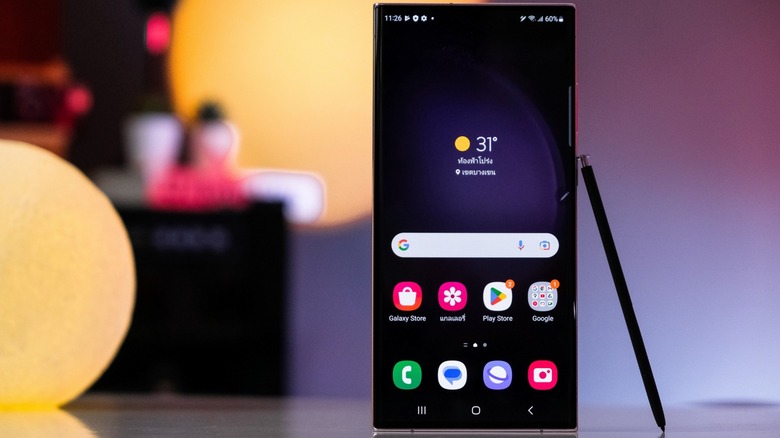 Framesira/Shutterstock
We've seen the prices of smartphones creep since they took residence in our pockets. It's not uncommon to see them approach or even exceed the $1,000 mark these days. Devices like the Samsung Galaxy S23 Ultra, iPhone 14 Pro Max, and Xiaomi 12 Pro exist to deliver a smartphone experience without compromise, price be damned.
To say that smartphone prices have ballooned is putting it lightly. The most expensive iPhone in 2015 was the iPhone 6S Plus, which started at $749, according to VentureBeat. The latest iPhone 14 Pro Max comes in at a whopping $1,099. That's a 46% increase over the 2015 model. And it tops out at $1,599 for the model with the most storage. Samsung's most recent S23 family is guilty of even worse, with the most expensive unit of the lot, the Galaxy S23 Ultra, starting at an eye-watering $1,199.99, and topping out at $1,619.99 for the 1 TB version. CNET's review of the 2015 Samsung Galaxy Note 5 puts it at a base price of $700, meaning the Galaxy S23 Ultra represents a 71% price increase. 
Regardless of the exact amounts, it's safe to say phone prices have experienced inflation, but is it worth it to pay these hefty prices? And what do you lose if you go for one of the cheaper counterparts, like the $599 Google Pixel 7? 
What does a $1,000 phone offer?
Samsung's top-tier device, the Galaxy S23 Ultra, is a prime example of a modern $1,000 flagship. The Galaxy S23 Ultra features an upgraded camera, built-in S Pen, a large, sharp screen, and a massive battery. Arguably the most important of these features, to the average consumer, would be the versatile camera setup and its battery. The quad-camera system on the Galaxy S23 Ultra features a 200 MP wide-angle module, a 10 MP 10x optical zoom unit, a 10 MP, 3x optical zoom lens, and a 12 MP ultra-wide sensor — the only one without optical image stabilization. 
Specifications aside, the allure of a $1000 flagship like the Galaxy S23 Ultra is top-tier performance in all aspects. You get a camera setup with 200MP Wide, 12MP Ultra Wide, 10MP Tele 3X Optical Zoom, 10MP Tele 10X Optical Zoom, and 100X Space Zoom. And the battery is 5,000 mAh, which can mean 25+ hours of use without a recharge, according to Battery Principle.
In essence, these $1,000 phones represent the highest-performance devices available at the time of release, but are these features worth it, in the end? After all, there are cheaper devices that feature similar camera performance and only compromise slightly in other areas.
Is it worth it?
One of the biggest disruptions to the $1,000 flagship market has been Google's Pixel lineup, but do Pixel devices stand up against the competition? The camera system on the Google Pixel 7, which starts at $599 for the 128 GB version, is the best yet on a non-Pro Pixel, even if it is only a dual-camera system with 50 MP wide-angle sensor with OIS and a 12 MP ultra-wide sensor without OIS. The camera system is less versatile, lacking zoom capabilities, than the S23 Ultra's, but just as capable in most normal photography situations, thanks to Google's A.I. smarts, as we saw in our review. Its battery capacity, however, is comparable at a "minimum 4926 mAh," according to its specs.
Closer though, Samsung's own $799 Galaxy S23 , which is powered by the same Qualcomm Snapdragon 8 Gen2 as the S23 Ultra, steps down to a triple-sensor camera setup featuring a 50 MP wide-angle unit, a 10 MP, 3x optical zoom lens, and a 12 MP ultra-wide unit. The camera system on the Galaxy S23, while not quite as good as that on the S23 Ultra, still delivers excellent quality and flexibility, as shown by GSMArena's review.
Of course, both the Google Pixel 7 and the Galaxy S23 lose some of the over-the-top performance that makes the Galaxy S23 Ultra special, but it's up to a buyer to determine if they need something as advanced as the Galaxy S23 Ultra, in all of its absurd glory, or if they can make a compromise on SoC performance, camera quality, or build quality, in the name of price.