Ram's Premature Electrification Ad Is Being Called One Of Super Bowl 2023's Funniest Commercials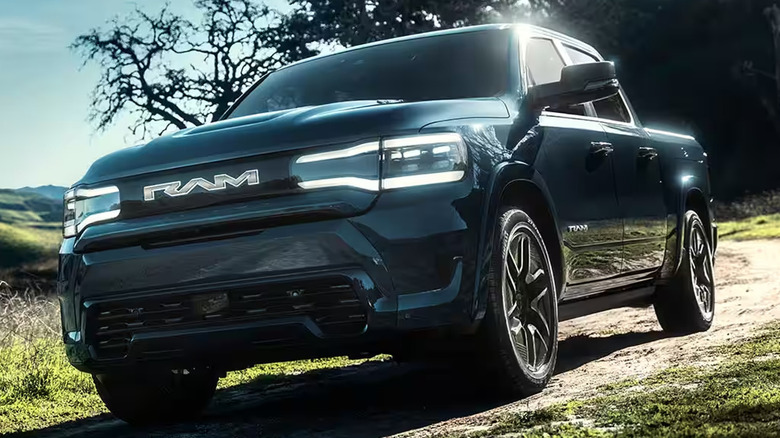 Ram
When it comes to the idea of buying an electric vehicle, are you held back by range anxiety? The phrase refers to concerns some consumers have about whether an EV's battery will be able to get them where they need to go or if it will leave them stranded many miles from the nearest charging station. There are some portable solutions to help alleviate this concern, of course, but recharging a car takes more time than popping open a gas cap and pouring in a canister of gasoline, which makes it particularly annoying when you're not expecting the downtime.
Ram acknowledged this concern in its Super Bowl 2023 commercial, which many say was the most hilarious advertisement to air during this year's Big Game. The commercial mimics an entirely different type of TV ad, teasing viewers about their "premature electrification" and the solution to their problem — one that, in this case, comes in the form of the upcoming and eagerly anticipated 2024 Ram REV 1500 rather than a small blue pill.
Ram's Super Bowl ad was a humorous take on range anxiety
Though we've known to expect Ram's electric pickup truck for a while now, it was only on February 9 that we learned its official name: the REV 1500. A few days after that announcement, Ram took the wraps off the model, presumably timing the full unveiling to happen only hours before its humorous Super Bowl 2023 commercial. That leads Ram fans and EV enthusiasts to the Super Bowl spot, which is a spoof of an erectile dysfunction television commercial. Ram packed a bunch of amusing gags and winks in the video, including some that were more on the nose than others.
"Are you excited about buying an electric vehicle," the commercial's narrator asks, "but worried that it could leave you unsatisfied? Then you could be one of the many Americans concerned about premature electrification." The whole point of the commercial is to hawk the REV 1500's range-extending features, which are apparently still being designed, based on the commercial's verbiage. Though the vehicle won't hit the market until late in 2024, Ram has teased some of its features, including a wheelbase that is four inches longer than that of the regular ol' gas-powered 2023 Ram 1500 in order to accommodate a larger battery. With that said, the model will face some stiff competition.