Ram 1500 REV Gets Its Launch Name As Electric Pickup Racks Up Impressive Specs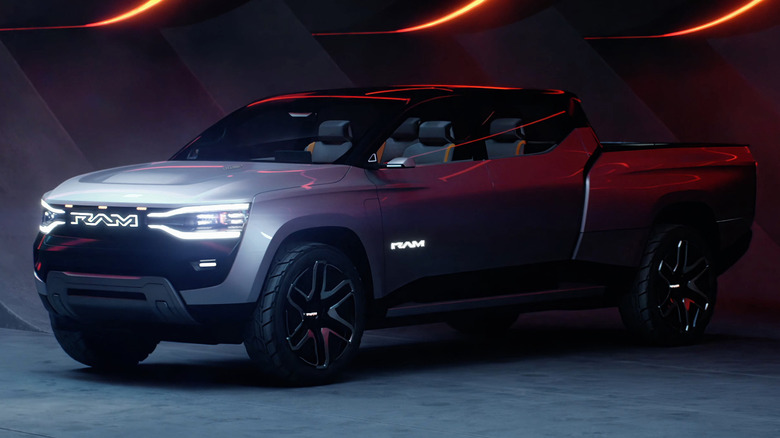 RAM
The beloved Ram brand of pickup trucks has debuted the official name for the marque's first-ever electric vehicle. Ram pickups rank among the most popular vehicle brands in the United States, and putting the Ram name on an electric vehicle represents a seismic shift in the American automotive market. The latest from Ram, which is an ex-Dodge marque currently marketed as an independent product line by Dodge owner Stellantis, is sure to make ripples when it arrives next year.
Stellantis brought a general timeframe for the upcoming EV as well as a name, saying the new truck will enter production next year. It will face stiff competition for the American EV pickup market: Tesla is hard at work on its retrofuturistic Cybertruck, Ford keeps improving its F-150 Lightning, and Chevy has put its storied Silverado brand on an all-electric pickup due out later this year. Can the Ram keep up?
What's in a name?
First, the basics. Per Stellantis, Ram's first EV will start production next year under the name Ram 1500 REV. The gas-powered 1500 was arguably the best Ram model of 2022 and depending on who you ask, it may have been the best pickup on the market, period. The EV version has high standards to match. Given those high standards, Stellantis has elected to play surprisingly coy with the details of the new truck. 
Ram previously dropped some details about its Revolution concept truck, saying it features an STLA frame that is 4 inches longer than that of the 2023 1500 model. The extra length will make room for bigger batteries, though specific details on capacity and range are still pending. Other teased concept features include a 50/50 split tailgate, powered steps, grand saloon doors, 24-inch wheels, dual motors, what Ram describes as a "customizable cabin," and a variety of tech features ranging from biometrics to voice and capacitive controls, as well as some autonomous features like self-leveling and automated parking.
The latest release was heavy on major claims but short on data, with only a promise of more to come on February 12 — the date, of course, indicating that the EV will get a Super Bowl debut. For now, all we know comes from executives far removed from the factory floor. Ram brand CEO Mike Koval Jr. claims the 1500 REV will "push past the competition," delivering optimum performance in "the leading combination of attributes customers care about the most: range, payload, towing and charge time."