Google Pixel's Super Bowl 2023 Ad Showcases How To Magically Erase Strangers From Photos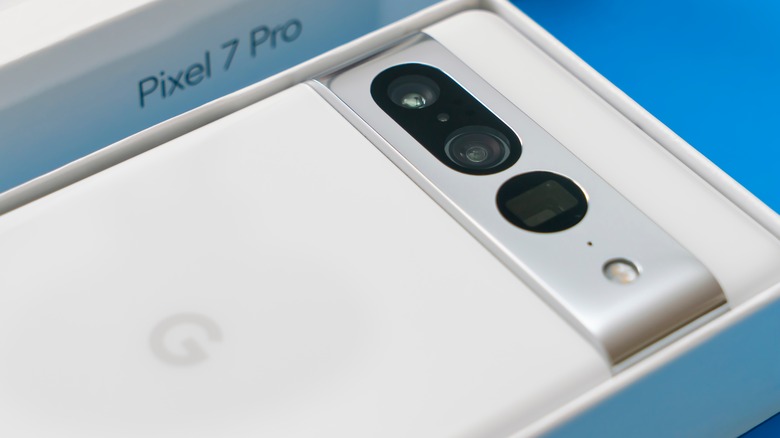 ymgerman/Shutterstock
Google has really pushed the boat out with its Super Bowl commercial this year. At $7 million per 30-second slot, the duration of the ad alone has cost the company $21 million. Then there's everything involved with filming and production, plus however much a comedian, basketball player, and musician cost these days. The goal seems to involve giving the company an edge in the hyper-competitive smartphone market. While Amy Schumer, Giannis Antetokounmpo, and Doja Cat are all in it, the ad's real star is Google's flagship device.
When the Pixel 7 was announced in October 2022, Google put a major emphasis on one of its main features. It wasn't the Tensor G2 chip that had made its way into the phone, nor was it the 50-megapixel primary camera. It was actually what happens to the photos after you take them, badly. Google's latest flagship allows you to unblur your shakier photos and crop unwanted people or objects out of otherwise perfect images. 
It was a feature the company lauded late last year, and Google is so proud of the seemingly magical function that it's the premise of its entire triple-length Super Bowl 2023 commercial. There's even a #FixedOnPixel hashtag where people can point out on social media how the feature has helped them — if you look between the posts from Doja Cat fans sharing behind-the-scenes clips and Google just advertising its phone, that is.
Google flaunts the Pixel 7's standout feature
So what about the commercial itself? It opens with photos of regular people's special moments, all of which have something wrong with them. In steps the magic eraser to take out a photobombing toddler, a dog emptying its bowels, a chunky man catching a frisbee, and an ex-boyfriend, thus making those images better. 
As the ex-boyfriend goes, Amy Schumer turns up and realizes she can erase her exes, too, so she takes out three of them. Meanwhile, Giannis Antetokounmpo is now pleased there is no evidence of Jaylen Brown dunking on him. There are more photobombs while unwanted people and t-shirt slogans are erased. Then an actual cat removes some dogs from the background of one of its cat selfies.
Doja Cat then arrives at an awards ceremony so she can show off the photo editor's other feature: a blurry photo with some fans is made crystal clear. The commercial then cuts to make it clear this phone can be used to capture your kids' precious moments if they won't stay still, as well as clean up photos of your ancestors playing American football before it was even popular. People in these pictures come to life and speak in the commercial, but that's not a feature — though it is similar to Apple's Live Photo and the Android version of it.