Sony Is Dropping PS5's PlayStation Plus Collection, So Claim These 20 Games While You Still Can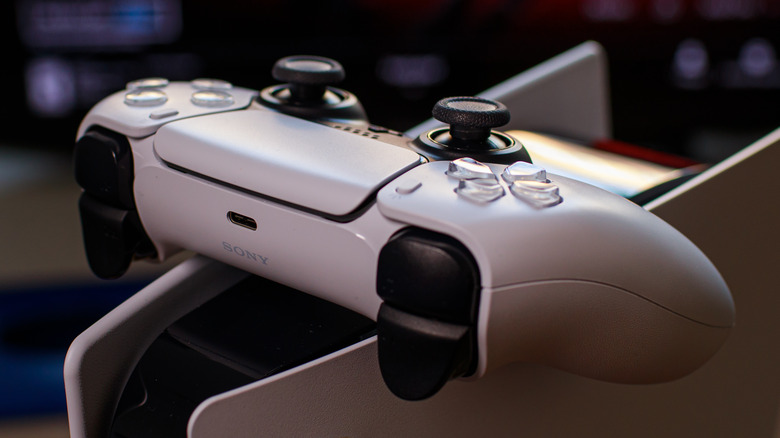 Girts Ragelis/Shutterstock
It looks like the PlayStation Plus Collection for PS5 is getting the axe (via PlayStation Blog), with the ninth-generation console bonus being shut down on May 9, 2023. The original intention behind the PS Plus Collection was to give PS5 owners a larger selection of games to play on their new console around its launch when there weren't very many new titles available for it. A reason for the purge hasn't been given, but we can assume Sony decided it wasn't necessary to keep it around for one reason or another.
Maybe this is because most PS4 games are already backward-compatible with the PS5, or maybe the games are considered old enough that they aren't necessarily a draw for potential PS5 purchasers. Whatever the reason, the full 20-game library will be gone soon, so if there's anything you still want or have been interested in trying, you should download them before the cutoff date. You'll still be able to play these classic PS4 games on your PS5 once the Collection is gone for as long as you're subscribed to PS Plus, but if your subscription lapses they'll be inaccessible — though, much like other PS Plus freebies, they'll be playable again once you renew your membership.
First-party games in the PS Plus Collection
Ten of the PS Plus Collection games are from Sony (or Sony-owned) studios, which include: "Bloodborne," From Software's gothic horror (with a surprising amount of cosmic horror thrown in for good measure) take on its popular "Dark Souls" style of action RPG, as well as the open-world post-apocalyptic zombie plague survival adventure "Days Gone." Likewise on the list is video game "auteur" David Cage's ham-fisted attempt at a racism allegory (but with robots), "Detroit: Become Human," plus there's "God of War," the sequel to the incredibly popular mythology-based action series. And the third game in the open-world superhero (or villain) adventure, "Infamous Second Son," is part of the collection.
The PS4 remake of "Ratchet and Clank" is also on the chopping block, along with Team Ico's "The Last Guardian." The PlayStation 4 update for a PS3 classic, "The Last of Us Remastered," the cinematic horror experience that is "Until Dawn," and Nathan Drake's final adventure, "Uncharted 4: A Thief's End," round out the rest of the list. Well, the first half of the list, anyway.
Third-party games in the PS Plus Collection
The remaining 10 games fall outside of Sony's direct ownership and include an abundance of popular and beloved titles. Say goodbye to "Batman: Arkham Knight," which gave the Dark Knight the run of Gotham on foot or in the all-new Batmobile. "Battlefield 1," one of EA's many popular "realistic" war-based first-person shooters, is also on the outs, along with Activision's popular cooperative FPS with a zombie twist, "Call of Duty: Black Ops III – Zombies Chronicles Edition."
This is also your last chance to check out the "Crash Bandicoot N. Sane Trilogy," for free, which houses the first three "Crash Bandicoot" games remade for more modern hardware. No more "Fallout 4" either, but this post-apocalyptic wasteland in an open-world RPG format is no "Fallout: New Vegas." And don't expect to see the complete version of Square-Enix's most recent main series RPG release, "Final Fantasy XV Royal Edition," either.
The last few cuts include "Monster Hunter: World," which catapulted the series from something a bunch of people play to more of a AAA event, "Mortal Kombat X," number 10 in the long-running fighting game series, the heavily stylish JRPG that is "Persona 5" (the regular version, not "Royal"), and "Texas Chainsaw Massacre," plus Cronenberg-inspired first-person survival horror game "Resident Evil 7 biohazard."