Here's What Tom Brady Loves About His Tesla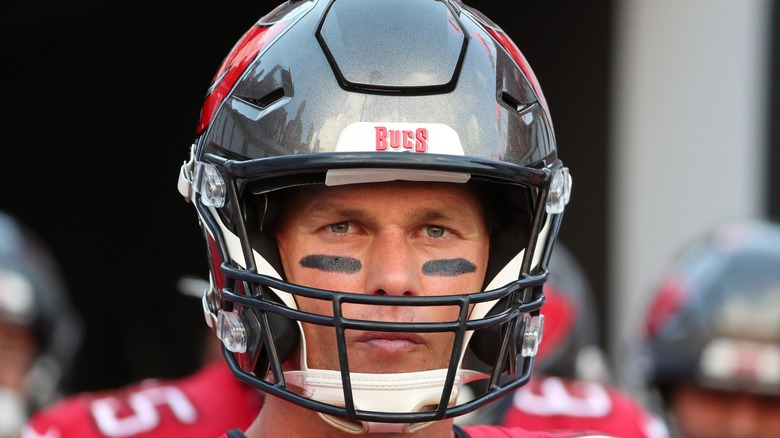 Steve Jacobson/Shutterstock
Tom Brady, the NFL player with the most Super Bowl championships in history, is an avid car collector. Some of the exotic cars that Tom Brady has reportedly owned over the years include the Aston Martin DB11, Ford F-150 Raptor, Audi A8, Rolls Royce Cullinan, and Rolls Royce Ghost. He's also been spotted driving a Bugatti Veyron — one of the most expensive production cars ever made.
Interestingly, Tom Brady's idea of a perfect car is the Ford F-150 Raptor because it's more spacious than most cars. The seven-time Super Bowl winner is also a fan of Tesla and he owns a Model S. Besides that, the NFL star inked a deal with Hertz, a car rental company, to promote electric vehicles in an ad. Hertz, the car rental company, bought 100,000 Tesla Model 3 EVs, and Tom Brady was the influencer to create the buzz.
Even before the commercial deal to feature in a Hertz ad, Tom Brady had been driving a Tesla EV for four years. What's his reason for loving a Tesla? 
Tom Brady doesn't want to go to the gas station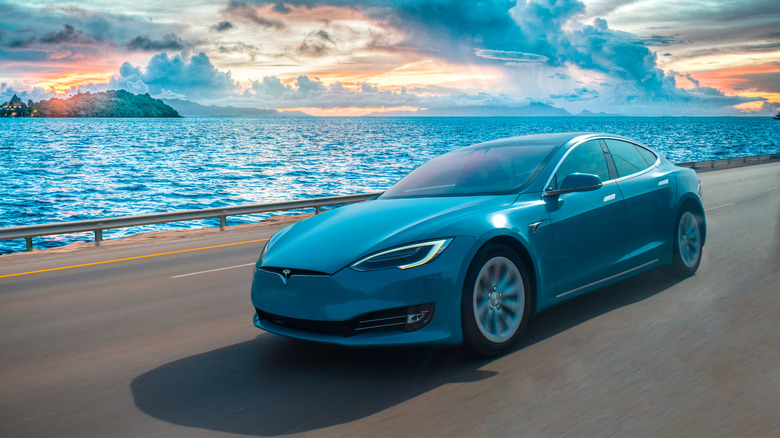 Abu hasim.A/Shutterstock
In a Bloomberg interview with Erik Schatzker, Tom Brady said that he drives a Tesla because they're sustainable for the environment. "I think for me it was about being really conscious about...the impact we all have on our planet. The things we can do as individuals to make progress on sustainability," Tom Brady revealed during the interview.
Tom Brady also appeared in DRIVE with Jim Farley podcast and confessed he loves EVs because "Not having to go to the gas station is just the coolest thing ever." Well, that also happens to be one of our reasons to buy a Tesla, and it can save you thousands of dollars in fuel costs since electricity is cheaper than gasoline.
Another cool thing about driving a Tesla is that you can warm it during winter using the Tesla app when it's freezing cold. This is a problem that Tom Brady can relate to after he bought his first car at 16 years — a 1967 Dodge Dart. According to him, the 1967 Dodge Dart was unreliable "if the temperature was below 50 degrees."
Tom Brady announced today on Twitter that "he is retiring, for good."