Why Elon Musk Made His Twitter Private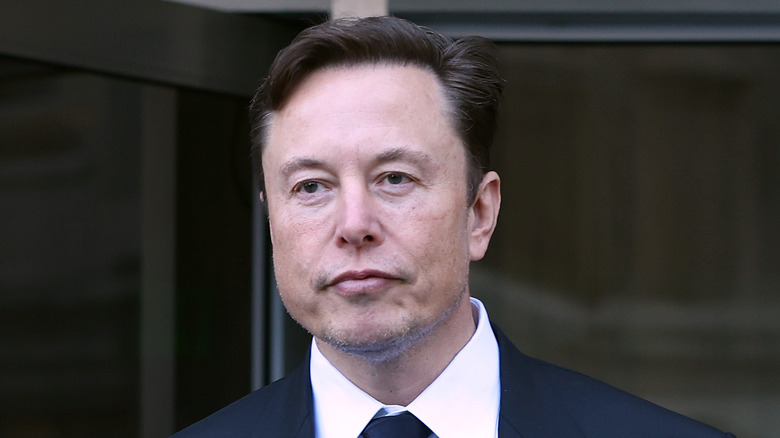 Justin Sullivan/Getty Images
Elon Musk just made his Twitter profile private. The mercurial Twitter CEO, who commands a staggering 127+ million followers on the platform, has done it temporarily as a test. As per the rules, his tweets can now only be seen by his current followers and the accounts he approves in the future. Plus, his username is now followed by the lock icon identifier to show the private visibility status of his handle.
Another caveat that comes with a protected account is that the retweet functionality is disabled, even for existing followers. Moreover, a protected account's tweets won't appear in search engine results either, and they can only be discovered if they are looked up by approved followers using Twitter's own search feature. Naturally, replies from a protected account — like that of Musk — will also be visible only to followers.
This isn't the first time that Musk is running his own little Twitter experiments. A few months ago, when Musk was on the verge of backing out of his acquisition commitment and lambasting the platform's bot problem, he publicly disputed former CEO Parag Agrawal's claims and commissioned his very own analysis through a firm called Cyabra, reports CNN.
Is Musk launching another offensive against bots?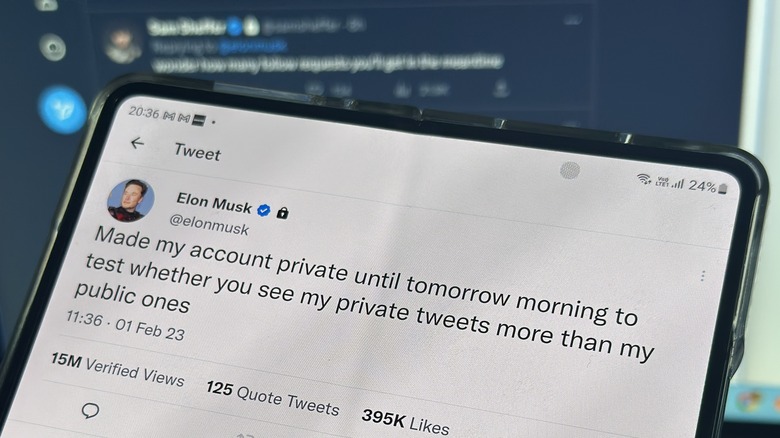 Nadeem Sarwar/SlashGear
Explaining the logic behind taking his account private, Musk wrote that he wants to assess "whether you see my private tweets more than my public ones." To recall, Twitter now has a view counter, too, but it hasn't really been received well. It would be interesting to see what Musk takes away from his private account experiment, which Musk said will last until tomorrow.
Notably, his own account isn't really a bot-free online utopia, even though he has issued an open challenge in the not-too-distant past asking such accounts to "attack" him. Back in April 2022, Twitter auditing tool SparkToro surmised that 48% of Musk's followers on Twitter were fake accounts. Interestingly, Musk has said in the past that a verified checkmark courtesy of a Twitter Blue subscription is the only way forward to solve the bot problem.
As for the platform itself, Cyabara's analysis found that bots account for around 11% of Twitter's entire user base — more than double what the company used to advertise before Musk's $44 billion purchase. Musk is the second most-followed personality on the social media site, behind only the 133 million strong follower figures commanded by former President Barack Obama.