How To Share Location On Your iPhone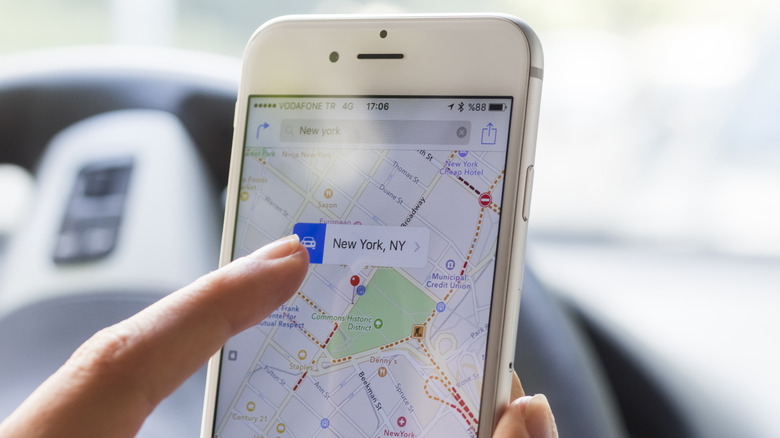 Studio Monkey/Shutterstock
One of the safety features your iPhone offers is the ability to share your precise location with anyone. It's also a very handy navigation tool — if you were meeting with someone at a location that you're not familiar with, you could find your way there without hassle. If the idea of broadcasting your exact location is already raising privacy concerns for you, there's no need to worry: Apple gives you full control over when and with whom you share the info.
There are a bunch of different ways you can do this — you can share your location with someone or a group of people via Apple Maps, Contacts, Find My, Google Maps, Messages, or WhatsApp. Depending on which of these apps you use, you can also choose to send a one-time location pin, or broadcast your bearings for a certain time window, which means the receiver will be updated about your whereabouts during that period. This latter option can be useful if you're on the go and want someone to be able to locate you wherever you are.
Before you can share your location on your iPhone, you'd have to enable Location Services in Settings > Privacy > Location Services. You also want to toggle on the "Share my Location" feature if you want to send real-time coordinates with a contact for a period of time. Now let's check out how to share your location on your iPhone using each of the apps mentioned above.
How to share your location on iPhone with Google Maps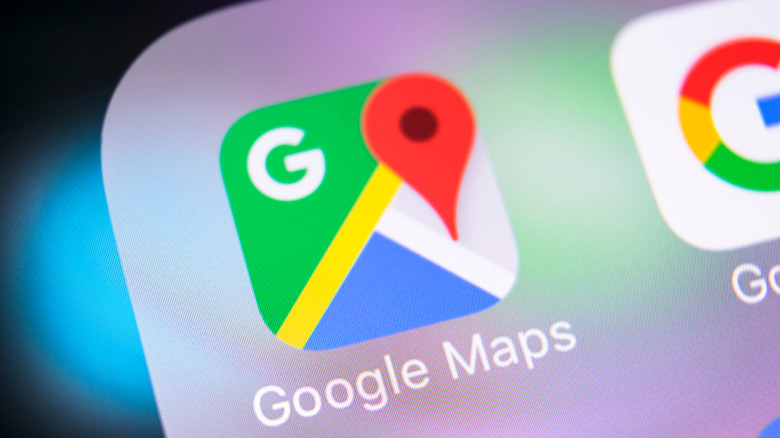 BigTunaOnline/Shutterstock
To share your location with Google Maps, open the app, then tap the blue dot that indicates your location. If you can't find the dot on the screen, tap the blue arrow at the bottom-right to recenter the map and put your location in focus. You should see a pop-up menu from which you should select the "Share your location" option (via Google). Here, you'll be able to choose how long you want to share your location; you can choose durations up to three days or indefinitely (which is the "Until you turn this off" option).
You might get a selection of contacts you frequently keep in touch with, so you can select your desired recipient from here if they pop up. To select more people, swipe to the end of the row and tap "More," which will reveal your Contacts list. Once your selection is complete, you're all done. Tap "Share" in the top right corner to send your location. It's also possible to share your location info with other apps from Google Maps. Simply tap the share icon that says "More options," and you'll be able to share a link with anyone via email, Instagram, Snapchat, or WhatsApp.
Share your location on iPhone with Apple Maps and Find My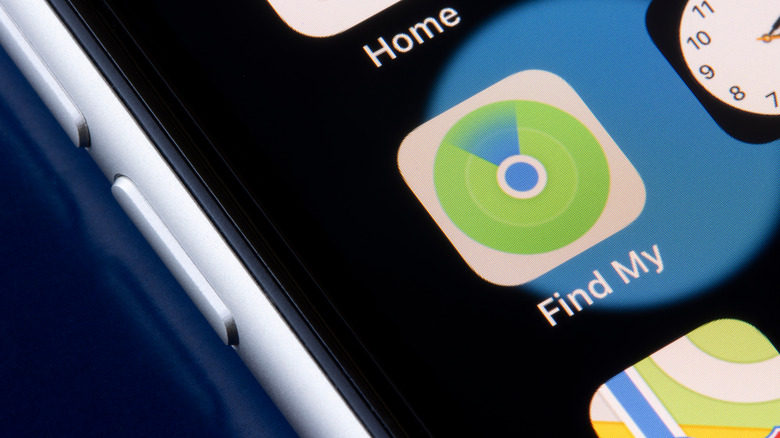 Tada Images/Shutterstock
Sharing your location in Apple Maps is similar to the process of sharing it in Google Maps, as explained by Apple. You'll have to tap and hold the blue dot on the screen to reveal your precise location, then select "Send my location" from the pop-up menu. From here, you can now choose to share the link with the recipient(s) via other apps like Messages, WhatsApp, Mail, etc.
You can also use the Find My app to share your location with friends, although your recipients are only limited to friends who have iPhones since Find My is an exclusive iOS service. To get started, open the Find My app and select "Start Sharing Location" from the People tab. Next, enter the name or number of the person you want to share your location with and tap Send.
You can select the duration of your location broadcasting from the next menu, then tap OK when you're done. Whenever you want to stop sharing your location, return to the same People tab and tap on the recipient, then select "Stop Sharing My Location." If you're sharing your location with more than one person, you can end the broadcast quickly from the "Me" tab — simply toggle off the "Share My Location" switch.
Share your location on iPhone via Messages and Contacts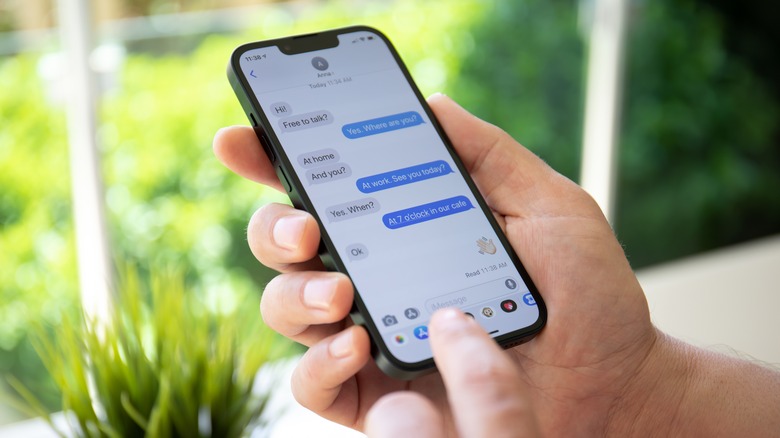 DenPhotos/Shutterstock
Another way to skin this cat is to share your whereabouts via the Messages app. It only takes a few taps to do it. First, open the conversation with the recipient, then tap their contact icon — the little circle at the top of the screen. From their profile, you'll see two location-sharing options: "Send My Current Location" and "Share My Location." Only the latter option allows you to time the broadcast, so you'll want to choose that if you want to share your real-time location for a period of time. If you only want to share a fixed location, select "Send My Current Location" and you'll be all set.
It's a similar approach if you're doing this directly from your Contacts list. Open the Contacts app, or you can access it from your Dialer on your Phone app, then tap the recipient's name from the list. Scroll down and select "Share My Location," then select the duration of the broadcast. When you want to stop sharing your location, return to this menu and tap "Stop Sharing Location."
Share your location on iPhone via WhatsApp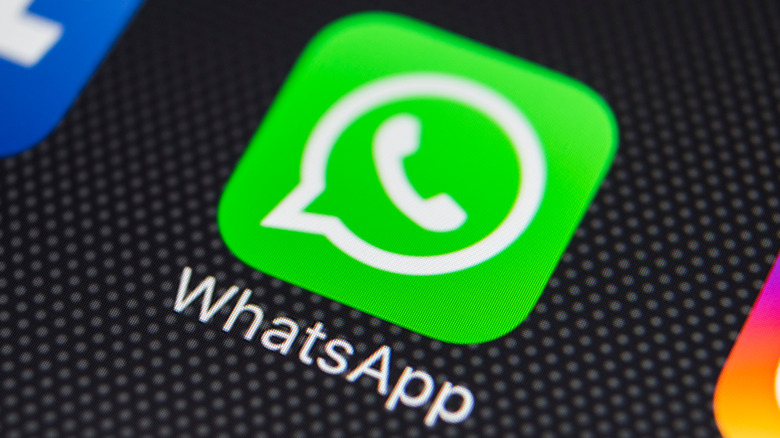 BigTunaOnline/Shutterstock
You could also share details of your bearings via WhatsApp — the messaging platform provides its own location-sharing service. And unlike Messages, Contacts, Apple Maps, or Find My, this is not exclusive to iPhone users so you can share locations with friends who use Android devices as well (via WhatsApp).
To do this, open a conversation with your intended recipient, then tap the plus sign next to the message box and select Location. From the map that pops up next, you can choose to share a specific address or your current location. You could also share your Live Location with a friend or group of friends for up to eight hours.
And there you have it — all the many ways you can share your location from your iPhone. If you ever want to, you can turn off location tracking services as a security or battery-saving measure — your iPhone uses your Bluetooth, GPS, and Wi-Fi to pinpoint your position on the map, so location services can be a significant energy drain.