Can iPhone Data Be Recovered If The Phone Has Been Reset?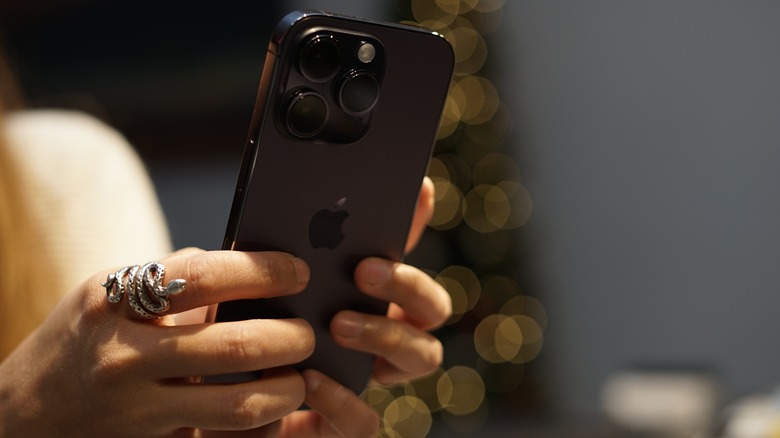 Diego Maravilla/Shutterstock
Even if iPhones are generally known as one of the most straightforward mobile devices you can own, they're not exempt from the occasional technical glitch. If you own one, your device may run into several common problems, such as inexplicably rebooting or getting stuck in an update loop. You may also experience some sluggishness in performance due to apps freezing or crashing, as well as problems with internet or Bluetooth connectivity.
Most hiccups can be resolved by force-restarting the malfunctioning iPhone as the action itself essentially wipes the mobile process slate clean. However, more serious problems may require a reset of the iOS device. Those who haven't done the latter before may be hesitant because they're afraid of losing important data and being unable to recover it after the process. Does resetting an iPhone mean complete erasure of its contents and if so, is there a way of restoring all of it?
On an iPhone, it's important to note that there's a difference between partially resetting it without deleting any data and completely resetting it for the purpose of trading it in or passing the gadget over for someone else to own and use. Depending on which route you choose and any additional steps you take to ensure your data is backed up, the possibility of recovering iPhone data may vary significantly.
Different iPhone reset options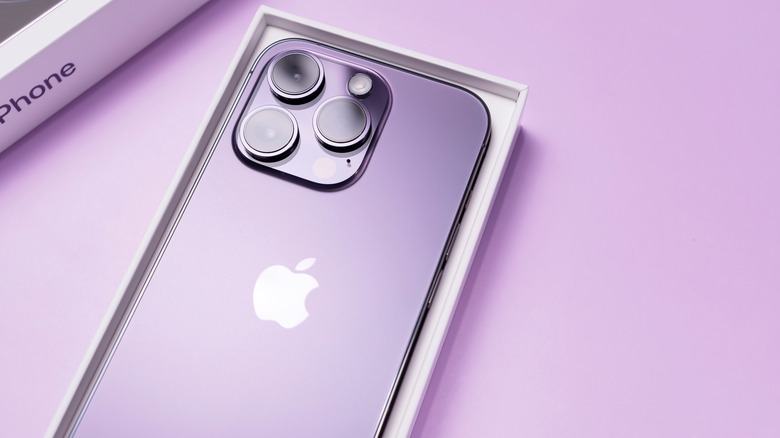 n.tati.m/Shutterstock
If you are merely trying to fix an iPhone issue so you can use its features without any difficulty, you can perform a partial reset of all the relevant device settings without losing any of your phone's files. In this case, there won't be a need to "recover" any data, because everything will be right where you left it.
In contrast, performing a factory reset on an iPhone means completely erasing all information from the device and restoring the device to the settings it first had when you took it out of the box (per Apple). This is usually done when someone wants to upgrade to a newer version of the iPhone and are planning to either give away, sell, or trade in their old one. If you have plans to perform a factory reset on your iPhone, your ability to recover any wiped data will solely depend on what you do while you still have access to all of it.
If you regularly back up your iPhone, then yes, you can restore data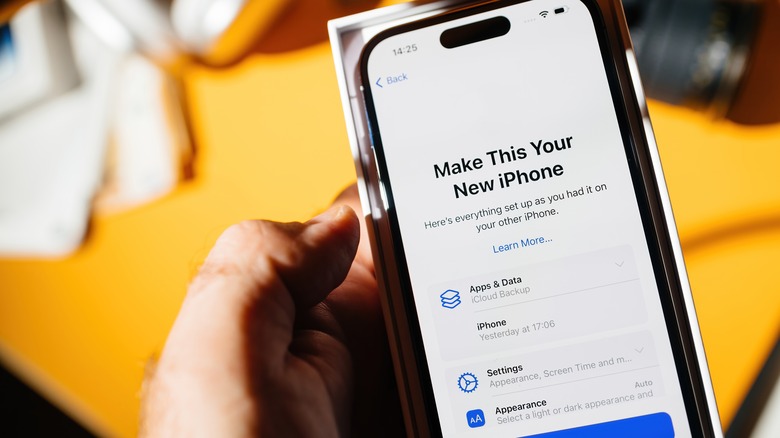 Hadrian/Shutterstock
Before you fully erase and reset an iPhone, you should always save a copy of anything on your device you wish to have future access to or transfer over to your new gadget. As an Apple user, you can utilize iCloud to back up all your iPhone's contents. You can also use a Mac or Windows PC to create a phone data backup through iTunes.
If you select any of these methods prior to data-wiping your iPhone, you can easily restore all previously erased iPhone content, Here's how to do it via iCloud:
Power on your recently erased iPhone (or a new one).
Hit Set Up Manually, then pick Restore from iCloud Backup. Follow onscreen prompts.
If you are trying to restore iPhone content onto a new iOS device, set the two gadgets next to each other and use Quick Start to set up data transfer automatically. Most settings can be transferred over this way, but the rest of the data will need to be copied over via your iCloud backup.
To recover data from a computer backup, connect your new or recently erased iPhone to a Mac computer or Windows PC via USB. Follow these instructions on a Windows PC or a Mac running macOS 10.14 or earlier:
Launch the iTunes app.
Click the button that looks like an iPhone in the top-left corner of the window.
Hit Summary, then click Restore Backup.
Those who own a Mac that has macOS 10.15 or newer installed can select the iPhone from the Finder side panel, click Trust, then click "Restore from this backup." Pick a backup version from the list, then click Continue to initiate the data restore. For encrypted backups, you may be asked to type in a password before files and settings can be recovered.
Can you recover iPhone data without an iCloud or iTunes backup?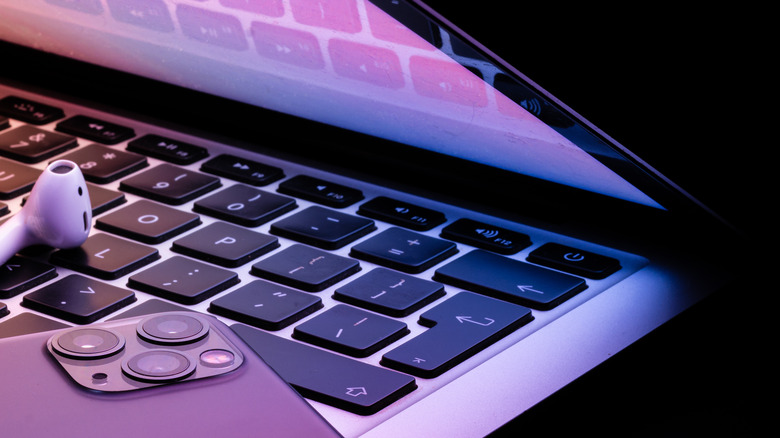 Shahid Jamil/Shutterstock
Although Apple's Support pages doesn't specifically cover the topic, there are methods you can try to attempt to recover newly erased iPhone settings and files without a proper backup. The operative term here is "newly erased" and refers to data that has not been overwritten yet. To put it simply, once you erase and reset an iPhone and perform tasks on it, the device is no longer considered "newly wiped," and recovering previously stored data on it may be impossible.
One thing you can do is venture into the world of third-party data recovery apps. There are several options that you can try and most of them offer the ability to partially glean data from your iPhone's internal memory (that hasn't been overwritten yet). You'll need to install one of these programs onto a computer and perform data recovery by connecting your iPhone to it. Do note, however, that complete data restoration is not a guarantee and that depending on what service you use, the ability to gain back the most amount of lost data may not be free.