Apple's Mixed-Reality Headset Gambles On A Wild New Virtual Interface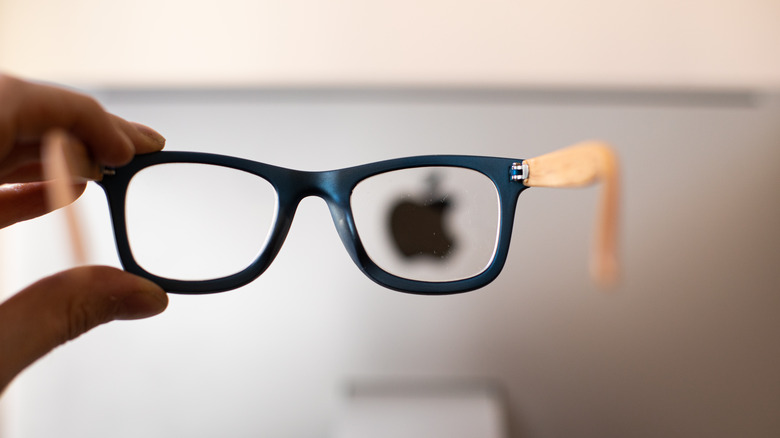 Girts Ragelis/Shutterstock
When word surfaced that Apple was scaling back its planned headset to a mixed-reality build, those in the know assumed it was caution on the part of the mighty manufacturer. Experts figured Apple had concerns as to whether it would be able to deliver its trademark sophistication and seamless user interface to what was, after all, a new market for the business.
Honestly, that made sense. Integrating VR into people's workflows and recreational routines has been a bit of a catastrophe for other power players in the digital marketplace. Observers assumed Apple simply wasn't ready to risk its most exciting innovations becoming the internet's new favorite punchline. The company seemed, quite fairly, to be acting out of an abundance of caution, but evidently not. According to Bloomberg, Apple's new AR headset will come with an array of innovations well outside the corporation's usual comfort zone. Here's what we know so far.
Reality but more so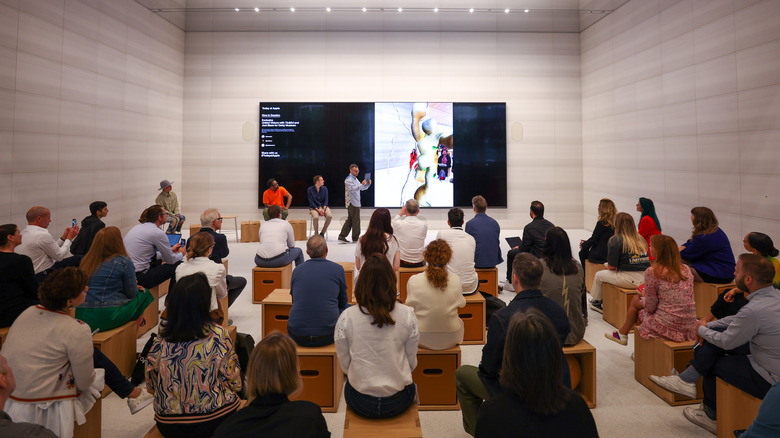 Bloomberg/Getty Images
Apple's new headset, which is expected to hit the market under the name Reality Pro, is determined to stake out a space for itself apart from other VR offerings. To start with, the price is eyewateringly high — the beast is expected to retail at $3,000. For that kind of money, Apple needs to deliver an experience an order of magnitude beyond what its competitors — even the priciest of which are more than $1,000 cheaper – can provide.
That appears to be exactly what Apple has planned. Per Bloomberg, Apple is shooting for a truly immersive user interface that's similar to iOS. External cameras reportedly track hand movement, while sensors inside the visor are said to follow the user's eyes. In theory, that will create a UI based completely on natural reactions and gestures. Apple's goal appears to be delivering a seamless, aesthetically appealing user experience without any of the artificiality or uncanny-valley issues thus far suffered by competitors like Meta.
Improving on the real
Bloomberg/Getty Images
Of course, even the most appealing interface won't sell if there's nothing to interface with. The Reality Pro is said to be feature-rich, engaging with Apple's iOS ecosystem. FaceTime-based conferencing, a touchless interface for nearby Apple devices, and vivid video content are all reportedly part of Apple's AR offer. The headset will also offer the same Digital Crown features currently available on Apple Watch, based on leaks, allowing headset users to switch between fully immersive VR and AR, which will allow them to view their physical space but still access digital resources. There's even a dedicated avatar generator for full-body VR experiences, according to the report.
It's still early days for the Reality Pro; seriously, even that name has yet to be confirmed. Apple will no doubt make adjustments and respond to market input now that this information has become public. All that said, if Apple can deliver on its lofty claims, it may well yield a device worth that brutal $3,000 pricetag.