MacBook Air And iMac With 3nm M3 Chip May Arrive In Late 2023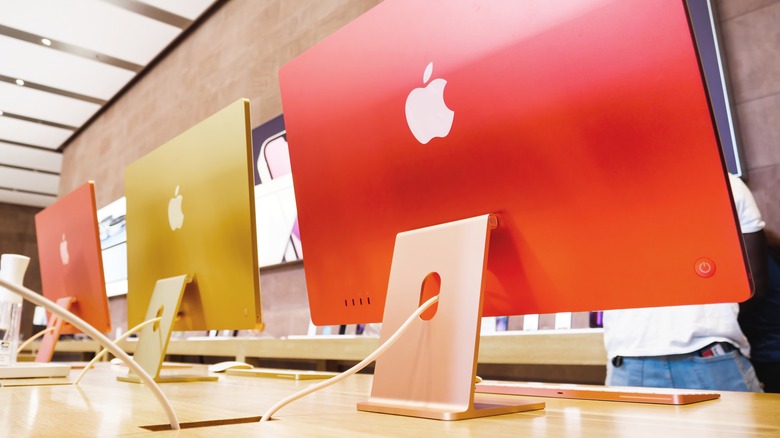 Hadrian/Shutterstock
Apple is reportedly eyeing an iMac refresh that will host the upcoming M3 processor based on the 3nm process. What's more, it may hit shelves as early as this year. This isn't the first time we've heard about Apple's M3-series silicon. In 2022, Bloomberg reported that Apple was at work on its next-gen in-house silicon based on the 3nm fabrication process, and that the first products were making their way to the market into 2023.
That has yet to materialize. Those predictions are ambitious considering that the first offshoots of the M2 series only made their debut earlier this month, courtesy of the 14-inch and 16-inch MacBook Pro refresh. We've also heard rumors of an M2 Ultra and even an Extreme version destined for the Mac Pro, which was also expected to arrive later this year. But chatter about the market release of M3-based products has already started.
Recent reports that a MacBook Air refresh packing the M2 silicon would be introduced later this year have surface, and Bloomberg predicts that an iMac refresh with the same chip inside is also slated for a late 2023, or early 2024, launch. But do keep in mind these are tentative timelines, and plans could very well change, depending on a multitude of market and supply chain factors.
The M3 product lineup is ambitious
In the latest edition of his PowerOn newsletter, Bloomberg's Mark Gurman notes that "Apple is already working on M3 versions of the iMac and MacBook Air." He doesn't go into detail about any other specs of the upcoming Apple desktop, which is poised to succeed the M1-powered 24-inch iMac that was launched in 2021. It was a major overhaul for the iMac, right from the chip architecture upgrade to its design. Given Apple's penchant for sticking to the same design language for at least a few generations, the M3-powered iMac will most likely look like its predecessor.
Regarding the M3 silicon, Gurman expects it to pack some serious performance upgrades. The M2 series served more as "a stopgap chip ahead of a better-performing M3 series." DigiTimes also reports that new MacBook Air is slated to arrive in the second half of 2023. Another report from DigiTimes that came out last year claims that TSMC, Apple's chief chip-making partner, was planning to begin mass production of 3nm chips in the second half of 2022. But so far, we are yet to see a 3nm-based silicon inside an Apple product. Another report coming out of China claims that the iPad will be the first Apple product range to deploy a 3nm-based processor. TSMC's 3nm process is rumored to reduce power consumption by up to 30% while also offering a performance bump in the 10 to 15% ballpark.