How To Use Parental Controls On Your Child's iPhone, iPad, Or iPod Touch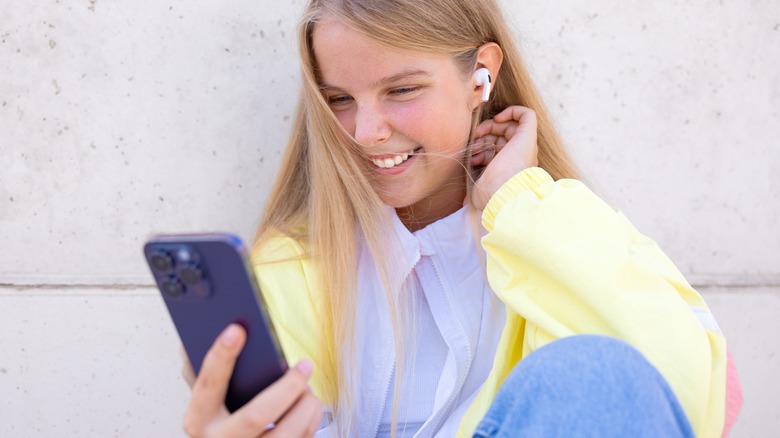 Kaspars Grinvalds/Shutterstock
If you're a parent to young kids, you may be familiar with the feeling of dread many experience whenever you hand your mobile device over to them or give them their own so they can entertain themselves. If you're worried about inappropriate things they could be accessing on the internet, apps they might accidentally be purchasing, or device settings they could be altering, then you need to set up parental controls for their own safety and your own peace of mind.
If you have an iPhone, iPad, or iPod touch your child regularly borrows — or if they have one of their own — you can access the any of these Apple devices' settings and ensure that they don't accidentally use features they're not supposed to. You can also set up time limits, App Store and in-app purchase restrictions, prevent access to certain apps, and filter web content, to name a few. If your kid is lucky enough to have their own assigned Apple device, and you have one as well, you can also set up Family Sharing and essentially control their Apple device usage through your own.
What is Apple's Family Sharing and Screen Time?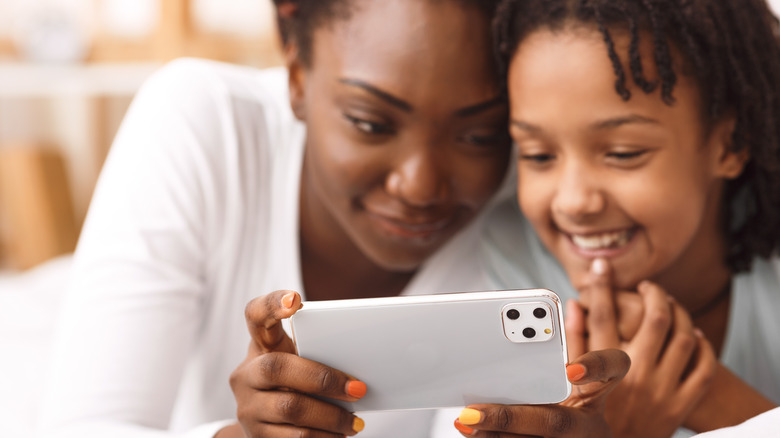 Prostock-studio/Shutterstock
Apple's Family Sharing feature allows up to six family members with their own Apple devices to share access to different Apple services, like a paid iCloud storage plan. You can share purchases and help locate a family member's missing Apple device. As a parent, you can use Family Sharing to manage your child's device usage much easier. Adding a child account to a Family Sharing group requires one adult family member (you) to be the organizer, a role that lets you add other family members. As the organizer, you can simply follow onscreen instructions to add age-appropriate content restrictions, schedule downtime and app time limits, limit their ability to communicate with others, and enable the need for permission to purchase or download anything onto a device.
Most of these actions can be executed through Screen Time, a menu in the Settings app that's available on any iPhone, iPad, or iPod touch running on at least iOS 12 (via Apple). You can set up a Screen Time passcode so that only you can make modifications to settings that'll affect your child's time on your or their own device. To ensure that you don't encounter any hiccups, though, it is recommended to keep your operating system updated to the latest version available.
Set up Screen Time, with or without Family Sharing enabled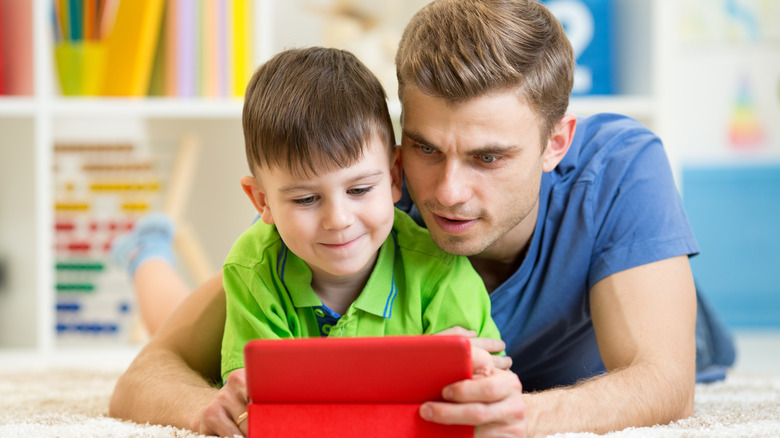 Oksana Kuzmina/Shutterstock
Assuming that you've already created an Apple ID for your kid and set up Family Sharing with the intention of managing your child's account and device through your own, you can follow these steps to set up Screen Time and assign a passcode:
Launch the Settings app and go to Screen Time
Under Family, choose your child's name.
Hit Turn on Screen Time, then Continue.
Follow onscreen instructions and go through the Downtime, App Limits, and Content & Privacy pages and enter your limitation parameters for each, or tap Not Now to do it later.
Hit Use Screen Time Passcode and follow onscreen instructions to verify it. You will be asked to enter your Apple ID and password so you can rest your Screen Time passcode, in case you forget it.
The steps are similar for setting up Screen Time directly on your child's Apple device, without Family Sharing. You just need to confirm that the Apple device you are setting up Screen Time on is indeed your child's device when asked. In addition, you may want to set up a Screen Time passcode on your own Apple device if you frequently lend it to your offspring.
What exactly can I control on my kid's iPhone, iPad, or iPod touch?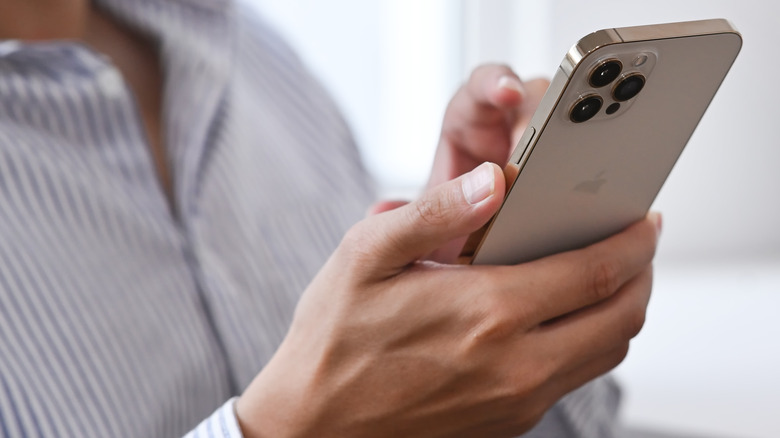 Prathankarnpap/Shutterstock
If you went through the process of turning on Screen Time and moved ahead to set up a Screen Time passcode, you may need to go back and go through each of the following pages and manage different aspects of your child's Apple device usage:
Downtime: This essentially sets a timeframe for when their Apple device will be unusable by them. They will need your permission for more screen time, and only apps that you allow can be used.
App Limits: You can set a daily time limit for select app categories. Tap on a category to expand and select specific apps — or set one affecting all apps. You can also add limits on specific websites. When your child maxes out the time allotted, they'll need to ask you to grant them more time.
Communication Limits: This is for when you want to limit your child's access to Phone, FaceTime, Messages, and iCloud contacts and who among the Apple device contacts they can interact with all throughout the day, including scheduled downtimes. To use this feature, iCloud contacts must be enabled.
Always Allowed: This is where you can choose which apps to always allow, regardless of when your child is using their device. This is where you can also specify which contacts your child is allowed to communicate with during downtime.
Content & Privacy Restrictions: You'll certainly want to enable this on your child's device, as it contains the bulk of parental controls necessary to keep your child safe from inappropriate content, accidental purchases, unwanted device settings changes, and potential privacy breaches.
How to child-proof an Apple device through Screen Time's Content & Privacy Restrictions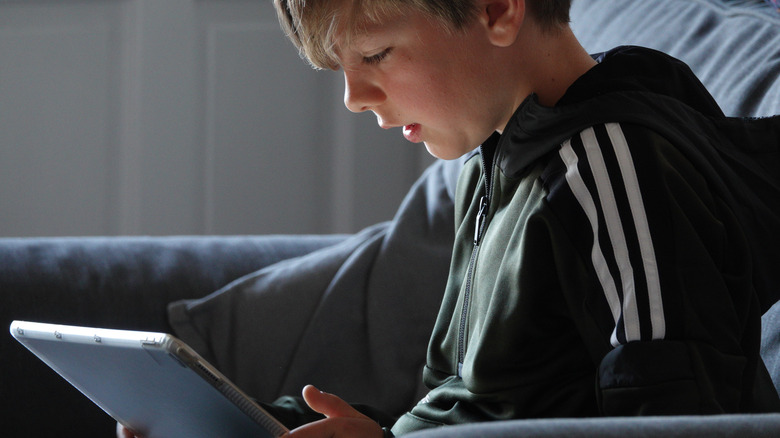 Matt Cardy/Getty Images
When you enable Content & Privacy Restrictions in Screen Time, this gives you access to additional security measures, namely:
"iTunes & App Store Purchases," where you can allow or disallow installing apps, deleting apps, and making in-app purchases. You can also ensure that a password (that only you know) is required to make any purchases.
"Allowed Apps," which, like the menu name implies, is where you can hide apps you don't want your child accessing.
"Content Restrictions," where you can ensure that only audio and book content with non-explicit language can be played. You can also turn off access to music videos and adult websites — or only allow access to specific websites and block everything else, which is the easier route when setting up a child's device — and set age-appropriate content ratings for movies, TV shows, and apps. Lastly, you can configure Siri and Game Center and choose which features your kid can use and access.
Under the "Privacy" and "Allow Changes" sections, you should go through each and every menu to ensure that your child doesn't have the ability to make changes to anything that may give away sensitive information such as their location, or any crucial setting that can impede your access to their account, like the passcode. Consider, for instance, turning off access to the Photos app so they don't inadvertently upload their pictures without your approval. In fact, if your child is very young, consider disallowing as many of the options in these sections as possible, if not all.