Here's How Much It Costs To Charge Your EV At Kroger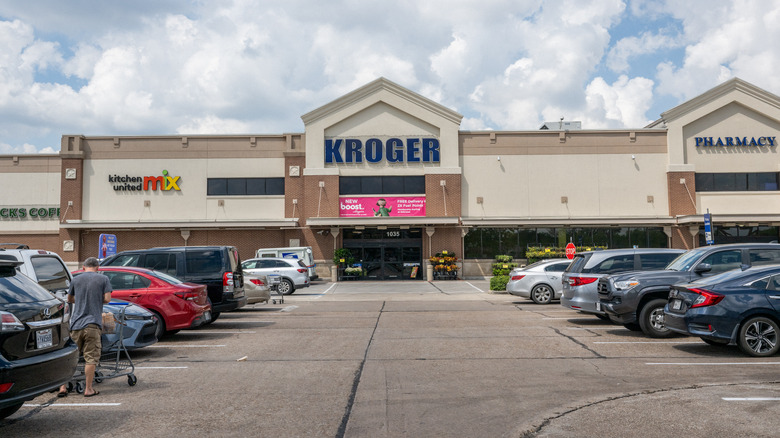 Brandon Bell/Getty Images
Since many parts of the world are planning to embargo gasoline vehicles by 2040, a few companies are building EV charging infrastructures to support the transition. Some of those companies leading the way are Tesla, Electrify America, EVgo, Volta, Blink, and ChargePoint. Even the U.S. government is planning to build 500,000 EV chargers by 2030 along highways, state roads, and interstates.
At the same time, retail companies are positioning themselves to attract customers who are driving electric vehicles by installing EV chargers in the parking lot. If you've connected your EV to a level 3 DC charger, you could walk into the store and come out after 15 or 20 minutes to find your battery recharged up to 80 percent. Kroger is one of the retail companies that has installed superfast chargers for electric vehicles. How much are you likely to spend to recharge your EV at Kroger? Let's do the math.
The cost depends on the EV charger provider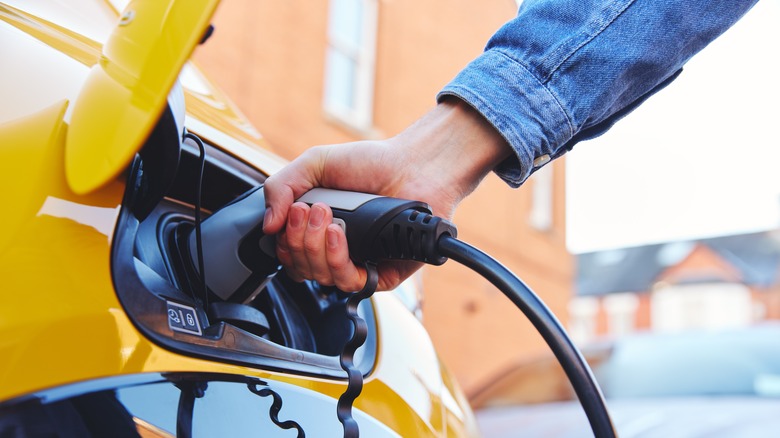 Southworks/Shutterstock
Kroger doesn't own any of the EV chargers on its premises. Instead, it has partnered with Electrify America, Tesla, Blink, Volta, and EVgo. This means how much you spend to recharge your electric vehicle at Kroger depends on the EV charger provider. For instance, if you're using an EV charger installed by Electrify America, you could spend 31 cents or 43 cents per kWh depending on your membership privileges — but if you're charged per minute, you could spend 24 cents or 32 cents.
On the other hand, if you're using Tesla's supercharger at Kroger, it could cost you between 42 cents to 57 cents per kWh depending on your location, according to Electrek. Similarly, if you've opted to use Blink level 3 superchargers at any Kroger retail stores, you could spend 49 cents to 69 cents per kWh (via ChargeHub). However, you could spend between $6.99 to $9.99 to use Blink DC fast chargers for 10 to 30 minutes in states where EV drivers are billed per minute.
You could also charge your EV for free if you can access Volta level 2 chargers at any Kroger retail store. Alternatively, you could use EVgo fast chargers at Kroger and spend between 22 cents to 34 cents per kWh.
According to Kroger, customers can access over 350 charging stations in its retail stores in Arizona, California, Colorado, Georgia, Indiana, Nevada, Oregon, Texas, Utah, and Wyoming.