Recent Tesla Buyers Are Furious After New Price Cut Leaves Them Feeling Robbed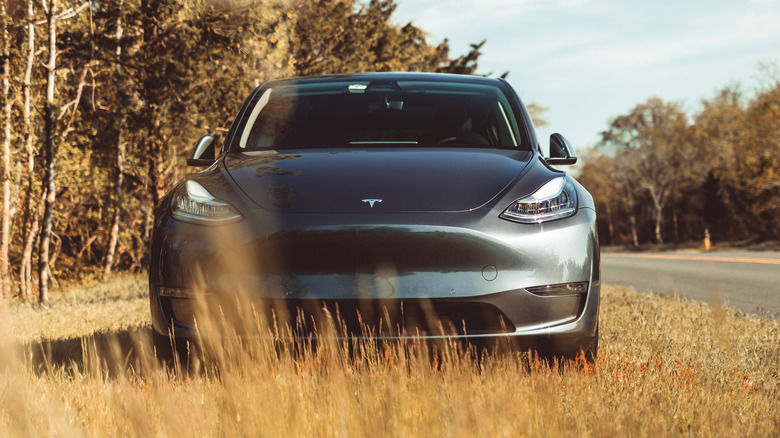 Christopher Lyzcen/Shutterstock
Tesla has announced a price cut for its cars across the United States and Europe by a margin of up to a fifth of their original value, which is good news for prospective buyers. However, the move isn't sitting well with customers that recently paid the premium on a Tesla EV. The price reduction comes at a rather turbulent time as Tesla's shares fell around 70% in 2022. Buyers have taken to social media, expressing frustration that not everyone is a billionaire like Musk, able to take a price cut worth thousands of dollars in stride.
Hey @elonmusk & @Tesla – Not all of us are billionaires. I paid $72,440 (pre-tax) for my new Model Y Performance and took delivery in late September. Now you have the price as $59,630 for the same exact car? There has to be some sort of consumer protection law about this. pic.twitter.com/ARjy1r1aLH

— Marianne Simmons (@MarianneSimmons) January 13, 2023
On the bright side, the price cuts mean some Tesla EVs may now qualify for the federal tax credits worth $7,500 (via CNBC). However, customers aren't particularly psyched about the sudden devaluation of their new vehicles. Naturally, some are demanding that Tesla either offer refunds or launch a compensation program that could at least partially cover the reduction in value.
How is this price drop fair for people like us who brought the car for $15000 more just a few months back ?? @Tesla @elonmusk pic.twitter.com/Ux5sGarMWe

— Leo bronze (@Leobronze1) January 13, 2023
That is, however, unlikely to happen. Back in 2019, when engaged in a Twitter conversation over a price hike, Musk remarked that customers want the lower price of the car if they buy it after a hike, but "if prices go up, those who already bought don't want to write Tesla a check." The only instance it has issued refunds was in April 2021, when buyers were charged twice for their purchase.
Tricky market dynamics forcing Tesla's hand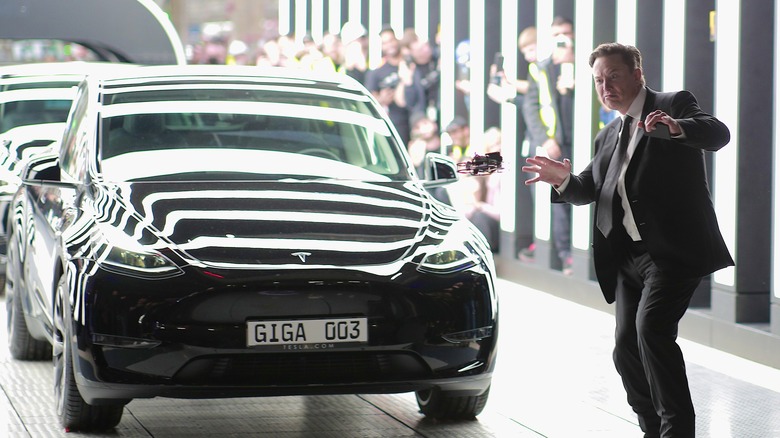 Pool/Getty Images
Analysts are seeing the price cut, which is up to around 20%, across U.S. and Europe as Tesla's way of adapting to increasing competition (via The Guardian). Earlier this month, Tesla announced similar price cuts in China to gain some lead against local player BYD, but customers didn't exactly take the move lightly. Hundreds of Tesla EV customers stormed its outlets demanding refunds. According to Reuters, the cost of a Tesla EV in China is now anywhere between 13 and 24% under September prices.
Some #Tesla owners in #China who took delivery in recent months and did not qualify for the reduced prices said on Friday that they planned protests at its showrooms in #Shenzhen and #Henan, screenshots of social media chats seen by Reuters showedpic.twitter.com/yJbKeq4mFY https://t.co/2LX4OUwZVD

— Share_Talk ™ (@Share_Talk) January 7, 2023
But their requests won't be fulfilled, it seems. A Tesla spokesperson told Reuters that the company doesn't plan to offer any form of compensation to buyers that splurged on a car right before the price cut. Analysts are divided over the move. Some see as Tesla's masterstroke to retain its dominance in the sector as competition heats up even in its home market, while others are concerned how it plays into the profit dynamics.