Tesla Stock Woes Bring Elon Musk's Net Worth Below $200 Billion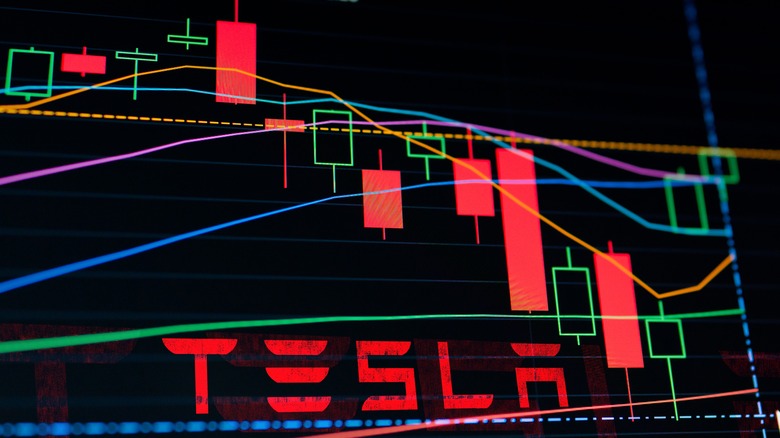 TY Lim/Shutterstock
Elon Musk has lost his double-centi-billionaire status, marking the second time that his net worth has fallen below the $200 billion mark in just over a year. According to Forbes, the triple-chief of Tesla, Twitter, and SpaceX was worth $195.6 billion in the early hours of Tuesday. According to the Bloomberg Billionaires Index, Musk's total net worth was in the $179 billion ballpark at the time of writing.
For comparison, Musk's net worth was estimated to be around $304 billion in the first week of January 2022, when he recorded a huge $30 billion jump in a single day. Musk again touched the $300 billion net worth mark in April 2022. Furthermore, in November 2021, Musk's net worth reached an all-time high of $335 billion (via CNBC).
The latest dip in the billionaire's net worth is attributed to the sliding Tesla stock, which lost 7% in its value on Wall Street. Interestingly, Musk's net worth is now about $74 billion short of the figures recorded in mid-April, when he first disclosed his stake in Twitter, which eventually evolved into complete private ownership.
Twitter's pecking away at Musk's Tesla lunch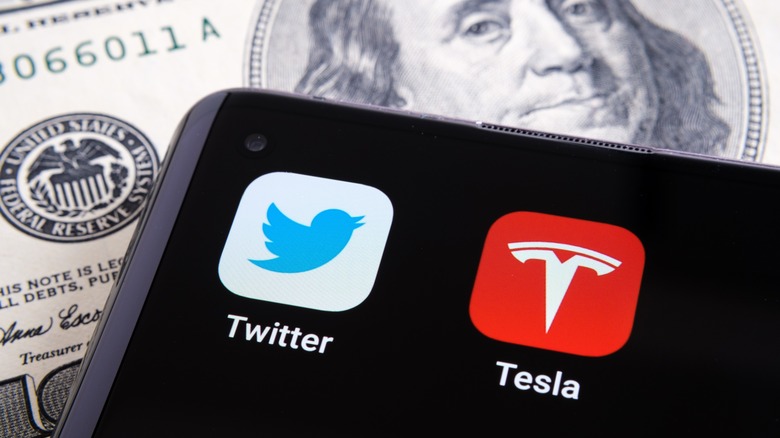 mundissima/Shutterstock
A majority of Musk's wealth comes from Tesla, in which he held around a 25% stake before selling off shares to buy Twitter (via CNBC). With the Tesla stock tumbling down to a low of 52 weeks and closing in at roughly $191 per share, a dramatic reduction in Musk's net worth is expected. To recall, Tesla touched a peak value of about $402 for each share just over a year ago (via MacroTrends).
This time, however, the decline in stock price has little to do with any dramatic quarterly announcement or Tesla failing to meet its target. Instead, stock market experts and investors are seeing it as a harmful cascade effect coming from Musk's apparent preoccupation with Twitter. Soon after Musk's stake in Twitter was revealed via an SEC filing, investors expressed concerns that Twitter will be a distraction for Musk, at least when it comes to his Tesla responsibilities.
So far, Musk's Twitter journey hasn't been a smooth ride. Musk himself has admitted to overpaying for Twitter at $44 billion, which he paid for by offloading billions' worth of Tesla shares. To make things even more challenging, advertisers are fleeing the social media platform and the Twitter Blue subscription is shaping up to be a profitless vehicle with an embarrassingly weird re-do of Twitter's account verification system.