Polestar's Latest Showroom Is Made From Arctic Snow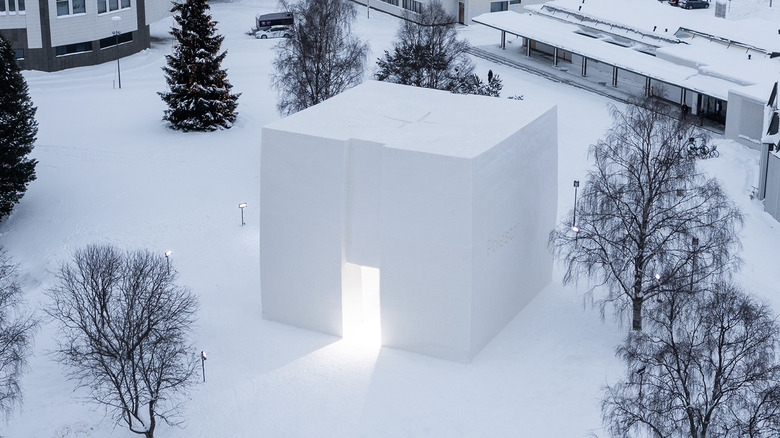 Polestar
Volvo's EV spinoff Polestar is all about minimalism in the classic Scandinavian fashion. Its current lineup consists of the Polestar 1, 2, and 3 which are not as flashy or as crazy as other EVs like the GMC Hummer or the Tesla CyberTruck. The brand's cars, especially the Polestar 2 BST Edition 270, are stealthy and stylish without hogging the spotlight. Even the brand's more fun collaborations like an electric scooter are still presented in a sane and rational manner.
That commitment to minimalism carries through to the brand's dealership network that it calls "Spaces." Spaces are where prospective customers can see Polestars in person and get a feel for the car before buying it. Spaces tend to look more like an art gallery than where you would buy a car. According to Polestar, the spaces are where buyers can "get to know the cars, and the brand, without pressure or distraction. With enthusiastic, expert assistance available if needed." The brand's newest Space takes Polestar's Scandinavian roots to heart. 
Polestar won't give you the cold shoulder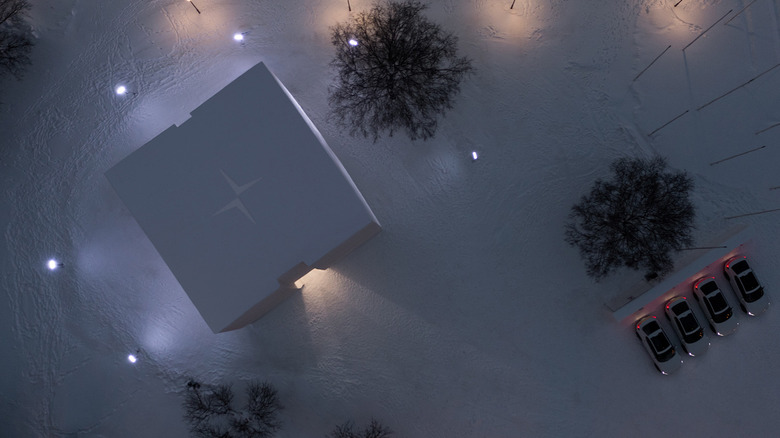 Polestar
Polestar's newest Space is made out of snow and is located in one of the few places in the world where a retail building made out of ice is possible: Rovaniemi, Finland, right inside the Artic Circle. According to Polestar, the building is made out of 3,000 cubic meters of compacted snow that was transported from a nearby ski resort. 
The new cube-shaped Snow Space took roughly 20 days to actually build, according to the brand, and was the result of weeks of planning by both Polestar and Finnish ice-building specialists at Frozen Innovation. During construction, wood and metal were used as molds and scaffolding to get all of the snow blocks in place, but once the building phase was done, the molds were removed, leaving 100% snow. The inside was furnished with sculptures from local artists, according to a press release.
Polestar says the Snow Space will be open from now until February 26th. At the Snow Space, visitors will have a chance to check out the Polestar 2 and a variety of ice sculptures.