Polestar And CAKE Have Teamed Up On A Super-Flexible Electric Scooter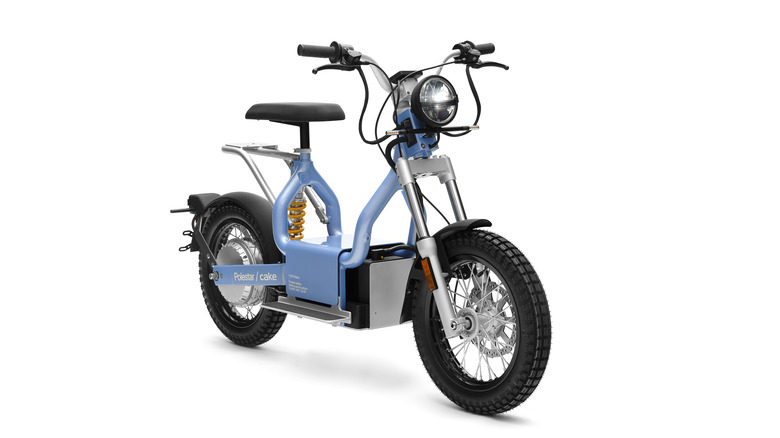 Polestar/CAKE
Volvo's EV spinoff Polestar makes some of the best looking electric vehicles and hybrids on the market today with the Polestar 1, 2, and 3. While not quite there yet in terms of specifications, the Polestar 2 is a serious shot across the bow at the Tesla Model 3, and blows it out of the water when it comes to interior and exterior build quality. Polestar may be unique among other EV makers in terms of styling, but it doesn't break the mold in offering tons of branded swag. From Rivian to Tesla, seemingly every EV maker has an online shop full of different merchandise to rep the respective brand, and Polestar is no different. 
Polestar's online store, called "Additionals," has all manner of hats, notebooks, tumblers, t-shirts, and even bicycles on offer for Polestar fans. The shop even has another Polestar EV, separate from its line of cars. Polestar teamed up with CAKE, a Swedish maker of small EV dirtbikes and mopeds, to make the Makka Polestar Edition.
The smallest Polestar available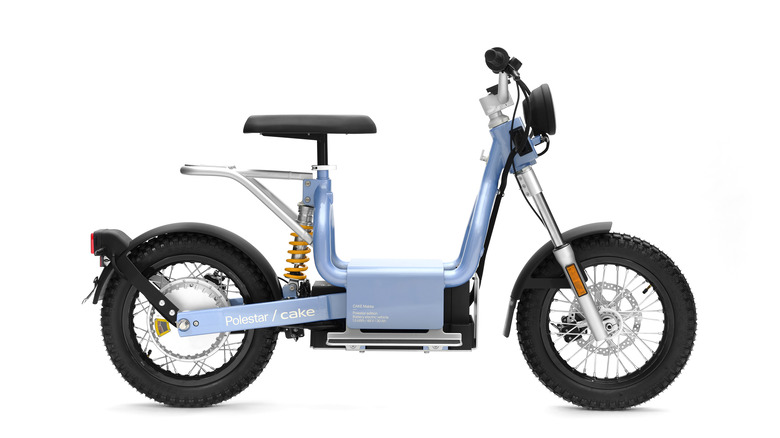 Polestar/CAKE
The new Polestar livery Makka is the first model from CAKE to be available in the United States. It's finished in a color Polestar calls "Sky Blue," and comes equipped with sleek sporty headlights and rear suspension components made by Öhlins, another Swedish company that specializes in motorcycle and mountain bike suspension. 
With a top speed of about 28 miles per hour, according to a Polestar press release, the moped won't be winning any speed contests, but it's plenty brisk enough to commute in the city. It also sports two drive modes that the rider can change to suit whatever terrain they're driving on. For range, CAKE says the Makka will go about 31 miles. The moped also comes equipped with a rear carrier for cargo and plenty of mounting points for saddle bags, boxes, and a litany of other storage solutions. 
The Polestar Edition moped goes on sale today on Polestar's merchandise website. At a retail price of $5,300, the moped certainly isn't inexpensive, but it may be the least expensive way to technically own a Polestar.